Natasha Langridge to Perform IN MEMORY OF LEAVES on a Wide Beam Barge on 3 Docks Across the Capital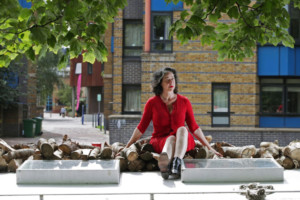 Following performances at the InTRANSIT festival and the TeatroKeiros in Rome, award-winning writer and performer, Natasha Langridge, today announces that In Memory of Leaves will be performed on a wide beam barge at three central London moorings. The production opens on the Fordham Gallery Barge at Meanwhile Gardens in Kensington on Wednesday 4th October and the barge will then sail to Camden Lock the for the second week of the tour on Wednesday 11thOctoberand finish its voyage arriving at Hackney Wick on Wednesday 21stOctober.
The world is burning. You say nothing. But to ask me about the weather.
In Memory of Leaves is an uncompromising monologue about love and protest; in the wake of the destruction of her home on the Wornington Green Estate in North Kensington, Natasha gets arrested with Occupy Democracy, volunteers in the refugee camp in Calais and forms a relationship with a cherry tree.
Framed by an unsettling love affair, In Memory of Leaves explores what happens to communities when they are moved from their homes. It is personal and bracing; a love note to neighbours and a revolutionary call to the world.
Natasha Langridge is a Meyer-Whitworth award winner for Shraddha which was performed at Soho Theatre. She is also an actress and is co-author of Rage and Reason Women Playwrights on Playwriting. Her writing and directing credits include Beverley (UK Tour), Breathing in Brixton, The Method (Oval House London) and Worthing Whispers (Pavilion Theatre Worthing).
The Canal & River Trust is pleased to support In Memory of Leaves through its Arts on the Waterways Programme.