Soundstreams to Present STEVE REICH: NOW & THEN in March
The March 25th program opens with a Soundstreams 40th anniversary fanfare by composer and turntablist SlowPitchSound (Cheldon Paterson).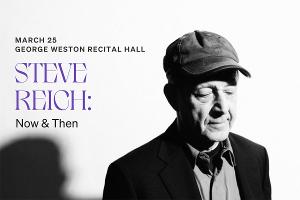 Soundstreams will present STEVE REICH: Now & Then, a celebration of legendary American composer Steve Reich's 86th birthday with a special one-night event. The evening's program includes Reich's iconic Drumming performed by Toronto-based percussion ensembles NEXUS and TorQ Percussion Quartet. This coincides with the 50th anniversary of Nexus and the original premiere of Drumming. Also featured is the Canadian premiere of a recent work for chamber orchestra and film: Reich/Richter with music by Steve Reich and film by Gerhard Richter & Corinna Belz. The chamber orchestra in Reich/Richter is conducted by Gary Kulesha.
The March 25th program opens with a Soundstreams 40th anniversary fanfare by composer and turntablist SlowPitchSound (Cheldon Paterson), inspired by Stravinsky's Fanfare for a New Theatre, the work that opened Soundstreams first season in June 1982. Stravinsky composed Fanfare for a New Theatre to commemorate the opening of Lincoln Centre in 1964.
Tickets for STEVE REICH: Now & Then are available now. The concert takes place at 8 p.m. on March 25, 2023, at the George Weston Recital Hall, Meridian Arts Centre in North York, in partnership with TO Live.
Steve Reich has a special affection for Soundstreams and Toronto. Three members of NEXUS - Russell Hartenberger, Bob Becker, and Garry Kvistad - were members of the Steve Reich Ensemble for decades. Soundstreams co-commissioned Reich's Mallet Quartet and has regularly produced major concerts of his works for nearly 20 years.
"No music, whether Canadian or otherwise, exists in a vacuum: it seeps across boundaries both real and imagined," says Cherney. "Seminal figures like Stravinsky, Steve Reich and R. Murray Schafer have profoundly changed the way we hear our world. Our fortieth anniversary season is a joyous celebration of Canadian music and some of the influences that have shaped it, in this case, that of Steve Reich, recently described by the New York Times as "one of our greatest living composers.""
Connect: @Soundstreams (Twitter, Facebook, Instagram); YouTube: https://www.youtube.com/user/soundstreams
Soundstreams
Soundstreams exists to foster Canadian music on the national and international stage. Soundstreams is the country's leading company in realizing that goal. Under the leadership of Founding Artistic Director Lawrence Cherney the company has commissioned over 170 new works, and programmed hundreds of unique and compelling concerts including chamber music up to chamber orchestra, choral and vocal music, music theatre/opera and seven highly successful themed international festivals. Soundstreams engages a broad spectrum of audiences through the Main Stage, outreach and education programs that include the community-based Encounters series, a development program for young composers-RBC Bridges, and touring. Recent tours include Claude Vivier's Musik für das Ende, Two Odysseys: Pimooteewin / Gállábártnit and Huang Ruo's Book of Mountains and Seas. In the last year alone, Soundstreams touring productions have appeared in New York, London, Amsterdam, Copenhagen, Hamburg and Berlin. They've received rave reviews from the Financial Times, the Wall Street Journal, The Guardian, the New York Times and the Los Angeles Times.
Photo credit: Dan Wilton