Interview: Ilter Ibrahimof of FALL FOR DANCE NORTH
The festival's AD shares his vision for the eighth annual festival of affordable, accessible dance.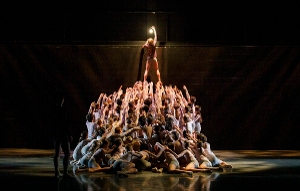 FALL FOR DANCE NORTH (FFDN) returns for its eighth year of programming from September 17-October 8th. The festival, created with partners from more than a dozen arts organizations, will be performed in several locations throughout Toronto, including Meridian Hall, The Citadel, The Theatre at the Creative School (Toronto Metropolitan University) and Evergreen Brickworks, and outside of Toronto at locations in Peterborough and St. Catharines. Tickets for all performances range from PWYC-$15, with free podcasts and other digital streaming offerings.
BroadwayWorld Toronto spoke to FFDN artistic director Ilter Ibrahimof about what audiences can expect to see, the festival's mission of affordable and accessible eclectic dance, and the joys and challenges of presenting a hybrid of online and live programming in a mid-pandemic world.
BWW: Can you tell us a bit about the history of the Fall For Dance North festival?
Ibrahimof: The name and the core model of what we do was inspired by the FALL FOR DANCE festival in New York City. I used to live in New York and work as a dance producer and booking agent, and so I've been very close with that festival in New York, and I curated with them for 2 years in the past. I was already living in Canada as I was working with them. I love that festival, so I proposed that I tried to start a Canadian version of the same idea. We officially license, the name from them. It's a Canadian sort of sister festival and we started in 2015. That's how we started at the core, and that is still at the core of what we do, but we're a different festival than New York. We're in Canada, we're in Toronto, and it's a different community with different gaps, different needs. Our festival started to grow in different ways. Because of the pandemic, we now work in a hybrid model, with a lot in person, but we also do significant amount of things in the digital space.
BWW: What is the festival's main mission?
IBRAHIMOF: The core model mission of the festival is to create a program including a few mixed evenings that are curated, where you see a density of dance forms in one sitting. Typically, we present four companies or artists or choreographers in a mixed evening, where you would see, for example, a tap piece, a ballet piece, a hip hop piece, and a classical Indian piece. It's a mix of Canadian and International Artists, at the highest caliber of quality or most exciting work that we can find. All seats are $15 for any event. There are some events that are also pay what you can, so you can even pay less than $15, if you like. We pack the house with a lot of people who come with that affordable ticket, and maybe they came because they are interested in one of those artists or two of those artists, but they discover more. So we cultivate next generation of dance lovers and dance goers and dance supporters.
My elevator pitch is: it's a high caliber tasting menu for dance.
BWW: Do you look for programs where you feel that the dances have something thematically in common? Or is the goal to be as eclectic as possible?
IBRAHIMOF: It really depends on the program. There are some thematic programs that we present; for example, this year we have a double bill jazz program that is all about jazz. and the two jazz choreographers that we're presenting have been our artists in residence for the past two years.
We've been doing a few projects with them along the way, learning a lot about the jazz form for ourselves and for our audience. That's been very rewarding. After the two years, it all culminates in a double bill program with a company from Calgary and a company from Toronto sharing the stage. They each are coming with their own bands that compose original music for the evening, and then, right after the performance ends. we're actually inviting the audience to come on stage and do some free social dancing with a live band. It's all about a celebration of jazz.
But some other programs, like this year's signature program at Meridian Hall, are really about being eclectic, so you will see all sorts of different things. We have a contemporary tap commission from a Toronto-based choreographer. Then we have some traditional hula from Hawaii, then we have a short dance film with a live orchestra on stage from an Indigenous theater maker, and then we have a contemporary ballet piece with 110 students from the National Ballet School. So you go through this journey, and for me the journey of the audience is the most important thing. Even if it's very eclectic, there is a degree of curation that happens because the journey needs to make sense.
BWW: What do you find to be either challenging or rewarding about incorporating dance film into these programs? You not only have live dance, but a dance film with a with a live orchestra.
IBRAHIMOF: During the pandemic, we invested quite a bit in filmmaking and livestreams and some other digital projects, like starting out podcast series in 2020 that's still going on. Season 3 is premiering at this festival. We produced really high end films of live streams in the past 2 years, and really enjoyed doing that, plus it opens some unexpected doors for us. Five films that we produced last year are now being licensed by Marquee TV. For the next two years the films will be in their permanent library, so that kind of brand exposure can bring FALL FOR DANCE NORTH, and Toronto, to the world. My hope is that we don't keep film just in the digital world and online world, but also put that a little bit in our live engagements. There is that short film by Michael Greyeyes, the Indigenous theater maker, in our mixed program. A few nights before that we're actually going to do a screening of a feature length documentary with National Ballet Canada, about a work called Angel's Atlas. We're basically doing cinema night at Meridian Hall.
We also started a short dance film series we're calling Series Eight Count, so that has seven short films, and we're doing two live screenings in Toronto. Then the films will screen for free on our website after the live screenings.
So I find that world to be very exciting, and still kind of new, although dance on film has been happening for decades, because of the pandemic. I think that art form started to evolve in in unexpected ways, and the quality started to really go up because of the investment that people made during the pandemic in filmmaking and bringing dance together with film. Now we have a filmmaker in residence which is kind of an unusual role at the dance festival. Last year he created four films with us; this year he filmed our main creative campaign. So all the films and photos that were using to promote the festival are like originally captured by him.
We created a music and poetry album in 2020. We ask some of our favorite dance makers to read poetry for us, and then we worked with a Canadian cellist to curate and record songs for each track. And recently that got picked up by a wonderful niche contemporary classical record label in New York. So next year we're actually going to do a re-release of this album commercially with this record label. It's so exciting. Who would think that would be possible for our festival?
What's challenging is filmmaking is expensive; putting up a festival is expensive. So now we're trying to do both, so that's very expensive. Creating a hybrid festival that invests both in in-person presentations as well as filmmaking and podcast producing requires a bigger budget and team to do all this in a meaningful way. We had to become a media company overnight.
BWW: You mentioned that there's a focus on Indigenous art in this year's festival. Could you speak a little more about some of the Indigenous works that are being highlighted?
IBRAHIMOF: Just before the pandemic, we presented an international Indigenous mixed program. There was a Canadian Indigenous choreographer as well as one from Taiwan, one from New Zealand and one from Australia.
For this festival, it really kind of came together organically, I would say. We didn't really sit down, you know, and say let's have an Indigenous-led program. We just organically developed that way. We're presenting a company, a new collective based in Arizona called Indigenous Enterprise. They showcase traditional Indigenous dances with a cast of young, emerging, award-winning Indigenous performers. It's very exciting. I saw this show at The Joyce Theater in New York last November, and it was just so energetic and educational and just really wonderful.
I approached their artistic director to see if we could put together a presentation for our festival that perhaps has an American and Canadian cast. He has performed in Toronto before with Red Sky Performance, and others. We've been working together, and it's come together really nicely. Indigenous Enterprise is part of our program October 7th and 8th at The Theatre at The Creative School, Toronto Metropolitan University.
In our mixed signature program at Meridian Hall, we have choreographers that have Indigenous backgrounds, all with a unique style. We have colleagues from Hawaii presenting Indigenous Hawaiian dances. It's a performance with live music in the form of singing and chanting, and storytelling with lots of local musical instruments. Then, we have this short film by Michael Greyeyes, who's an Indigenous theater maker who used to be a dancer himself, and then we have Jera Wolfe, who has a Métis background. His piece is performed by the 110 students from the National Ballet School. His training is more ballet and modern, so the movement is more classical, mixed with Indigenous context, ideas, and philosophy.
BWW: The festival takes place in a number of different locations, both in Toronto and outside Toronto. How did you go about choosing locations to present the works?
IBRAHIMOF: In Toronto, Meridian Hall has been our home from the very beginning, so we always try to do something there. In 2017, we started the present at the Ryerson Theater, which is now called Toronto Metropolitan University. We started to do a lot of work with the dance department at the school of performance; every year we do a project with the dance students. Meridian Hall is a 3,200 seat theatre for large performances, and the Second Stage is more intimate, but still has a large seating capacity because we're lucky to sell a lot of tickets with our affordable ticket price.
We're doing a free event at Union Station, where we started a relationship in 2017. We started to do some free programming inside the station, and we try to continue that every year. it's a wonderful space to be in, an opportunity to connect with hundreds of people.
Since 2017, we've started to partner with others in Toronto. We're at Harbourfront Centre this year; for the first time we're at Evergreen Brickworks, which is such a beautiful site. We always wanted to do something there. All of our performance sites have come from partnerships that have been brewing for many years. Our festival cannot happen without partnerships, so we invest a lot in those partnership conversations all year long. One of the benefits of a long running festival that you can develop these partnerships over years, and if it doesn't happen one year, it can happen the next right. Somebody who's at the Brickworks this year might come to us and say, oh, let's do something at our space.
The venues outside of Toronto happened organically. Last year we were still dealing with certain Covid restrictions when it came to live performance. So we said, why don't we try to do something outdoors, and why don't we try to do it both in Toronto and outside of Toronto?
Because there's just so many beautiful outdoor spaces throughout Ontario. We reached out to maybe 10 or so communities where we know there are presenting colleagues. And so last year we got to collaborate with St. Catharines, Peterborough, and Hamilton, and this year we're collaborating again with St. Catharines and Peterborough. I love that our festival is going outside of Toronto with these co-presentations, and we want to continue doing that.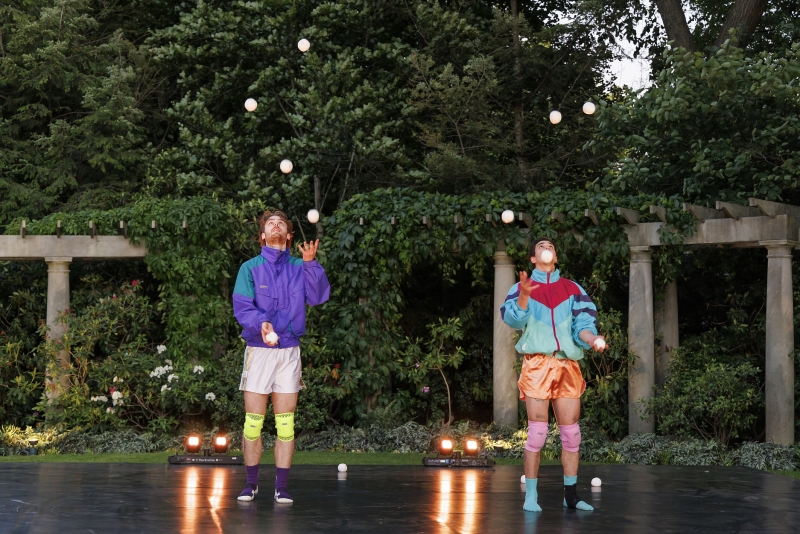 BWW: The Brickworks piece is also an outdoor presentation, right?
IBRAHIMOF: The Brickworks production, which is part of the Heirloom outdoor series, takes place on September 20 in the TD Future Cities area, where the bricks were actually produced. It's right next to this other space they have called Koerner Gardens, which has these big open windows and doors on two sides, so it's a half-indoors, half-outdoors kind of space.
BWW: Is there anything else you want audiences to know about this year's festival?
IBRAHIMOF: I think it's really all about coming back together. Like many organizations right now, it's coming back together, celebrating being back together. But also keeping that broader audience that we were so lucky to build during the pandemic through our digital programming and through our podcasts, through our films, through our livestreams.
Almost each program has either a pre-show or a post-show artist chat. or perhaps if there's not a live artist chat, those chats live within our podcast season. But there's a lot of connection. We try to create for our audience an understanding about the artists and the work that is being created and performed, because a deeper context is important for us. So through those artist chats, other artistic engagements, and podcasts, we try to create deeper understanding of what's being performed.
It's our eighth year, and we're very happy to be able to keep our $15 ticket price even though this is very, very hard, especially this year, because I think it's really nice to feel some things are constant.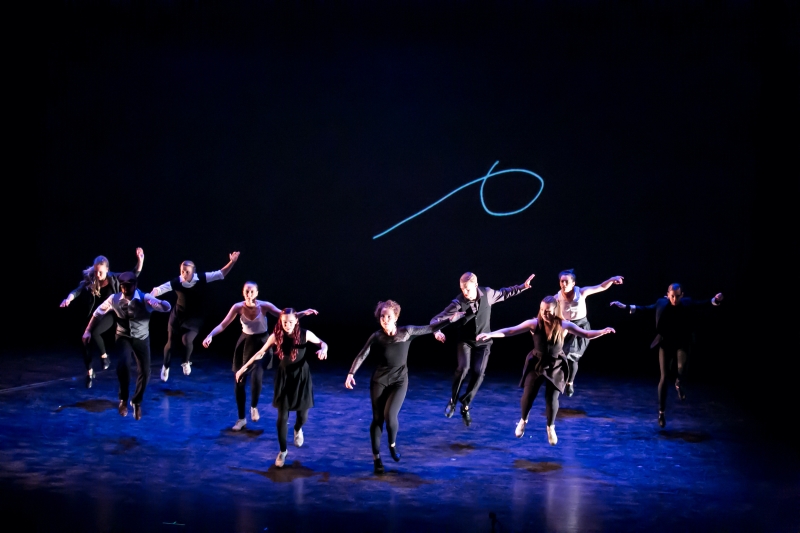 BWW: One of the paradoxes about dance is that at the same time it's so easy to connect with on an elemental visceral level, but at the same time so many people find it opaque because they don't have that context in the background in terms of the history and the style. You feel something, but you might not know why. So you're giving us the tasting menu, but also giving us the context so that we can understand what we're about to eat, so to speak.
IBRAHIMOF: For folks who might want to come to dance for the first time, or maybe they've been to a few things, and now they're trying to see what else they want might want to see, it can be a little bit of a turn off because they think maybe they'll come and will not understand it, or not get it because they don't have the background. So we're trying to break those walls a little bit by offering a peek behind the curtain.
Photos:
Photo of Arise by Jera Wolfe by Bruce Zinger
Photo of Decidedly Jazz Danceworks by Trudie Lee Photography
Photo of Indigenous Liberation by Danny Upshaw
Photo of Zack Martel and Santiago Rivera by Bruce Zinger
Photo of Work by Dianne Montgomery by Erica Cheah