Ilana Lucas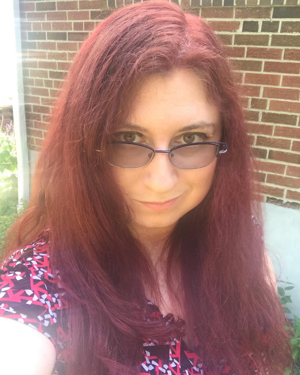 Ilana Lucas is an English professor at Toronto's Centennial College. She holds a BA in English and Theatre from Princeton University, and an MFA in Dramaturgy and Script Development from Columbia University, where she learned countless fascinating theatre stories as lead archivist for the estate of Tony winners Phyllis Newman and Adolph Green. She is Vice President of the Canadian Theatre Critics' Association. 
Before BroadwayWorld, she worked as Brit+Co's weekly books columnist, and as a Senior Writer for Mooney on Theatre. In her spare time, she is a freelance dramaturg and playwright, sings in Toronto's Amadeus Choir, and plays nerd-rock handbells with Pavlov's Dogs Handbell ensemble. Her most recent play, "Let's Talk," won the 2019 Toronto Fringe Festival's 24-Hour Playwriting Contest. 
She believes that theatre has a unique ability to foster connection, empathy, and joy, and has a deep love of the playfulness of the written word. 
Review: PRODIGAL at Streetcar Crowsnest

March 2, 2023

What did our critic think of PRODIGAL at Streetcar Crowsnest? PRODIGAL, written and directed by The Howland Company's Paolo Santalucia and now playing at Crow's Theatre, takes place entirely in the kitchen of the wealthy Clark family over a weekend where the past comes home to roost. Patriarch Rowan Clark (Rick Roberts) finds out that he is about to come into a powerful political position, as his son Henry (Cameron Laurie) and daughter-in-law to be Sadie (Veronica Hortiguela) celebrate their engagement in the other room. Unfortunately for him, his prodigal son chooses that evening to return, mostly because he finds he's been cut off from the family funding to preserve their clean image under the added scrutiny politics will require.
---
Review: REDBONE COONHOUND at Tarragon Theatre

February 22, 2023

What did our critic think of REDBONE COONHOUND at Tarragon Theatre? That's the hotly debated question in Amy Lee Lavoie and Omari Newton's new play at Tarragon Theatre, co-produced with Montreal's Imago Theatre. In REDBONE COONHOUND, interracial couple Mike and Marissa (Christopher Allen and Chala Hunter) find the delicate power balance that comes from living in the world with vastly different experiences can be upset by a small incident that carries the weight of history.
---
Review: ARE WE NOT DRAWN ONWARD TO NEW ERA at Bluma Appel Theatre

February 10, 2023

What did our critic think of ARE WE NOT DRAWN ONWARD TO NEW ERA at Bluma Appel Theatre? The symbolism is pretty clear: if a single red apple hangs tantalizingly from a lone onstage tree next to a sleeping woman, the fruit will be plucked, innocence will be lost, and Eve and Adam will have to leave the garden. However, in the story of humanity's hand in its own destruction, what's often left unexplored is the question: What if we could put the apple back?
---
Review: THE MAGIC OF ASSEMBLY at Winchester Street Theatre

February 5, 2023

THE MAGIC OF ASSEMBLY, a vibrant dance show, thrives on making invisible threads visible. With a blend of contemporary and street dance and live music by duo LAL, it's sometimes bewildering, but mostly, the experience is wild, wacky, and wonderful.
---
Review: MARTYR at Aki Studio

January 22, 2023

Marius von Mayenburg's MARTYR tells the story of a radicalized Christian teenager and his crusade of extremism that damages everyone around him. ARC's production's sharp, slick direction and assured cast expose some flaws in the idea-heavy script. However, it ultimately succeeds in showing theatre's great power to ask big, unsettling questions.
---
Review: MIRIAM'S WORLD at Theatre Passe Muraille

December 11, 2022

Inspired by Martha Baillie's novel The Incident Report, multi-media artist Naomi Jaye has brought MIRIAM'S WORLD to Passe Muraille. In this approximately 20-minute video installation, the theatre is transformed into a library, where interactions between projections of a librarian and patrons make us think about the dwindling nature of public space.
---
Review: LITTLE DICKENS at Canadian Stage

November 29, 2022

Ronnie Burkett's LITTLE DICKENS, a partially-improvised puppet homage to A Christmas Carol set in the bawdy and naughty world of show business, is a metatheatrical, in-joke-filled wonderland that pulls all the right strings.
---
Review: OUR PLACE at Theatre Passe Muraille

November 25, 2022

In Kanika Ambrose's OUR PLACE at Theatre Passe Muraille, Andrea (Virgilia Griffith) and Niesha (Sophia Walker), immigrants without papers, dream of better lives for themselves and their children back home. Due to the pandemic, the show was postponed twice; now, like a dream deferred, it explodes onto the stage with verve and pathos.
---
Review: POST-DEMOCRACY at Tarragon Theatre

November 20, 2022

Moscovitch's POST-DEMOCRACY, a new, tight one-hour drama at Tarragon Theatre, bares the seedy, nepotistic underbelly of the glistening penthouse. The bleak hour is gleefully biting in its criticism of a class invulnerable to consequence. However, it bites off a little more than it can chew in addressing the issues implied by its portentous title.
---
Interview: Karen Kaeja, Allen Kaeja, and Bruce Barton of 31: TOUCHX and I AM THE CHILD OF at Harbourfront Centre

November 15, 2022

Renowned Toronto dance company Kaeja d'Dance, winner of the 2019 Dance Ontario Lifetime Achievement Award, brings the premiere of two new works to Harbourfront Centre from November 11-13. The company, now in its 31st year, presents 31: TOUCHX and I AM THE CHILD OF as part of Harbourfront's Torque series.
---
Review: DOUBT at Church Of The Holy Trinity

November 8, 2022

John Patrick Shanley's Pulitzer Prize-winning Doubt claims that doubt may be as enduring a force as certainty. Though I'll never know if the Broadway production would have been life-changing, I can say that the intimate, intense production by new company B&E, set within The Church of the Holy Trinity, certainly makes a convincing argument.
---
Review: HUMAN MEASURE at Canadian Stage

October 29, 2022

In Human Measure, artist Cassils' first piece of contemporary dance choreographed by Jasmine Albuquerque, trans and nonbinary bodies are highlighted. A rejoinder to Yves Klein's Anthropometries paintings, in which naked women were painted blue and then dragged across canvases as living brushes, the piece frames its subjects as creators, not tools.
---
Review: PUBLIC ENEMY at Canadian Stage

September 28, 2022

Canadian Stage's PUBLIC ENEMY is a modern dining-room drama where opinions are loudly aired and ignored. Effectively staged by Brendan Healy, with an impressive cast inhabiting its dysfunctional but believable characters, it's like watching a conversation by your most frustrating group of relatives.
---
Review: COCKROACH at Tarragon Theatre

September 25, 2022

We regularly use "cockroach" as dehumanizing language for the Other in an attempt to justify their oppression or extermination. That's the central metaphor of Ho Ka Kei (Jeff Ho)'s Cockroach, a scathingly funny screed that pits a wisecracking insect against the ghost of Shakespeare in a fight for the identity of a Chinese immigrant to Canada.
---
Interview: Ilter Ibrahimof of FALL FOR DANCE NORTH

September 19, 2022

Fall for Dance North (FFDN) returns for its eighth year from September 17-October 8th. BroadwayWorld spoke to AD Ilter Ibrahimof about what audiences can expect to see, the festival's mission of affordable and accessible eclectic dance, and the joys and challenges of presenting a hybrid of online and live programming in a mid-pandemic world.
---
Interview: Thierry Collin, Jean-Philippe Hemery, And Sonia Kozlova Clark of LEONARDO, DREAMS AND NIGHTMARES at Artpark

August 22, 2022

French performance art group Les Plasticiens Volants will unveil the North American premiere of LEONARDO, DREAMS AND NIGHTMARES, based on the life of Leonardo da Vinci, which includes enormous inflatable sculptures, puppets, and pyrotechnics. BroadwayWorld Toronto spoke to the Plasticiens about the upcoming show and future work.
---
Review: AS YOU LIKE IT at Canadian Stage's High Park Amphitheatre

August 12, 2022

Banishment, unassailable friendships, brotherly hate, love at first sight, philosophy, a magical forest, and a witty young woman in disguise. These classic Shakespearean elements and more await audiences of Canadian Stage's Dream in High Park production of AS YOU LIKE IT, in bloom at the High Park Amphitheatre until September 4.
---
Review: WEI at Aki Studio

July 31, 2022

WÉI, a new 50-minute dance piece choreographed by Yvonne Ng, is billed as an exploration of identity and belonging, asking questions about the importance of nature versus nurture. While the answers may be inconclusive, this meditation on individuality vs. collective development explores the concepts in a number of absorbing images.
---
Review: DETROIT at Coal Mine Theatre

July 12, 2022

"Isn't it funny how nothing ever happens?" That line from Lisa D'Amour's DETROIT, now playing at the Coal Mine Theatre, could be the motto for its portrayal of suburban ennui. D'Amour's sharp script and the cast's committed performances make this show feel vital and present – like, perhaps, something is happening after all.
---
Interview: Bruce Jackson And Yuri Hreshchychyn on DAKHABRAKHA and the film EARTH at ArtPark

July 11, 2022

DakhaBrakha returns to ArtPark July 14th for a reception, fundraising concert, and talkback. Originating from the Ukrainian experimental theatre group, Dakh, under the artistic direction of Vladislav Troitsky, the band of four friends has played worldwide in a mission to spread and celebrate Ukrainian culture.
---