Review: ROTTERDAM: A Queer Love Story About All of Us, Highlighted by Brilliant Writing, Direction and Character Portrayals
One of the most current topics in the media now concerns transgender people being able to live the life they envision for themselves without prejudice or scorn aimed at them. After all, no doubt you have seen public restrooms now labeled to allow anyone access to them, be that person either physically or dressed as either gender, or perhaps a mix of both. Amid a breaking wave of transgender stories in popular culture (Transparent, Boy Meets Girl, and Orange is the New Black), Olivier Award winner Jon Brittain has created ROTTERDAM, a groundbreaking play, with deeply relatable characters that are flawed and often hilarious or heartbreaking as they struggle to be truthful about their identities.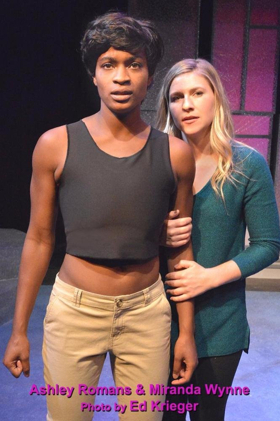 At its core, ROTTERDAM is a powerful, character-driven tale of love and identity about what happens in a lesbian relationship when one partner decides to identify as transgender and begins the process of switching from female to male. Its West Coast Premiere, brilliantly directed in his Ovation Award winning style by Michael A. Shepperd at the Skylight Theatre Company, known for creating stories to that help stimulate conversation, raise our consciousness, and expand our hearts. And in this character-driven play featuring a transgender character just beginning his transition, his aim to present an accurate and authentic portrayal has brilliantly succeeded thanks to a cast of four who will have you believing they really are telling their own personal story.
The play opens just prior to New Year's Eve in present-day Rotterdam, a port town in the Netherlands,
where we meet Alice and Fiona, a lesbian couple together for the past 7 years, who live with Fiona's brother Josh (Ryan Brophy), who just happens to be Alice's former boyfriend with whom she first moved to Rotterdam. We first meet Alice (Miranda Wynne) as she struggles to gain the courage to send an email to her parents telling them she's a lesbian. But before Alice hits send, her girlfriend Fiona (Ashley Romans, whose performance will astonish you with its heartfelt realism) reveals that she has always identified as a man and now wants to live as one beginning in the New Year. Thus is set in motion a tale of new beginnings.
Of course, this revelation throws their relationship into a tailspin, especially since Alice admits there is no way she could ever be physically attracted to a male, even as much as she truly loves Fiona. You will sense the frustration and heartache for both of them as Fiona physically transforms herself, beginning the process in front of the audience with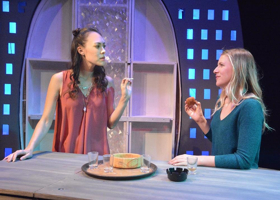 Alice's assistance, from Fiona to Adrian. But with the change in her appearance into that of male and her desire to be accepted as one, Alice struggles with her choice and eventually turns to another woman (Audrey Cain rejoices as the free-spirited and totally out Lelani) for the physical affections she desires, all the while still loving the now-gone Fiona with all her heart.
Wynne authentically presents the emotional gambit as Alice struggles to figure out what she really wants to do, even turning to Josh for the support she needs to accept Adrian and decide how she really wants to live the rest of her life. Secretly, Josh seems to hope Alice, the woman he still deeply loves, will change her mind and come back to him, although Alice knows that will never happen. It is a woman she desires, after all, isn't it? Or is it really the person's soul that you love, no matter their physical appearance or gender identification?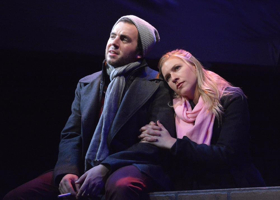 It's a love story played out across gender lines between couples of all orientations, very human and heart wrenching, with no definite answer given by the play's conclusion if the couple will stay together or part ways, although a moment of tenderness seems to indicate everything will work out best for the both of them, whatever decision is made.
One thing is certain - now is not the time to create an atmosphere of fear and intimidation in which loathing and self-hatred will keep people silent about their true selves. Now IS the time to allow everyone to live a full and authentic life, creating the happiness we all desire in our lives.
I hope after seeing ROTTENDAM, your eyes are opened to new possibilities as well as acceptance of how a change in attitude just might bring people together rather than tear them apart.
Special kudos go out to the modern, stylized urban set and lighting design by Jeff McLaughlin which magically changes locales and even color temperature as the action moves within its open structure, highlighted by a movable piece of furniture that, like its main character, transforms from its original appearance into exactly what is needed to create the truth.

ROTTERDAM continues at 8:30pm on Fridays and Saturdays; 2:00pm on Sundays; and 8:00pm on Mondays through January 28, 2018, at the Skylight Theatre, located at 1816 1/2 N. Vermont Ave, LA, 90027. Tickets are $15 - $41. Reservations: 213-761-7061 or 866-811-4111. Online at http://SkylightTix.com
Facebook: SkylightTheatre Twitter: @SkylightThtr #RotterdamLA Instagram: SkylightTheatre
Photos by Ed Krieger