BWW Review: freeFall Theatre's Inventive Treatment of Stephen Schwartz's PIPPIN - They've Got Magic To Do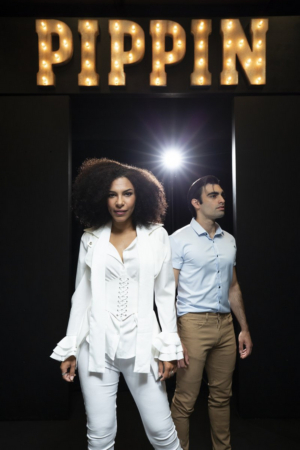 "That you are here - that life exists, and identity; that the powerful play goes on and you may contribute a verse. That the powerful play goes on and you may contribute a verse. What will your verse be?" --John Keating (Robin Williams) in "Dead Poets Society"
"Thunderclouds have their lightning/Nightingales have their song/And don't you see I want my life to be something more than long..." --a key line from "Corner of the Sky" from PIPPIN
I was worried.
I had just experienced two versions of PIPPIN in the last two months, performed by a high school and college, and both were different but with the same kind of youthful energy that made this iconic show seem new to me. I had seen it several times before, including the circus-centric Broadway National Tour, but these two productions really underscored the meaning: Every soul on that stage, every actor, actually was living the life of Pippin, which made it extra-special. They were currently experiencing his journey to find a life of purpose--the highs, the lows, the illusions, and the disillusions that adolescence naturally brings. And both productions worked because of this. After seeing these two zest fests, I wondered how a professional company, even one known for taking risks, was going to tackle the material; I worried that PIPPIN would be a lesser, slicker experience with pros leading the way.
You know, I shouldn't worry so much.
What freeFall's production of PIPPIN may lack in ensemble energy and youthful verve, it makes up for in sheer audacity. Even though most in the cast had past the questioning age of Pippin, this production is a reflection of another Pippin entirely: Director Eric Davis. Yes, he is Pippin. He seems to be searching for new meaning in the work itself, throwing everything into the show, pouring so much into it, too much at times, trying to unlock something new there, even when it seems there's nothing new to unlock. Sometimes this process hits the bull's eye; other times, it completely misses its target. It's all over the place. So, I take the whole production of PIPPIN as a reflection of Mr. Davis' deep and curious soul, an x-ray into his artistic heart. Is it my imagination, or does the actor portraying Pippin, Daniel J. Maldonado, even resemble a young Eric Davis?
PIPPIN, with music and lyrics by Stephen Schwartz and the book by Roger O. Hirson, is the story of Charlemagne's son, who is searching for some reason in his life--through various battles and sexual encounters, from being king to living a simple life, he just cannot find fulfillment.
Director Davis has chosen just seven people to tell this tale. Although certainly auspicious and asking a lot of his leads, this lack of an ensemble does negatively affect certain numbers, especially "Glory" and "With You."
freeFall's version of "Glory" is, in a word, metaphorically messy. It didn't know quite what it wants, and the absence of a vital Manson Trio can be felt. By dressing the cast in soldier attire from various American wars (Civil War, World War 1, World War 2, Vietnam), it wants to make some statement on the USA's involvement in war, trying to compare our foreign policy to Charlemagne's. But the comparison is already built into the song (written during the Vietnam era); you don't need the heavy-handed signage telling us each war that we've fought (the costumes should be enough). A groaningly obvious point like this takes away from the specific story at hand. Also, we never get the sense of mass slaughter that an ensemble brings, and randomly tossing out some dismembered hands and a decapitated head doesn't count. It all comes across didactic and ponderous, like hitting us over the head with a Stanley Kramer mallet. It reminded me of a very efficient middle school history fair project.
A lack of ensemble really tainted "With You," Pippin's hook-up-with-strangers ballad. With no ensemble, Alison Burns (who plays Fastrada, Pippin's stepmother) and Emmanuel Carrero (who's Lewis, his step-brother) had to join Pippin (Daniel J. Maldonado) in almost all the fleshly pleasures. Yes, I'm sure we're meant to assume that they are different characters by suspension of disbelief, but there's nothing in the costuming or performances to suggest that. It was just the three of them for the most part, not Pippin unabashedly sowing his wild oats with so many people (one past version even had a giant orgiastic sex box). Even though Ms. Burns' and Mr. Carerro's seductive dance with Mr. Maldonado was quite sexy, it didn't make any sense for the story. Adding a few more people would really drive home the sex-with-strangers point, the post-coital emptiness that Pippin experiences, without us going into more incestuous depths. As it stands here, it doesn't measure up; with no ensemble, it's the difference between a threesome and an all-out orgy. And it ultimately peters out.
The cast may be too few for my tastes, but they are all outstanding.
Daniel J. Maldonado captures Pippin's wondering and wandering spirit, energetically ready to head into Experience. His "Corner of the Sky" is flawless, one of the best I've ever heard, with a killer final note. And his "Extraordinary" was like something out of "Footloose." Yet there is something solid about him, grounded and manly, not boyish. When the high schoolers did it, Pippin looked quite young, like the missing member of a Boy Band, but here it's played by a man who acts boyish. And when he's plucked from the audience at the beginning, he shouldn't already be wearing his microphone; the cast should put it on, to really give it the this-is-anyone-plucked-from-the-audience feel.
As the Leading Player, sort of a one-person Greek Chorus, Kellie Rhianne is captivating, dressed in head to toe white. In some ways, she's a villain, a mistress of mischievousness, a cheerleader for artifice. She's hot for the pageant not the person, the parade not the individual. I just wish Rhianne's Leading Player hovered around the stage the whole time. She oftentimes disappears instead of being that gregariously stalking, menacing, fake-smiling presence that never leaves.
Alison Burns is having a dynamic year, with her stellar turn in Mamma Mia! last April and her eye-opening sexy Fastrada here. She captures the diabolically sensual pleasures of the part and makes it her own. She is so free of spirit and body, unafraid, and it works. Her "Spread a Little Sunshine," where she spreads her legs during the chorus, has got to be seen to be believed. She's by far the best Fastrada I've ever seen, and I've seen numerous.
Emmanuel Carrero is so charismatic and likable as the "asshole" Lewis that, in some ways, he seems even more boyishly energetic than Pippin. Hannah Benitez is a lovely, affable Catherine, but she doesn't seem old enough for the part (a widow). Her "Love Song" (a duet with Pippin) and "I Guess I'll Miss the Man" (with her strumming a guitar) were glorious. And young Will Garrabrant, with his Keane-painting eyes, is the perfect Theo.
Last but not least is Matthew McGee, doing some of his best work in two different roles: King Charlemagne (Pippin's dad) and Berthe (Pippin's grandmother). As Charlemagne, looking not unlike Dr. Evil, he captures the regal knee-jerkism of the king. His voice is rafter-shaking in "War Is a Science," and in his outfit, he reminded me of Donald Pleasence as Bond-villain Ernst Stravo Blofeld.
McGee's Berthe, in a puffed out red Bozo wig the size of an ostrich (thanks to that periwig genius, Scott Daniel), is a hammy tour de force. His version of "No Time at All" is worth the price of admission, a real star turn. Donning Edith Prickley glasses and a dress like something from a psychedelic album cover, he looks like either a Haight-Ashbury bag lady on too many mushrooms or a peacock on fire (can't decide which).
Director Davis, a.k.a. The Real Pippin, has let his imagination run wild, and what an imagination! Even the moments that don't work, and there are several, are worthy of our awe. This production has a little bit of everything (except an ensemble). Michael Raabe once again showcases his genius as musical director, and the music surely soared. Kudos to Raabe on keys, the inimitable Bert Rushing on drums, Paul Stoddart on guitar, and Julia Tretyakova on cello. It's a stunning quartet. I just wish a song list was printed in the program; it helps us after the show remember so many of those amazingly creative hits (and misses).
I'm torn on Tom Hansen's set. The white curtains work, but sometimes seem to get in the way of the action. I love the videos (created by director Davis), but I wish I didn't have to look to either side of the stage to see them. David M. Covach's costumes work, but the American Revolution theme on some of them seemed a bit too strained.
With all of that said, the show's ending really affected me. When Pippin, Catherine and Theo are stripped of everything--their clothes, their illusions, the lights, any pizzazz--a coldness sets in. What's left is fluorescent lighting, where the audience can see themselves. It's a stark world, frighteningly boring. The magic of theatre had been stolen from us along with Pippin. And then, in a brilliant move, it all ends on a hopeful note, a poignant one that touched my heart. I won't give the moment away, but I was left both tearful and smiling at the end. The magic had been restored. It may have been an occasional rocky ride getting there, but that extraordinary finale was worth each bump in the road.
PIPPIN at freeFall Theatre runs thru August 11, 2019. For tickets, please call (727) 498-5205.

Related Articles View More Tampa/St. Petersburg

Stories

Shows