Review: Jobsite Theater Presents Taylor Mac's Provocative, Disturbing and Hilarious HIR at the Shimberg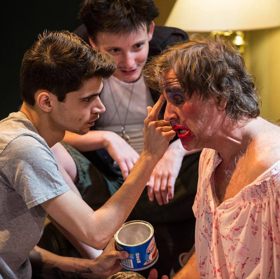 "And you knew where you were then...Girls were girls and men were men..." --from the opening theme to "All in the Family"
"I'm beautiful in my way, 'cause God makes no mistakes..." --from "Born This Way" by Lady Gaga
Watching Taylor Mac's breathlessly entertaining and awesomely disturbing HIR at Jobsite Theater last Saturday night, I remember thinking that we've moved so far as a society that plays like this one have easily found a home in Tampa. I was relieved that there is certainly a local audience for this type of in-your-face and kick-your-ass kind of show. Right then, two audience members had had enough, stood up and walked out in the middle of Act 1. So maybe some people in our area aren't ready for the darkly hilarious world of Taylor Mac.
Did I mention that HIR is a masterpiece with an extraordinary cast, and that those two audience members did themselves a disservice by walking out? Yes, it can be seen as a badge of honor to have viewers feeling so uneasy and upset by a mere play that they run for the nearest exit as soon as the first f-bomb has exploded. But that wasn't the case here; it was a scene involving extreme, alternative ways of snorting drugs that did the trick.
And unfortunately for them, they missed one terrific, and terrifically terrifying, play.
Is there a timelier work than HIR? It opens in a house of squalor, like those places you see on "Hoarders," only worse. Isaac has come home from the war in Afghanistan after being dishonorably discharged and has found his world turned upside down. He can't even get through the front door due to the mess, but when he finally does make his entrance through the back, he may wish he hadn't.
Arnold, Isaac's abusive father, has been imprisoned in his own body due to a previous stroke; he dons clown makeup and looks as if John Wayne Gacy has joined the Insane Clown Posse. The father is so far gone that Isaac's mother, who is acting as Arnold's warden in an odd form of vengeance and who is enthusiastically revolting to all extremes against the male-dominated status quo, has to spray water on him to stop him from grabbing his crotch.
On top of that, Isaac's sole sibling has transitioned and wants to be called "hir" instead of him or her (or "ze" instead of he or she; just don't emphasize the word "ze" whenever stated, the mother warns Isaac). No, we're not in Brady Bunch Land, unless Greg has come home to find Marcia is now Mark. It's not even the Manson Family. With HIR, we're dealing with a family that is trying to pick up the pieces of its shattered yesterdays and throw them away, to mask its past, and to find a new world to embrace.
The cast couldn't be better. Robert Spence Gabriel as Isaac has the more thankless role, playing the literal straight man in this barrel full of crazies. Isaac is trying to bring order back to his home and is trying to rid the emasculation that has happened to his father. Looking like a young Anthony Perkins merged with Colin Farrell, Gabriel hits the right notes and even has his moment to unleash his fury in a scene that won't be forgotten. As He/Her (Max), Salem Brophy is brilliant, forceful yet fun, strong with moments of vulnerability. There is a moment near the end, a silent yet awkward embrace, where Brophy nails it with perfect timing.
Roxanne Fay is astonishing as Paige, the mega-matriarch who is at war with societal "norms." Her monologues about the "LGBTTSQQIAA Community" and Noah's Ark being transphobic are highlights. She starts off like a cheerleader for the changing world, singing "You're Out of the Woods" from The Wizard of Oz, but you sense the anger, the sadness, underneath it all. And there is a moment near the show's end, when all gloves come off, and Fay's Paige is suddenly cold and real, all pretenses removed; she speaks quietly, dismissively, all the wind knocked out of her sail. She's done. It's wounding, the moment this whole play has led to. And it's some of the best work Fay has ever done.
Which leaves Ned Averill-Snell as Arnold. This is a heroic performance, brave and unflinching. Imagine Daniel Day-Lewis in My Left Foot merged with Harpo Marx and Lon Chaney, Jr., and you have an idea of the miracle that is Averill-Snell onstage here. Last year he gave what I considered the finest performance of 2017 in Gloucester Blue; this is a much harder part, and I think, if possible, he's even better here. His work is so specific, and he makes us feel sorry for such a one-time brute, a monster, that is being paraded for the purpose of humiliation.
There is a scene near the beginning where he just stands there, and the wife keeps telling Arnold to close the door, that had me laughing out loud-uncomfortable laughing, yes, but I couldn't help myself. And he was just perfect in what he didn't do--moving, not moving, when to make the character bigger than life, when to make him smaller and more pathetic. It's comically masterful and heartbreaking.
After the show, I asked a high schooler what he thought of the play. He said that he loved it, "especially the father. I've never seen anything like that." Neither have I. There are so many reasons to see HIR, including the three other phenomenal performances. But Averill-Snell is in another world; do not miss the chance to see his work here in HIR, perhaps the best performance by one of our area's best performers.
Director David M. Jenkins has guided another winner. He has a dream cast combined with the right script at the right time. Even his pre-show music works: The Velvet Underground, David Bowie, Lady Gaga, and the themes to Happy Days and The Mary Tyler Moore Show. Ryan E. Finzelber's set design is quite strong, with the ceiling off-kilter, a perfect statement about this off-kilter family. I'm still trying to figure our why the Alan Cumming book is on top of the refrigerator (I can guess it's because his autobiography, Not My Father's Son, is about his abusive father), and I wonder if the placement of the TV set blocks too much of the back action. Finzelber's lighting is spot-on, giving us the feeling of a hot day outside in Act 1 and the darkening night in Act 2.
Make no mistake, HIR is disturbing. It's also wildly funny, and wild. It is why we go to the theater. But it's obviously not for everyone, as those two aforementioned walk-outs prove. They were obviously upset by the provocative material, but they only hurt themselves by fleeing. I wondered who those people were, and why they picked HIR to attend in the first place, knowing ahead of time a little bit about its content. And I wondered what they wanted from this show that wasn't being delivered for them, because it's some powerful stuff. Uncomfortable, yes, but undeniably powerful. And I wondered if they ventured homeward, upset by the characters they had seen onstage, and once they got home, they turned on the TV to something more serene, perhaps something on HGTV. And I wondered if the framed pictures in their house cover the holes in their walls, too. Some things are just too close to home, as the brilliant HIR keeps reminding us.
Jobsite Theater's production of HIR runs thru April 1st in the Shimberg Theater at the Straz Center for the Performing Arts.