BWW Review: 18 for 2018: The Best Local Shows & Performances of the Year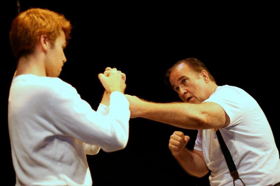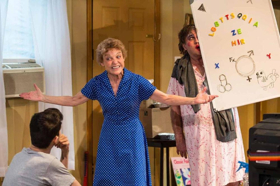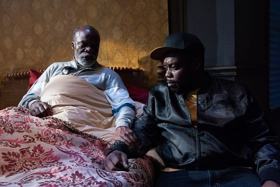 2018 was a strong year for local theatre, much better than the previous two years combined. It became so good that any one of the shows in my top five could, and probably did, land in the #1 position at one time or another as I was creating this list.
In the end, the Asolo takes this year's honor with their thoroughly enjoyable, scary and bizarre RHINOCEROS. Their opposite confection, the delightful tap-centric reinterpretation of THE MUSIC MAN, also made the Top 10. Another strong Asolo production, the compelling but oftentimes didactic ROE, barely missed the cut.
Tampa Rep also had a fine year, with a compelling HEISENBERG, a mixed GNIT, and a stunning A VIEW FROM THE BRIDGE. Stageworks and freeFall showcased good, sturdy work, but nothing to the point of being revelatory. Innovocative Theater, working with Stageworks, produced gutsy, important shows that I was happy to see in the area: the riveting KEELY & DU and the flawed but effective UGLY LIES THE BONE. Jobsite's HIR was certainly a standout and maybe the most talked about show of the year. It wasn't for everyone's taste, but it certainly planted its flag on my side of the road. I tried to get people to see it, to see two actors at the top of their game in a very timely, horrifyingly funny show, but people sadly stayed away, and a couple even walked out the night I experienced it. Which is a shame, because it was easily one of the year's very best.
But no local company had a stronger year than American Stage. Artistic Director Stephanie Gularte has molded this already-marvelous professional theatre into a state of the art, envelope-pushing entity, where mainstream productions and edgy, smaller shows get to be showcased by the very best actors, directors, set designers and costumers in the state. Three of my top 10 are American Stage shows, and two of them--BETWEEN RIVERSIDE & CRAZY and BAD JEWS--could have been chosen the best of this year or any year. Gularte is picking provocative, and provocatively fun, works, works that are filling the seats from thankful patrons. Although they had one bummer in their 2018 treasure trove (the cookie-cutter STRAIT OF GIBRALTAR), the rest of their year has been nothing short of sensational. And the shows that didn't make my list (the thought-provoking MARJORIE PRIME, the fun American Stage in the Park production of THE PRODUCERS, and the endearing MISS BENNET: CHRISTMAS AT PEMBERLEY) were marvelously entertaining. What a year! It makes me whet my whistle for their 2019 offerings.
No community theatre shows made the Top 10 in 2018, even though two had been on previous lists (the Manatee Players' 13: THE MUSICAL last year and Eight O'Clock Theatre's 1776 the year before that). I've seen some fine community theatre shows this year, but none that had the extra quality or lasting impact to crack the top 10. There were some fine high school shows, many putting on productions through performing arts summer camps; one of the best of these was SWEENEY TODD: THE DEMON BARBER OF FLEET STREET at Ruth Eckerd Hall, which featured a leading actor of amazing talent (Bailey Walman) who should be on our radar. But, alas, it did not make my list. Interestingly, a show that mixed college and high school students ultimately did make the grade: URINETOWN at SPC, still one of my favorite theatrical experiences of the year.
In 2018, the Tampa International Fringe Festival continued making its local mark in its second go around, and the Tampa Bay Theatre Festival, led by Rory Lawrence and his wife, Kahlila, keeps getting better and better. I also witnessed wonderful one-person cabarets this year in Sarasota: Tony Danza in May and the amazing Laura Benanti in September. Each of their performances was so memorable that I found myself wanting to experience more of these cabarets and one-person shows, perhaps even closer to home.
Thankfully there were less horror productions out there this year--plays and musicals that are so bad that they almost have me waking up in the middle of the night, drenched in cold sweat, trying to remove the memory from my brain. Still, 2018 marked the year I saw one of the worst shows in the area, a show so notoriously bad that I literally threw down my notebook during it and almost gave up. Seriously. There are just so many rancid shows that you can sit through, and this one was a doozy--a show so hard to endure that it made me question a life in the theatre. "There must be easier things for me to do out there," I said to the person sitting next to me. "Like skydiving or taxidermy."
But the gems I am honored to see, like the following local plays and performances on my list, make it all worthwhile. So, here they are, the best of the best...
1. RHINOCEROS [Asolo Repertory Theatre]
In a strong year for local theatre, Eugene Ionesco's absurdist icon easily sits at the top. Here's a production where everything works wonders (acting, set, costumes, script), and I see for the first time a play that I've read and studied for so many years. But what makes this work so utterly riveting in today's world is that this particular production was being performed during a time of "fake news" and "post-truths." It's sad to see it coming true before our eyes, where a myriad of people, seemingly good people, family and friends alike, are drinking the current chaotic proto-authoritarian Kool-Aid. Can RHINOCEROS, over half a century old, really be this timely? Leg-quakingly scary that much of it was, it was also quite funny, and you found yourself laughing out loud during it. (And you may also have found yourself holding your gut at the same time.) I left the show in a daze, knowing that I probably will never see a better version of this play again (not with the great David Breitbarth and Matt DeCaro directed by Frank Galati leading the way). After the laughter, RHINOCEROS shook me to the core, a nightmare we are coming too close to inhabiting. It's an experience I will never forget. Perfectly frightening. And perfect.
2. A VIEW FROM THE BRIDGE [Tampa Repertory Theatre]
Directors C. David Frankel and Megan Lamasney guided a stellar production of Arthur Miller's underappreciated classic. The actors, especially Ned Averill-Snell in one of his finest performances, all worked at their highest levels, and the show was nicely paced, never slow or dull. The brilliant Emilia Sargent, talented Nick Hoop and powerful Michael Mahoney lent amazing support to Averill-Snell's soul-stirring central work. Lea Umberger's minimal set was functional, and Jo Averill-Snell's lighting was seamless, compelling without ever intruding on the action or calling attention to itself. Connie LaMarca-Frankel's period costumes also worked well, as did Matt Cowley's sound design. The music of Igor Santos, underscored throughout, was full of doom, preparing us for the inevitable dread to come. And it all came together, beautifully.
3. BETWEEN RIVERSIDE & CRAZY [American Stage]
The Pulitzer Prize-winning BETWEEN RIVERSIDE & CRAZY is breathtaking. Literally. I actually had to catch my breath twice during it. This is a marvelous script, funny and heartbreaking, featuring great ensemble work from the cast but also spotlighting one of the single finest performances of the year: L. Peter Callender as the retired NYC cop, Walter "Pops" Washington. This show lives and breathes with whatever actor is graced with the part of Pops, and Callender gave a performance of a lifetime.
4. HIR [Jobsite Theater]
Watching Taylor Mac's awesomely disturbing HIR at Jobsite Theater, I remember thinking that we've moved so far as a society that plays like this one have easily found a home in Tampa. I was relieved that there is certainly a local audience for this type of in-your-face and kick-your-ass kind of show. Right then, two audience members had had enough, stood up and walked out in the middle of Act 1. So maybe some people in our area weren't ready for the darkly hilarious world of Taylor Mac. Did I mention that HIR was a masterpiece with an extraordinary cast, and that those two audience members did themselves a disservice by walking out? And unfortunately for them, they missed one terrific, and terrifically terrifying, play. Make no mistake, although HIR was disquieting, it was also wildly funny, and wild. It's why we go to the theater.
5. BAD JEWS [American Stage]
BAD JEWS is one of the most produced plays in the country, and after this production at American Stage, I understood why. This was one hell of a show. When you left the theater, you just wanted to talk about it to anyone you saw. And it's a conversation that we must have--who is in charge of our legacies, and will this upcoming generation be up to the task?
6. THE MUSIC MAN [Asolo Repertory Theatre]
If you're like me, then you probably rolled your eyes and groaned to yourself, "Not another MUSIC MAN!" the moment you heard that the Asolo Repertory Theatre was tackling the Meredith Willson classic. Has the show become so ubiquitous that we can't help but think that we don't need to see this overcooked masterpiece yet again? But the Asolo is THE Asolo, and this was not your typical, cobwebbed MUSIC MAN. This production was infused with more tapping than The Tap-Dance Kid and given an A+ treatment. And the two leads, Noah Racey and Britney Coleman, were dynamite. Racey even did the near impossible, and out-Prestoned the original Robert Preston. This MUSIC MAN was so full of life that I didn't want it to end.
7. A RAISIN IN THE SUN [American Stage]
We should say Lorraine Hansberry's name in hushed tones, as a measure of respect, of awe. She's that fine a writer, worthy of all the admiration that has come her way since this single show premiered so long ago. And we should watch her masterpiece--one of the finest American plays ever written--wherever it's playing, especially when it's given an A+ treatment as it had been at American Stage at the beginning of the year. I doubt that I will find a better production of A RAISIN IN THE SUN anytime soon.
8. THE MUSICAL OF MUSICALS (THE MUSICAL!) [freeFall Theatre]

Musical theatre, like baseball and jazz, started as a truly American phenomenon. THE MUSICAL OF MUSICALS (THE MUSICAL!), with music by Eric Rockwell and lyrics by Joanne Bogart, celebrated and dissed (with loving barbs) the greats who made musical theatre what it is: Stephen Sondheim, Richard Rodgers & Oscar Hammerstein, Jerry Herman, John Kander & Fred Ebb, and Andrew Lloyd Webber. Each composer or team got their comeuppance, with the most severe gags reserved for Lloyd Webber (including stealing Puccini references and a Starlight Express roller skating moment). This was, quite simply, a laugh riot, one of the funniest, smartest blasts I had seen in recent years. A musical theatre lover's dream.
9. HEISENBERG [Tampa Repertory Theatre]
Two words: Michael Mahoney.
10. URINETOWN [St. Petersburg College Theater Department]
URINETOWN'S storyline--a future world where people have to pay to pee--is not something you'd think would be part of a Tony-winning musical. But it's so smart, so incisive and funny, that everyone can enjoy it. The incredible SPC production took a mere five weeks to mount. The students, both high school and college, helped with the sets, the sound, the lighting, all of the behind the scenes business as well as the performance aspect. And all of it was guided by a truly visionary director, Scott Cooper, who, if I gave anyone a trophy for Director of the Year, it would be his. His work here was so assured and creative that I want to see him helm more shows in the area, especially with professional companies. A talent like this, a director who knows how to stage a show brilliantly and with heart, should not be squandered. We need him.
PERFORMANCES OF THE YEAR
11. BEST PERFORMANCE OF THE YEAR IN A PLAY (MALE): Ned Averill-Snell in A VIEW FROM THE BRIDGE [Tampa Repertory Theatre] and HIR [Jobsite Theater]
This is two years in a row that, once again, Ned Averill-Snell shows us why he is the finest actor in the area (he was last year's Best Actor for me as well). Others come close, but there is no one who could play the harried stroke victim in Jobsite's HIR and follow it up with his remarkable work as Eddie in Tampa Rep's A VIEW FROM THE BRIDGE--a blue collar man with secrets he doesn't even know he has. Both roles are tour de forces to be sure, the finest acting you will find ANYWHERE. We understand his characters' predicaments and each of their motives, and question him, loathe him at times, and yet we like watching him. In HIR, his heroic performance reminded me of Daniel Day-Lewis in My Left Foot merged with Harpo Marx and Lon Chaney, Jr. His work was so specific, and he made us feel sorry for such a one-time brute, a monster, that was currently being paraded for the purpose of humiliation. It was comically masterful and heartbreaking.
12. BEST PERFORMANCE OF THE YEAR IN A PLAY (FEMALE): Roxanne Fay in HIR [Jobsite Theater]
Roxanne Fay was astonishing as Paige, the mega-matriarch who is at war with societal "norms" in HIR. Her monologues about the "LGBTTSQQIAA Community" and Noah's Ark being transphobic cannot be forgotten. She started off like a cheerleader for the changing world, singing "You're Out of the Woods" from The Wizard of Oz, but you sensed the anger, the sadness, underneath it all. And there was a moment near the show's end, when all gloves come off, and Fay's Paige suddenly became cold and real, all pretenses removed; she spoke quietly, dismissively, all the wind knocked out of her sail. It's some of the best work Fay has ever done and almost criminal that she was not recognized for any awards for her brave work here.
13. BEST SUPPORTING PERFORMANCE OF THE YEAR IN A PLAY (MALE): Steve Garland in MARJORIE PRIME [American Stage]
There is a monologue near the end of MARJORIE PRIME that is so overwhelmingly emotional in Garland's hands that I can't imagine anyone else performing it. Although I shouldn't say the word "performing," because Garland is so natural onstage, so real and relaxed, that we never really see him "acting." He's always being instead of performing; natural, in the moment, reacting without overdoing it. And some of his moments here were filled with heartbreak, almost unbearably so. His monologue became one of the local theatre moments of the year.
14. BEST SUPPORTING PERFORMANCE OF THE YEAR IN A PLAY (FEMALE): Lauren Buglioli in BLITHE SPIRIT [Stageworks]
Although this production of BLITHE SPIRIT was far from perfect with serious pacing issues, the lovely Ms. Buglioli was absolutely stunning as Elvira. She looked like a 1930's movie star, not far removed from blonde bombshell Jean Harlow. She radiated that old-style glamour and beauty, and she was riveting, hilariously so, even when she didn't speak. It took forever for her to make her first entrance, but when she arrived, it was like an electrical explosion and the show burst to life.
15. BEST PERFORMANCE OF THE YEAR BY AN ACTOR IN A MUSICAL: Noah Racey in THE MUSIC MAN [Asolo Repertory Theatre]
Noah Racey played Harold Hill, the charismatic con-artist/salesman who awakens a sleepy Midwest town. Harold's the pied piper of the performing arts, a Johnny Appleseed selling hopes and dreams to a dead-end town that needs it. Racey is the real deal, that triple-threat rarity--a Song & Dance Man who can act. But that seems ill-suited a description of what Mr. Racey did here. He owned the stage like few others and tap danced his way into the audience's hearts.
16. BEST PERFORMANCE OF THE YEAR BY AN ACTRESS IN A MUSICAL: Britney Coleman in THE MUSIC MAN [Asolo Repertory Theatre]
Coleman's performance as Marian the Librarian left me speechless. As a singer, Ms. Coleman brought the musical to an altogether new level. Her rendition of "My White Knight" became the surprising show-stopper of this production and was perhaps the best I've ever heard.
17. OTHER Great Performances OF THE YEAR THAT I CHERISH...
David Breitbarth and Matt DeCaro in RHINOCEROS [Asolo Repertory Theatre]
As Berenger, the last man standing in Ionesco's Rhino Land (Paris), Breitbarth played an Average Joe, Absurdism's Hamlet. We found ourselves glad that he was our last chance amid a wild pack of perissodactlys. And equally as good was DeCaro as Gene, whose transformation into Rhino-hood was a sight to behold.
TR Butler in GNIT [Tampa Repertory Theatre]
Although the show was not my favorite, newcomer Butler was a real find here, playing an entire town. It sounds strange, and it certainly was in Will Eno Land, but it was quite striking to behold, like watching a person with multiple personalities talking to himself.
L. Peter Callender in BETWEEN RIVERSIDE & CRAZY [American Stage]
Callender's deep, raspy, commanding voice, and his withered body, as if the world was weighted on top of his shoulders, combined to create one of the more fascinating characters of modern drama.
Kristy Noel Carlson and Evan Lomba in THE 25TH ANNUAL PUTNAM COUNTY SPELLING BEE [Carrollwood Players]
Carlson was so strong that her Logainne Schwartzandgrubenniere became the center of this particular production. And in a reinterpretation of the role of Barfee, Evan Lomba came across as a nit-picky androgynous geek with a heavy dose of OCD. Tall and lean, with long black hair, he resembled David Copperfield with piercing Gloria Swanson eyes and long Kate Jackson hair. His big number, "Magic Foot," looked like a one-man Bob Fosse routine.
Fanni Green and Enoch King in A RAISIN IN THE SUN [American Stage]
Green was so loving as Mama that she may remind you of your own grandmother. But the show lives and breathes with the part of Walter Younger, and Enoch King filled the role with so much energy that there are not enough words to express the admiration for such an astonishing performance.
Chelsea Hooker in URINETOWN [St. Petersburg College]
Hooker's Penelope Pennywise was so incredible onstage that the word "stunning" doesn't even begin to cover it. During her first number, I wrote in my notebook after watching her (this was long before Aretha would pass), "Queen Latifah, Patti LaBelle and Aretha Franklin better take notice."
Jenny Lester in BAD JEWS and MISS BENNET: CHRISTMAS AT PEMBERLEY [American Stage]
Ms. Lester gives one of the year's finest performances as Daphna in BAD JEWS. Her monologues are plowed through, like a speed demon at 100 miles per hour. It's not a likable performance, nor is it meant to be, but it's spellbinding. And anyone who saw her equally fine work in MISS BENNET: CHRISTMAS AT PEMBERLEY will have a hard time believing that it's the same actress.
Michael Mahoney in HEISENBERG [Tampa Repertory Theatre]
A towering performance by one of our area's best.
Matthew McGee and Alex Ringler in THE PRODUCERS [American Stage in the Park]
In the key role of producer Max Bialystock, McGee knocks this out of the park in a role so perfectly suited for his talents. And Ringler as Carmen Ghia embraced all of the character's silliness, his sashaying demeanor, the proud queenliness, and his hissing of each s-sound. If water could walk, it would have looked like his entrance onstage.
Olivia Sargent and the Barbershop Quartet in THE MUSIC MAN [St. Petersburg Opera Company]
In this entertaining but flawed production, young Ms. Sargent played Zaneeta, the mayor's daughter, and had so many shadings, dimensions, in her character. She became the standout in a rather large cast. As for the Barbershop Quartet, they wandered in and out of the show like a quasi-Greek chorus. These four individuals (Matthew Krob, Adam Cannedy, George Slotin, and Branch Fields) were so good that perhaps the show should have been retitled The Music Men.
Michael Silvestri in IT SHOULDA BEEN YOU [Mad Theatre]
Silvestri turned the smaller part of George, the groom's prenup-centric dad, into a hero. I have seen Mr. Silvestri in several shows now, and he has become not just Tampa's finest community theatre performer, but one of its finest actors, period.
Marie-Claude Tremblay in UGLY LIES THE BONE [Innovocative Theatre/Stageworks]
Ms. Tremblay's work here was a harrowing portrait that never rang false. Her face sadly scarred on one side, she oftentimes shook uncontrollably, limping about, trying to find what her new normal will be. Gut-wrenching work.
Dawn Truax in KEELY & DU [Innovocative Theatre]
Truax was the heart and soul of KEELY & DU, and she let her silences speak volumes. There was a moment in Act 2 where three other characters were in hot debate, but I watched the silent Truax, listening, being, caught up in what was going on but unable to do or say anything. It was thrilling to see so much even when a character had nothing to say.
Bailey Beck Walman in SWEENEY TODD: THE DEMON BARBER OF FLEET STREET [Marcia P. Hoffman School for the Arts at Ruth Eckerd Hall]
Simply put, one of the best teenage performances I have ever witnessed. That voice, echoing throughout Ruth Eckerd Hall, was a revelation--so deep, resonate, and truly frightening. It was an incredibly scary portrayal, and knowing that this young man, this force of nature, was still a teenager warmed our hearts as he chilled our bones.
Terri Weagant in ROE [Asolo Repertory Theatre]
As the title character in this emotional road map through the history of Roe v. Wade, Weagant was able to come across as a crass, coarse, chain-smoking, cocaine-sniffing, speaks-her-mind-loudly woman, and we couldn't take our eyes off her.
18. AND SOME TO GROW ON. THE UPCOMING PRODUCTIONS I'M MOST LOOKING FORWARD TO SEEING IN 2019...
COLUMBINUS at Innovocative Theatre/Stageworks; THE CRUCIBLE, A DOLL'S HOUSE, PART 2 and NOISES OFF at the Asolo; OTHELLO and CONSTELLATIONS at Jobsite; LONG DAY'S JOURNEY INTO NIGHT and FUN HOME at American Stage; FOUR GUYS NAMED JOSE UNA MUJER NAMED MARIA at Stageworks; PERFECT ARRANGEMENT and BUYER & CELLAR at freeFall; APPLES IN WINTER at Urbanite; STUPID F%CKING BIRD at Tampa Rep; and that one surprise show that I know nothing about right now, waiting in 2019 for me to see, to change my life, to galvanize me so much that I must stand on the mountaintop and urge you all to see it, whatever it is. I can't wait for that experience to occur.
So until then, see you next year. Not only will I have my 19 for 2019 next December, but also...drum roll, please...my picks for the best of the decade in local theatre, 2010-2019. Can't wait!