BWW Review: The Repertory Theatre of St. Louis's Brilliant THE CURIOUS INCIDENT OF THE DOG IN THE NIGHT-TIME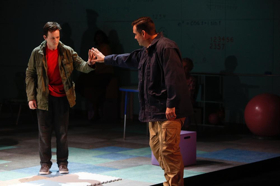 The Repertory Theatre of St. Louis opens their season with an amazing bit of brilliance called THE CURIOUS INCIDENT OF THE DOG IN THE NIGHT-TIME, adapted from the novel by Mark Haddon by playwright Simon Stephens. It's a story filled with marvelous touches that plunges you into a world filtered through the view of a fifteen year old boy who is dealing with what we might perceive as a kind of autism, with aspects of Asperger syndrome, among other personality traits. In fact, it's never truly specified as such. But the story itself is really a mystery, and one that, when solved, only produces further inquiry. It's a superbly acted, imaginatively staged tale, that will engage, stun, and delight you. It's a must-see experience on every level!
One day young, in Swindon, Christopher Boone discovers the neighbor's dog murdered with a pitchfork, and his life is forever changed from that point forward. His thought processes convince him that he must find out who killed the unfortunate "Wellington", despite his father, Ed, demanding he stop looking into the situation and disturbing the neighbors. But, Christopher, who is turning this all into a novel, and has already began reading it aloud in school, is unbowed in his, well, doggedness. What he discovers propels the story toward its second act, which I wouldn't dare spoil.
Nick LaMedica is remarkably immersed into his role as Christopher, and that depth of character engages you in such a way that you find yourself completely mesmerized from the start by his performance.It's a tour-de-force, that transport you to a different world with its sheer intensity. From this center radiates his loving, but rattled father, Ed,compelling played by Jimmy Kieffer. He's beleaguered, but bolstered by a desire to see his bright son achieve his A levels in mathematics, which would be quite a feat for the young man. Amy Blackman is Judy, the wife that got away, because caring for Christopher's needs was just more than she could handle at the time. Well, that, and a longtime relationship with the neighbor, Ed Shears (a suitably sleazy and creepy Kevin Cutts ), which pretty much scuttled her marriage, but not her love for her son. This core, along with Kathleen Wise's caring, and playful work as Siobhan, who is often narrating the play from Christopher's writings, when she's not directly interacting with him in challenging ways as his mentor/para-professional, are all strong and powerful in their own ways.
What augments the core are the ensemble; a group of actors who play a multitude of roles. Each has multiple encounter with Christopher, whether through his detective antics, at his school, or when he decides to go off to London by himself. Laiona Michelle, Michael Baxter, Kevin Cutts, Dathan B. Williams, Ka-Ling Cheung, and Dale Hodges are all the people that Christopher goes to school with, lives by, and otherwise comes across on his travels. They all do wonderful work, whether taking on a specific and important role in the action, or deftly resetting the stage and changing their costume for the upcoming scene.
Marcia Milgrom Dodge directs and choreographs the production in a way that engages us unpredictably. It's a mixture of music (great sound design by David Bullard), light (loving rendered by lighting designer Matthew Richards), and movement. Put together, it lets us hear and see, and sometimes feel, the way Christopher does at any given moment. For me, the scenic design of Narrelle Sissons is an overwhelming representation of what it's like inside of Christopher's brain,represented by the mammoth walls which house a canvas of math problems, and perfect numbers. The design is also cleverly changeable, allowing multiple scenes to play out in creative fashion. A real triumph for everyone involved.
The Repertory Theatre of St. Louis could not have opened with a better show. THE CURIOUS INCIDENT OF THE DOG IN THE NIGHT-TIME is everything I expect a truly memorable experience at the theatre to be. It made me laugh, it made me cry, and it made me think. I was fully drawn in by its considerable charms. Go see it through October 1st on the Main Stage of the Loretto-Hilton.
Photo Credit: Jerry Naunheim, Jr.