BWW Review: STAGES St. Louis's Superb SOUTH PACIFIC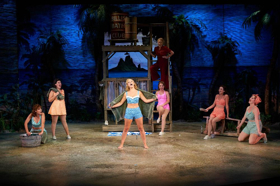 STAGES St. Louis ends their season with an wonderfully mounted production of Rodgers and Hammerstein's SOUTH PACIFIC. It's a classic musical absolutely filled to the brim with memorable songs, many of which have become standards. In fact, you'll likely find yourself humming any number of them as you head home after the show. Then there are the social issues that this Pulitzer prize winning drama tackles, which were groundbreaking for their time, yet still retain their impact today. Sadly, issues concerning race and acceptance have only intensified in our current volatile and divisive environment. Sparked by an excellent cast, this is an incredibly touching testament to the power this work still wields.
Hammerstein and Joshua Logan, who was recruited for his military knowledge, crafted a solid book for the show that weaves together two specific stories, along with other elements from James Michener's Tales of the South Pacific. The stories and characters chosen (some combined) allow the writers to make a statement, while also providing for conventional musical theatre tropes. In particular, the parallel love stories that are the backbone of this World War II based tale. Both romances build in passion only to be undone by deep-seated racial prejudices that must be overcome before either can have even a chance of moving forward.
Ensign Nellie Forbush finds herself falling hard for French plantation owner Emile de Becque, at least until she discovers his mixed race children, the product of a former marriage to a Tonkinese woman who passed away. Concurrently, Lt. Joseph Cable has become smitten with a native girl named Liat, the daughter of cagey local entrepreneur Blood Mary. But his upbringing prevents him from ever seriously entertaining the thought of marrying her. All this is set against the backdrop of "Operation Alligator", which entails putting two men with a radio on a remote, occupied, island in order to transmit information regarding Japanese troop movements occurring by sea and air. When both of their relationships falter, Emile and Lt. Cable undertake this difficult, and life-threatening, mission.
Leah Berry is perfect as Nellie Forbush, a self-described Arkansas "hick", who wears her emotions on her sleeve. Berry captures your heart repeatedly,with beautifully performed renditions of "A Cockeyed Optimist", and "I'm Gonna' Wash That Man Right Outta My Hair," before changing her tune and singing Emile's praises during "A Wonderful Guy." Berry is paired with Michael Halling as Emile, and he delivers timeless classics like "Some Enchanted Evening" and "This Nearly Was Mine" with a rich-voiced emotional resonance that will have you rooting for the pair to unite, despite the societal obstacles they face.
Matthew Hydzik is also strong as Lt. Cable, assigned to the island for a military operation, but finding romance with Sydney Jones as the lovely Liat when he visits the island of Bali Ha'i while his assignment is on hold. He explains how his prejudice was ingrained during "You've Got To Be Carefully Taught." Joanne Javien is especially good as Bloody Mary, and enlightens Cable on the mystic wonders of "Bali Ha'i ."Mark DiConzo also provides amusement, as well as a timely distraction during "Operation Alligator", as the ever-scheming Luther Billis. John Flack and Steve Isom contribute nicely as the officers in charge, Capt. George Brackett and Cmdr. William Harbison, respectively. Spencer Jones (Jerome) and Elle Wesley (Ngana) are adorable as Emile's children. The rest of the supporting cast is solid and enthusiastic.
Michael Hamilton's direction and musical staging are very well crafted, and the upbeat pacing makes the evening fly by. Ellen Isom's choreography makes numbers like "There's Nothing Like a Dame" and the Thanksgiving Follies really stand out. James Wolk creates a delightful scenic design that successfully conjures up the appropriate atmosphere, and it's nicely lit by Sean M. Savoie. Garth Dunbar's costumes really suit the military and civilian characters well, and Lisa Campbell Albert's musical direction makes this collection of memorable music even more so.
South Pacific is a true musical classic, and this superb production by STAGES St. Louis continues through October 8, 2017 at the Robert G. Reim auditorium.

Related Articles View More St. Louis

Stories

Shows
Chris has been active in the local theatre scene for over 30 years and reviewing local theatre for over 11. In addition to his acting (read more...)