Click Here for More Articles on OPERA - ST LOUIS
BWW Review: NABUCCO Conquers St. Louis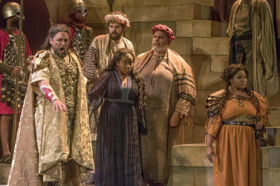 Verdi's Nabucco has opened at St. Louis' Union Avenue Opera, and it is a remarkably fine production. Of the many beautiful shows that this amazing small company has presented in its twenty-four seasons Nabucco is, perhaps, the most vocally gorgeous of all. This is due not only to the stellar quality of the principals, but also--and especially--to the quite wonderful work of the chorus. In this opera the chorus plays a starring role.
This was Verdi's third opera, his first great success, and the work which firmly established him in the heart of every Italian. He became, in a sense, the godfather of the Italian struggle for liberation and unified nationhood--the Risorgimento. The moving choral number in Act 3, "Va pensiero", in which the Hebrew slaves long for their homeland, became a kind of anthem for Italy. It was not unlike what "La Marseillaise" was to the French--not so martial, but wonderfully expressive of a deep heart-felt yearning. The composer's very name became an acronym for the motto of the Risorgimento: "Victor Emmanuel Rey D'Italia". No king ever had so grand a funeral procession as that which followed Verdi to his grave.
You all know Nebuchadnezzar of Biblical fame. This triumphant king of Babylon was called "the Destroyer of Nations", and it was he who conquered Jerusalem, destroyed the temple and forced the Hebrews into slavery in Babylon. (His friends, apparently including Giuseppe Verdi, called him "Nabucco".)
The plot of the opera is far removed from historical fact--even far from the Book of Daniel. We find Fenena and Abigaille, the two daughters of Nabucco, contending for the affections of a Hebrew slave, Ismaele, nephew of the King of Jerusalem. He loves the gentle Fenena; she has in fact embraced Judaism. But Abigaille, entering with sword in hand like Brunhilde, is the archetype of that scorned woman like whom Hell hath no fury! And she's ambitious. Sister and father be damned, the throne must be hers! Verdi gives Abigaille a monumental armament of vocal fireworks with which to express her outrage and power. Marsha Thompson triumphs in this extremely demanding role.
Fenena is a far less extravagantly showy role. It's loving and vulnerable, and Melody Wilson's beautiful warm voice is quite perfect for it.
Jesse Donner brings a strong and pure tenor and a noble bearing to the role of Ismaele.
The Hebrew high priest, Zaccaria, is a role for a powerful basso, and Zachary James more than fulfills this requirement. His is a stunningly--even startlingly powerful voice. By far the tallest figure on stage, James dominates the scene and fills the hall. The timbre of his voice rings with a touch of the brazen--an aspect that helps him to pierce through a stageful of voices, but hinders when blending in is appropriate.
Of all these glorious voices it is baritone Robert Garner as Nabucco who, for me, carries off the prize for sheer beauty. His voice seems not just smooth, but polished to a fine sheen, powerful but wonderfully controlled.
In smaller roles excellent work is done by Clark Sturdevant as the handsome soldier Abdalla, by Karen Kanakis as Zaccaria's sister Anna, and by Jacob Lassetter as the high priest of Baal.
But the chorus! The chorus, under conductor Stephen Hargreaves and assistant chorus master Jon Garrett, achieve the sublime! Time and again their sixteen voices blend in a sweet unison which focuses and compels and symbolizes the unity of a people. When they entered through the audience singing that incomparable "Va pensiero" I felt utterly wrapped and invested in that nostalgic yearning of the Hebrew slaves.
Maestro Hargreaves does superb work from that moment when the ominous chorus of low brass starts the overture till the final notes of the evening.
Stage director Mark Freiman manages the large cast deftly on the small stage. Every moment presents a beautiful stage picture. The chorus, in particular, is handled gracefully and with realistic individual attention.
Scene designer Patrick Huber gives us a great structure of stone: walls, steps and platforms, all of solid stone. It offers a pleasing variety of performance locations and serves the various scenes--the palace, the hanging gardens, etc.-- with minimal changes. Mr. Huber also gives us the fine lighting design.
Teresa Doggett provides beautiful and convincing costumes. The Hebrews' robes are varied, yet consistent--and they move so gracefully. Nabucco, on his entrance, is as glorious in white and gold as those paintings of Napoleon's coronation. His shoulders sport magnificent epaulettes of golden acanthus leaves!
Verdi's Nabucco is not to be missed. It plays through August 4 at the Union Avenue Opera in St. Louis.
Related Articles