Review: OLIVER! at Greenville Theatre is a Must See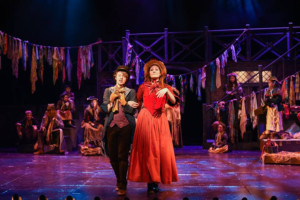 I have to just say it: Greenville Theatre's new production of Lionel Bart's musical, Oliver!, features a brilliant, star-making performance by Shaw Shurley in the title role.
Oh wait, did I mention that Shaw Shurley is my son?
Hyperbole - and obvious bias - aside, this is a vibrant, well-cast production that truly brings the beloved classic to life. Suzanne McCalla's direction, Kimberlee Ferreira's infectious choreography, and Tim St. Clair's musical direction perfectly combine to create a joyful evening of theatre.
Oliver! is, of course, Charles Dickens' story of a young orphan (Shaw Shurley) who , while growing up in a grimy workhouse, shocks the authorities by presumptuously asking for a second serving of gruel: "Please, sir, I want some more." Soon he's sold to an undertaker (a delightful Evan Harris) before escaping to the streets of London, where he meets a cheerful young fellow called the Artful Dodger (Myles Moore). When Dodger introduces Oliver to Fagin (Carter Allen), well, that's when things start really taking a turn for our young hero.
The score is packed with familiar tunes, from the opening strains of "Food, Glorious Food" and the joyous "Consider Yourself" to the heartbreaking ballads "Where is Love" and "As Long as He Needs Me." Director/Scenic Designer Suzanne McCalla's set - beautifully lit by Cory Granner - and Thomas Brooks costumes enhance the overall feel of the show, giving the proceedings a visceral texture that perfectly complements the story.
Performances across the board are outstanding, and while I am hesitant to actually discuss my own son's talents as Oliver Twist, many people have told me he does a great job. But I shall let you be the final judge of that.
As for folks I can comment on, Andrew Anderson impresses in early scenes as the officious Mr. Bumble, with Latreisha Lilly making a superb foil for him as Widow Corney. Both also excel vocally, and Lilly's "I Shall Scream" is an amusing highlight, played to the hilt by both performers.
As Fagin, Carter Allen is just the sort of lovable scoundrel we expect from the character. Allen makes a lot of nice choices with body movements - wonderfully accentuated by his flowing robe - and doesn't rely too heavily on going for easy laughs. Fagin is a heightened character who could easily veer into comic caricature, but Allen brings a naturalism to the part that allows for both laughs and sympathy.
Wonderful, too, is Myles Moore as the Artful Dodger. Moore is an utter delight in the role, both streetwise and charming, with an engaging manner and pleasing voice. He leads the evening's first real showstopper, "Consider Yourself," with a charismatic confidence.
Craig Smith is properly menacing - and not too over-the-top - as Bill Sikes, and many of the smaller, less showy roles, make big impressions from the talented cast, including Camila Escobar as Bet, Ashleigh Stowe as Mrs. Sowerberry, Kyle Kerr as Barnaby, Evan Harris as Mr. Brownlow, Jerry Witty as Mr. Grimwig, Kristi Parker Byers as Old Sally, and seven year-old Cohen Clark as the most adorable street urchin you've ever seen.
But maybe best of all - and that's really saying something in a cast this good - is Jamie Ann Walters as Nancy. Her voice is simply perfect for the role, from the chipper "It's A Fine Life" to the raucous "Oom Pah Pah" to the heartbreaking "As Long As He Needs Me." And she brings both vulnerability and strength to the part, anchoring the show's emotional element.
As much as I loved some of the solo moments - especially Fagin's "Reviewing the Situation," Nancy's "As Long As He Needs Me," and, if I may be indulged in a moment of parental pride, Oliver's tender "Where is Love?" - it's in the many ensemble numbers that the production really explodes. "You've Got to Pick A Pocket Or Two," "I'd Do Anything," "Be Back Soon," "Who Will Buy" - the list just keeps going. These are some of the most energetically performed and winningly choreographed pieces I've seen on the Greenville Theatre stage. Kudos to the entire production team for what is, for me, the definitive presentation of Oliver!
And I'm telling you, that Shaw Shurley is going places.
---
Oliver! runs through March 17 at Greenville Theatre in downtown Greenville, SC. For tickets and show times call the box office at 864.233.6238 or visit www.greenvilletheatre.org.
Photo credit: Wallace Krebs