BWW Interview: Playwright Leslie Kimbell brings FOUR OLD BROADS to Centre Stage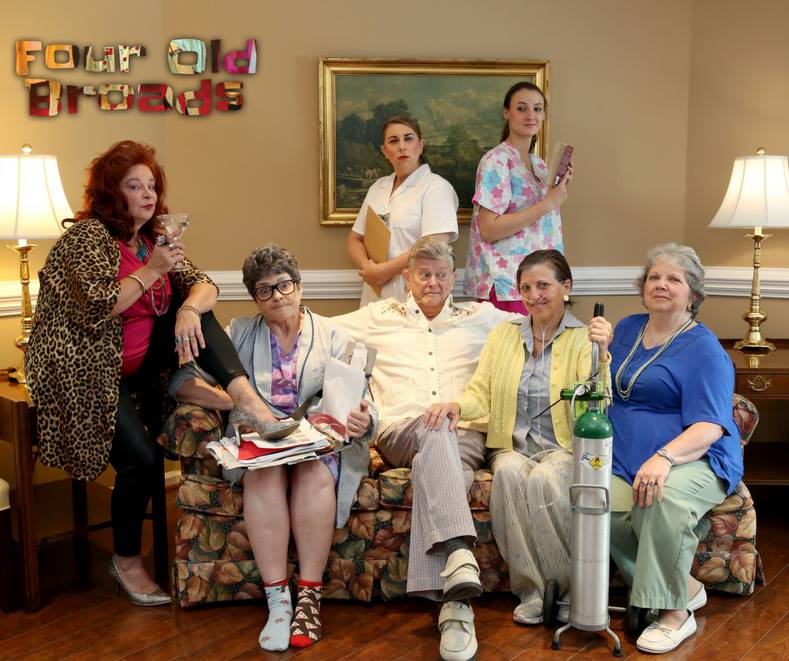 Leslie Kimbell describes herself as a Wife, Mother, Designer, Actor, and Award Winning Playwright.
Her play, Four Old Broads, won the 2016 New Play Festival at Centre Stage and a full production premieres there on September 12. We recently asked her to tell us a little more about her background and the play.
First, please tell us a little about yourself.
I live in Winder, Georgia. I am an actor, director, floral designer and playwright. I love reading, antiquing and absolutely anything involved with live theatre. I have been enchanted with live theatre since the age of ten, when I played one of the King's children in a local production of The King and I.
I am a strong supporter of the LGBT community and a Co-Founder of Angel Action Atlanta.
I have been married to my husband Scott for nineteen years. We have two gorgeous teenagers, Cameron 14 and Logan 15.
What was your inspiration for Four Old Broads?
SO many people and things inspired FOB. My maIn Focus was to write something for the senior community to perform. Senior actors are often overlooked in live theatre, There are not a lot of parts...good parts...leading roles...for seniors, particularly senior women.
I wanted to write something that celebrates seniors and portrays them as vivacious and funny...active and important. My characters are not little old ladies sitting around at a quilting bee talking about the weather. These ladies are funny, sassy and sexy.
Two of the most wonderful people I have ever known in my life are my grandmother "Nannie" DeVries and my Aunt Beatrice "Sissie" Bumpus, who inspired the characters Beatrice and Eaddy. Of course my Aunt Sissie was never a burlesque dancer...but she certainly had the sense of humor.
I have always been drawn to friendships with seniors...their "good old days" stories and life experience have always fascinated me. My dear senior friend and theatre mentor, Billie Nye-Muller certainly provided inspiration during many of our "laugh until we tinkled" gatherings.
I would also say that I was especially inspired by the wit and comical genius of Mr. Del Shores, whose work gives me life! Del took the time to read Broads and mentor and advise me. I can't thank him enough.
What surprised you when you saw the play produced versus what you'd originally envisioned?
The World Premiere of Four Old Broads was at Winder Barrow Community Theatre in Winder, Ga. I have been working with this theatre for almost fifteen years. Traditionally, a play at our little theatre will see attendance of between four and six hundred people over six performances. Broads had an attendance of over TWELVE HUNDRED people for six performances, with multiple shows selling out and causing a lot of excitement for our theatre.
The director of the show was Léland Downs Karas, and her direction of the show was so close to how I had envisioned it, it was almost as if I had directed it myself. From casting to the set...everything was done beautifully.
I know one thing that I originally envisioned, involved several of the ladies crawling around on the floor in the dark...and when I saw that scene opening night, all of the ladies were sitting on the sofa in the dark, hiding behind pillows. When I asked the director why she had opted to not have the ladies crawl around on the floor, she said "Well...the ladies all have bad knees and backs and they were unable to get down on the floor." I just remember thinking "WOW Leslie...you really thought that one through didn't you?" HA HA.
The script has now been changed so that the women don't get down on the floor.
What have been some of your favorite responses to the play, whether from audience members or actors or readers?
"When I saw the title of your play on the poster...I just knew I had to bring my ladies group. It was hysterical and everything we hoped it would be."
"I had to come see it again, because I was laughing so hard the first time...I missed some of what they were saying."
One of the local nursing homes brought a group of lades and one of them said "Thank you for letting people know we have something to give...and that we are funny too."
Several of the actors said things such as "Thank you for writing a fun and leading part that featured someone my age" or "I didn't think I would have another opportunity to perform...please write a sequel."
What do you hope audiences will take away with them after seeing the production?
I think we all have a funny "Nannie DeVries" or a hysterical "Aunt Sissie" in our family...and I hope the audience sees their family member on that stage.
I hope the audience leaves wanting to call that special senior in their life to chat and laugh with them...and maybe even bring them back to the show.
---
Four Old Broads tells the story of a retired Burlesque queen who wants a vacation and NOT another trip up to Helen, Georgia to see that "precious little German village for the umpteenth time." A Sassy Seniors Cruise through the Caribbean may be just the ticket if she can just convince her best friend to stop praying and go with her. Unfortunately, things have not been very pleasant at Magnolia Place Assisted Living - one resident is suddenly losing her memory, another is obsessed with planning her own funeral, and a retired Elvis impersonator keeps trying to bed every woman in the building. A mystery unfolds with laughter as the gals try to outsmart an evil nurse and figure out why so many residents have been moved to "the dark side" - and what exactly IS that mysterious pill? If they can find the answers, maybe - just maybe - they'll make it to the cruise ship after all.
Four Old Broads by Leslie Kimbell. Directed by Ruth Wood. Show dates are Sept 12 through 23, 2017 at Centre Stage in downtown Greenville, SC. Performances run Tues - Sat 8 pm, Sat Matinees 2 pm, and Sun Matinees 3 pm. For tickets call the box office at 864-233-6733 or visit centrestage.org.