The Premiere Playhouse to Present SEUSSICAL JR. in August
The playhouse will host an album listening party in the Orpheum Theater Center on Friday, March 10th from 4:00pm to 6:00pm.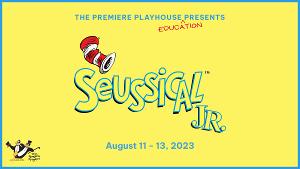 The Premiere Playhouse has revealed their 2023 Penguin Project production will be Seussical Jr.!
To launch registration for this all abilities education based production, The Premiere Playhouse is hosting a listening party so that prospective participants can listen to the songs in this "fantastical, magical, musical extravaganza" inspired by the stories of Dr. Seuss! The listening party will take place at TPP's offices in the Orpheum Theater Center on Friday, March 10th from 4:00pm to 6:00pm.
In addition to the listening party, TPP's Education Department and members of the Seussical Jr. production team will be hosting two information sessions in March to help prospective participants and their guardians understand the ins and outs of the program! These informational meetings will take place on Monday, March 20th from 6:00pm to 7:30pm and Tuesday, March 28th from 6:00pm to 7:30pm at TPP's offices. Seussical Jr. rehearsals take place from early May to early August. The production will perform August 11th to 13th, 2023 in the Orpheum Theater.
Last year's Annie Jr., TPP's inaugural Penguin Project production, earned them the 2022 BroadwayWorld Regional Sioux Falls Award for Best Theatre for Young Audiences Production. To learn more about The Penguin Project and TPP's partnership with this organization to provide artists of all abilities the spotlight, visit this webpage! Have questions? Contact TPP's Education team at education@thepremiereplayhouse.com for assistance.