Lilac Saints & Friends Come to Esplanade This Week
The performance is on 6 January.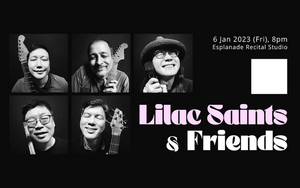 To celebrate three decades of being friends who just happen to be in the same band, Lilac Saints will be performing their distinct brand of indie pop for, and with friends, at the Esplanade Recital Studio.
The gig will thank and recognise friends who have supported the veteran local band by attending their gigs, buying their CDs, or just appreciating their music since 1989 when the boys first got together. The band will also be inviting friends like singer-songwriter Dru Chen, as well as singer/actress/host Joanna Dong to perform a few tunes with them.
Expect to hear radio gems like Wasting Time, Gina, Jamaica, Nightfall, and Give Me Love on Xmas Day, as well as some deep cuts from across their three albums.
This gig will also mark the release of Halo Again: The Best of Lilac Saints on streaming platforms. The album is a collection of their favourite songs from their albums, Halo! (1994), Lilac Saints (1995) and Awake (1999), as well as other singles and tracks off other compilations.