The King and I - 2015 - Broadway
Tony winner Bartlett Sher (South Pacific) directs this classic tale of a British schoolteacher's unexpected relationship with the imperious King of Siam.
Five-time Tony Award nominee Kelli O'Hara (The Light in the Piazza, South Pacific) and Academy Award nominee Ken Watanabe (The Last Samurai, Inception) star in a magnificent new Broadway production of Rodgers and Hammerstein's beloved THE KING AND I.
Featuring a cast of more than 50, choreography based on the original by Jerome Robbins, and a score of treasured songs including "Getting to Know You," "I Whistle a Happy Tune" and "Shall We Dance?" in their glorious, original orchestrations, Lincoln Center Theater's new staging of THE KING AND I invites you to get to know this inspiring and enchanting musical classic.
Video preview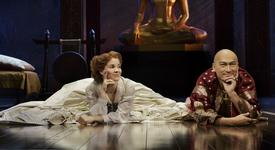 Photo preview
Schedule
Running Time: Two hours and 55 minutes, with one intermission
Featured Reviews For The King and I
Aisle View: R&H Return to Lincoln Center - Huffington Post
In a day and age when producers, directors and author's executors think nothing of imposing their so-called artistic vision on Broadway masterworks that were pretty good to begin with, it is heartening to see producers, directors and executors just do the show as written...The production has the epic sweep that the authors intended, along with all those songs. Mr. Sher and his leading players also investigate undercurrents of romance and physical attraction which were not evident in the original production...Sher enhances these undercurrents, and has his actors act on them...That this works so well--and adds an additional color to the tapestry of the show--is due in part to the acting. Ms. O'Hara seems to have been born to play musical theatre heroines like Anna, Nellie Forbush and Julie Jordan; if only people were still writing such roles. Her Anna is young and hot-blooded enough to respond to the emotion, although unable...to act on it. Ken Watanabe, meanwhile, proves to be a strong actor, and sparks fly.
Kelli O'Hara rules in lavish revival of 'King and I' - NY Post
You can't overstate how stunningly beautiful, how achingly well sung this new revival of "The King and I" is...Kelli O'Hara...gives yet another finely calibrated performance as the "I" of the title. Her warm, occasionally bemused poise makes her a fine fit for Anna Leonowens...The music is simply divine. The cast appears to be just as transported as we are, their voices ringing with heartfelt emotion. And yet we're one element short of perfection -- and that's the king. Watanabe...cuts an imposing figure but plays the ruler broadly, overemphasizing a comic petulance that leaves little room for stately gravitas...There's not even a hint of a romantic spark with Anna...But so strong is the rest of this show that, even with a relatively weak performance by the king, you're still getting the royal treatment.
The King and I Broadway Cast