Review: WHAT THE CONSTITUTION MEANS TO ME at Seattle Rep
The critically acclaimed show comes to Seattle, right when we need it.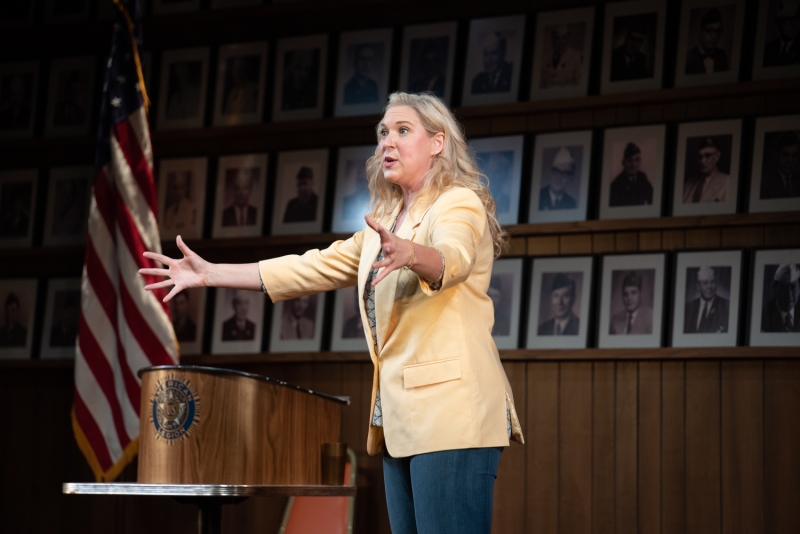 The problem with a one person show, Dear Readers, or even a mostly one-person show is that often the author can tend to ramble. They get lost in their own exorcising of whatever demons they're trying to get out and go on tangent after tangent. Heidi Schreck, author of "What the Constitution Means to Me", currently playing at the Seattle Rep, even references it herself. However, Schreck manages to take those seeming tangents and gracefully pull that thread connecting them all and bring them all together creating a wholly impactful and provocative show that will stick with you long after you leave the theater.
Now, I should mention that on Broadway, Schreck performed her own work. And why wouldn't she as the piece is a reflection and recreation of her high school days travelling around to give presentations on, you guessed it, the constitution. She didn't do it purely for love but also for the prize money, which she says paid her way through college. But now, Schreck has passed the baton of her work onto Cassie Beck who portrays Schreck as this, as the title says, is about what this all means to her. She delves into her own ancestry as a touchstone for the rights afforded by the Constitution, even as those details get a quite raw and personal.
But that's why the show worked and continues to work as well as it does. It's not just a lecture on our Constitution and how it relates to today but also a fascinating journey into the world of this woman who has come to grips with how the thing she loved for so many years has also failed her so many times. But beyond her story, and this is where the brilliance of the tour of this show comes into play, we get a peek into the stories of those involved with the tour now. Beck bares her own soul on her experiences with the laws of our country as she, eventually, breaks the fourth wall and steps out of Cassie's persona and into her own. Similarly, the character of the Legionnaire, the moderator of the "competition" who mostly acts as a sounding board, steps forward as the actor playing him, Gabriel Mann, and delivers his own personal story. Plus, there are Leah Scott and Mara Gonzalez Moral, two young actors/debaters who alternate nights as a final bit of real competition for Beck as they attempt to defend or upend our current system of governance. And Scott too (the young debater on the night I saw it) brings in her own personality and story to the piece. All this makes this show an ever changing and living entity. Kind of like the Constitution.
But the show is 90% Beck, and she manages the pace beautifully. She's engaging with tons of presence and keeps the audience right in the palm of her hand from the first moment. It's not an easy feat to carry a show all on your own and she does it with seeming ease. And as for the visitors to her world, Marin and Scott add some well-timed variation and fun to the evening keeping the show from being that aforementioned lecture.
As directed by the original Broadway director, Oliver Butler, this is a master work of information delivered with a spoonful of sugar of emotion and comedy. And beyond that, Schreck's work gives us some insight into our own history that we may not know or maybe just don't like to recognize, but we should. And so, with my three-letter rating system, I give "What the Constitution Means to Me" a truly fascinating and fun YAY+. A stunning work that we're lucky to get to see in town.
"What the Constitution Means to Me" performs at the Seattle Rep through October 23rd. For tickets or information visit them online at www.seattlerep.org.
| | |
| --- | --- |
| Vote Now for the 2022 BroadwayWorld Seattle Awards | |
| voting ends in | |
From This Author - Jay Irwin
         Born and raised in Seattle, WA, Jay has been a theater geek for years.  He attends as many shows as he can around the country and loves taking in new exciting... (read more about this author)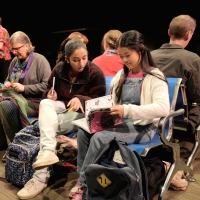 Review: THE FLIGHT BEFORE XMAS from Macha Theatre Works

December 4, 2022

Dear Readers, we all know that travelling during the holidays can be a nightmare. Delayed flights, family drama, not to mention dealing with others attempting their own travels. But as frustrating as it can be, what's not frustrating is the delightful cast of characters created by Maggie Lee in her play, "The Flight Before Xmas". A wonderful and heartfelt diversion from the usual holiday fare currently playing at West of Lenin from Macha Theatre Works.
---
Review: MR. DICKENS AND HIS CAROL at The Seattle Rep

December 1, 2022

Charles Dickens' "A Christmas Carol" is an enduring classic. We all know this. It's never been out of publication since its first publishing in 1843. It has spawned numerous movie, TV, and stage adaptations from the serious to the Muppets. Now the Seattle Rep has come along with a World Premiere of Samantha Silva's "Mr. Dickens and His Carol", based on her book of the same name. Taking a supposed look at the creation of this classic tale, this historical fiction is heavy on the fiction and light on the history, cutting a wide swath with its poetic license about the author and turning him into a pompous buffoon in a story and a production in desperate need of an editor.
---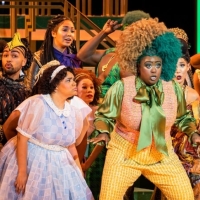 Review: THE WIZ at The 5th Avenue Theatre

November 28, 2022

L. Frank Baum's classic fantasy "The Wonderful Wizard of Oz" is the gift that just keeps on giving. From its 1901 origins to the 1939 iconic film to any number of sequels, movies, and even a Broadway musical or two, we always seem to want to hear more and more about the magical land of Oz. And no small part of those tales is the fabulous William F. Brown and Charlie Smalls, Tony Award winning musical, "The Wiz" from 1974. And now the 5th Avenue Theatre has brought this green gem to vivid life with their current delightful production.
---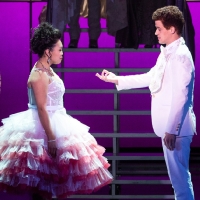 Review: RODGERS AND HAMMERSTEIN'S CINDERELLA at Village Theatre

November 19, 2022

"Rodgers and Hammerstein's Cinderella" is an enduring classic for a reason. Sure, it's family friendly and has a worldwide recognizable name, but in addition to it's wonderful songs, it's shown to be amazingly adaptable based on the production.
---
Review: NOT / OUR TOWN from Pony World Theatre

November 12, 2022

Dear Readers, there's an interesting an innovative new work based on an old classic playing in Capitol Hill with Pony World Theatre's "Not / Our Town". Even as I arrived at the theater, the pre-show activities the audience must partake in were filled with promise. Unfortunately, that promise quickly waned as this "NOT / Our Town" ended up mostly being "Our Town Highlights" mixed with one of my pet peeves, someone else's therapy on stage.
---