Interview: Shileah Corey of FUN HOME at Ballyhoo Theatre
Now through March 19th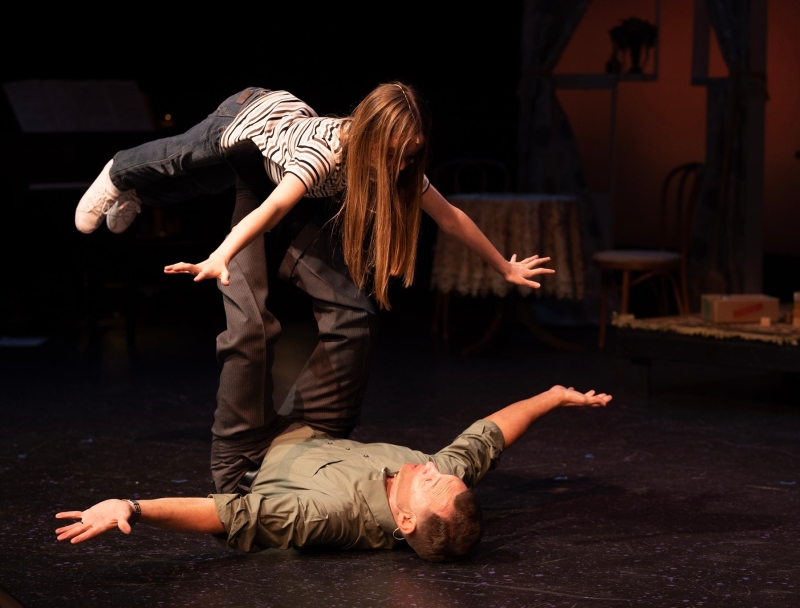 I recently sat down with Shileah Corey, director of Ballyhoo's production of Fun Home to talk about the show and its significance in our society today. Here's what she had to say:
Q: What drew you to produce this show?
A: When Fun Home opened on Broadway in 2015 I was incredibly interested in what I was hearing about the show, and when the cast album finally came out, I fell in love. In 2016 I had the extreme privilege of seeing the show on Broadway at Circle in the Square Theatre, and it became the top show on my bucket list to direct. Seven years later (and 6 attempts to get the rights to the show), here we are, finally, the first local production in the Greater Seattle area!
There are many wonderful "firsts" that drew me to this particular piece - Lisa Kron and Jeanine Tesori's musical adaption of Alison Bechdel's graphic novel, "Fun Home: A Family Tragicomedy", is a groundbreaking musical that took the theatrical world by storm. It was the first Broadway show to use an openly lesbian protagonist. In addition, Fun Home is the first Broadway musical to be written by an all-female team. The original Broadway production won five Tony Awards, including Best New Musical. But, ultimately, it was simply a story that I wanted to tell. Not only is the exploration of Alison's complex relationship with her father fascinating, but Bechdel's own self-discovery of her sexuality and her journey to authenticity is a truly beautiful story. Coming out is a difficult journey at best. This show brings a sweet and heart-felt perspective to that adventure.
For those of us in the queer community, our stories are as different and as unique as we are. What we all share, however, is that we live in a world that "others" us for those differences. Seeing our stories on stage, especially in such a celebrated way, makes a strong statement about the resilience and bravery of those who came before (or alongside) us. Without them, we wouldn't have a show like Fun Home.
Q: The show covers a lot of themes. What do you think is the central message?
A: I think, like any good story, it's about relationships. Alison's relationship with her parents was complicated, especially with her father. As she processes his death the only way that feels safe to her (in cartoons and captions), she has to confront her own self doubts and trauma. But, she loved him, in spite of her difficult and traumatic childhood. And, she reflects on all the amazing lessons he taught her. We can still love while understanding that our loved ones can sometimes cause us deep pain. Fun Home, at its core, is about relationships.
Q: Which character do you find most interesting? Why?
A: I think Alison is the most interesting, primarily because we have so much access to her story and history in the show. We see her at 3 different ages, and we know she is a real person. I spent many, many hours not only reading her full cannon, but also listening to podcasts and interviews. She's a fascinating human, and in Fun Home we get to see a large chunk of her journey to authenticity.
Q: Which character do you find most challenging? Why?
A: I think the character of Bruce is the most challenging story to tell. He handled some things in his life very, very wrong. Terribly in fact. But he was also persecuted by a society (especially in a small town) that could not, and would never, accept who he was. Would he have done those things as an out gay man in 2023? Maybe not. But we'll never know. What if he had also had access to mental health care? Balancing his truths is very difficult.
Q: Why is this show important for audiences today?
A: The country is full of bad news for queer people right now. Many feel, in no uncertain terms, that they are not welcome, accepted, and in the case of transgender and non-binary people, should not be allowed to even exist. We all know the implications of what is happening. Rights are getting rolled back faster than we can keep track of. One of the ways to marginalize people further is to take away art and storytelling that makes them feel seen and heard. The more invisible you make someone, the easier it is to further marginalize and criminalize them. This has been a repeating pattern used against BIPOC and LGBTQIA2s+ folks. Every time someone has access to the FUN HOME book, the music and the play, they know that they are seen.
Q: What do you hope people will take away from the show?
A: If they are queer, I hope they feel celebrated and heard. If they are not, I hope they come away with a deeper understanding of how important it is to live authentically. And for everyone, I hope they are entertained and enlightened, and that it gives them a brief respite from the difficulties we all face.
Q: What moment in the show resonates the most with you as a director?
A: Oh, there are SO many! When Small Alison sees someone like her for the first time, and understands that there are people like her out in the world. She's not alone. When Helen confesses that her own life and dreams slipped away and that she wants better for her child. When Alison understands that her art and storytelling are powerful enough to help heal her brokenness about her childhood. There are so many beautiful moments in the show.
Q: Anything else you want to share with our readers?
A: Just that I am so appreciative of my cast, crew, creative staff, and musicians. I know and understand how privileged I am to get to work with and spend time with these amazing and talented humans. And, as a queer woman myself, getting to work with a largely queer cast is such an incredible gift. I'm also grateful for the support of my partner, Jeannie, who has a deep and special connection to this particular show. This is one of those shows that will be truly difficult to say goodbye to.
Fun Home is playing at the Edmonds College Black Box now through March 19th. For tickets or more information - https://cloud.broadwayworld.com/rec/ticketclick.cfm?fromlink=2231104®id=17&articlelink=https%3A%2F%2Fevents.humanitix.com%2Ffun-home?utm_source=BWW2022&utm_medium=referral&utm_campaign=article&utm_content=bottombuybutton1