Review: Williams Project's SMALL CRAFT WARNINGS Doesn't Shy Away from Those Deep Cuts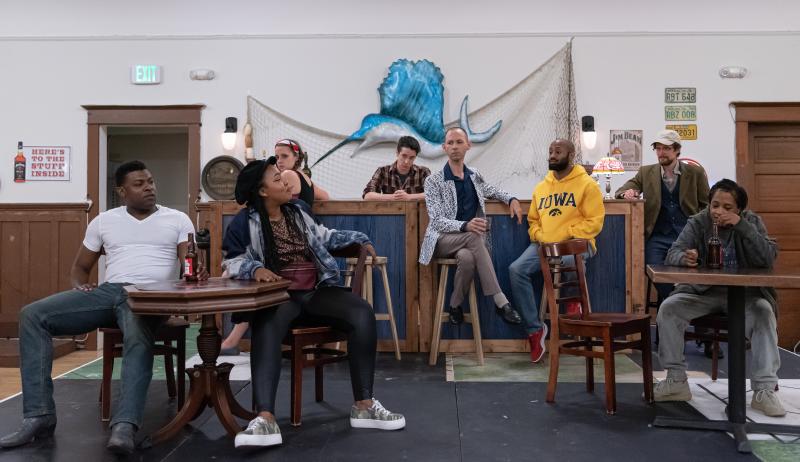 The Williams Project, that small theater company that burst onto the Seattle theater scene in 2014 with their incredible "Orpheus Descending" is back with the first of two shows within their "Bar Plays" series. This time it's Tennessee Williams' "Small Craft Warnings" and with this, they once again show what a dedicated company, committed to actually paying their actors, can do with an interesting space, a little money, and a lot of talent.
In "Small Craft Warnings" Williams examines the denizens of a small waterfront bar in Southern California. We meet the bar owner Monk (Lee LeBreton), a doctor with no license (Max Rosenak), a beautician Leona and her sometime boyfriend Bill (Kemiyondo Coutinho and Richard Prioleau), a strung-out prostitute Violet and her sometime boyfriend Steve (Madeleine Lambert and Dedra D. Woods), and a washed up screenwriter Quentin and the young bicyclist Bobby he picked up on the road (Grant Chapman and Lamar Legend). The piece is not so much a play but a study of the characters whose tragic lives intertwine within the walls of this bar. Told largely through monologues, each one through the course of the show gets the chance to share a bit about themselves and what brought them to this point.
What director Ryan Guzzo Purcell has so expertly done as with other Williams Project shows is to produce the show within its own environment. Not in a proper theater, as you would think, but in this case at Washington Hall which they have transformed into a bar. There are bar tables at which the audience can sit, real booze flowing (including a few signature show cocktails), and an atmosphere that truly gives you that bar feel right down to a hysterical bit that happens outside the bar. But moreover, Purcell has kept this from being simply a line of monologues that drones on. The pace and the energy flows beautifully keeping engagement high.
The cast is stunning, each and every one of them, with none of them shying away from what's difficult but embracing it. Coutinho as Leona manages a swagger and confidence while still retaining an underbelly of extreme vulnerability and you cannot help but watch every move she makes. Lambert exposes every raw nerve making her portrayal of Violet tragic and sympathetic. Chapman and Legend beautifully portray to very different sides of gay culture at that time giving a fascinating look at the era as well as into Williams' mind. Prioleau, with his imposing frame, artfully shows off a sexual yet very dangerous individual with Woods giving us the other side of the coin as a broken and meek man trying to cling to the scraps he gets. Rosenak once again shows off some amazing physicality with his character, imbuing every move and utterance with a story. And LeBreton as Monk, the one who has to keep this circus together, takes it beyond a simple observer but adds in their own faults while insisting they're in charge.
I've often said you never want to miss a Williams Project show and that trend still holds. And so, with my three-letter rating system, I give The Williams Project's production of "Small Craft Warnings" a riveting YAY. As always, some of the finest and most scintillating performances in town. And stay tuned next week when I'll talk about the second of "The Bar Plays", William Saroyan's, "The Time of Your Life", The Williams Project is presenting with the same incredible cast.
"Small Craft Warnings" from The Williams Project performs at Washington Hall through August 25th. As always, all tickets are pay what you can. For tickets or information, visit them online at www.thewilliamsproject.org.