BWW Review: THE MIRACULOUS JOURNEY OF EDWARD TULANE at Seattle Children's Theatre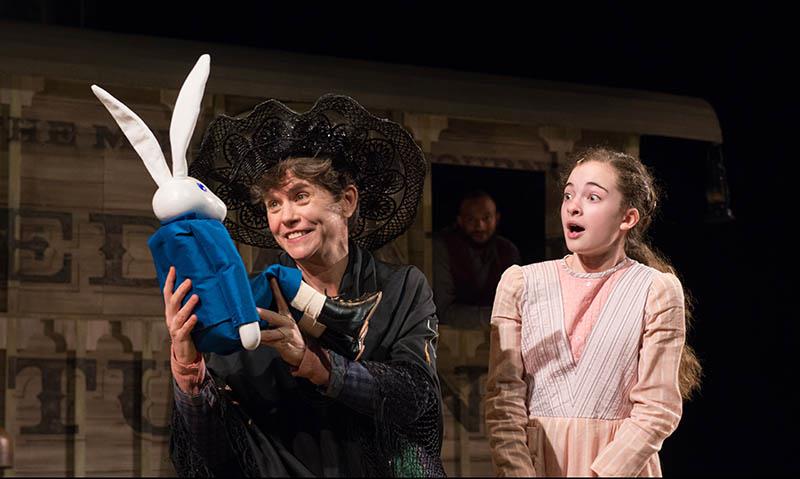 Seattle Children's Theatre brings another classic book to life in their production of The Miraculous Journey of Edward Tulane. The book by Kate DiCamillo tells the story of a china rabbit that is given as a gift to a young girl, Abilene, by her grandmother. The girl adores the rabbit and names him Edward. Edward, however, is only interested in himself and his own thoughts and fails to appreciate or connect with those around him. The grandmother who seems to sense Edward's aloofness, warns that she is disappointed in him, and that loving others is the whole point of existence. Through a series of events, Edward is separated from Abilene and spends years moving in and out of the possession of various people. Along the way he learns what it means to be loved and how to love others. Through chance or fate or maybe miracles, Edward is given the chance to love those who first loved him.
Edward appears in the show as both the actual china rabbit doll and as an actor who serves as the voice and thoughts of Edward. Rafael Molina in this role is heart-warming. Though Edward starts his journey a bit brusque and self-absorbed, Molina portrays his growth and change with nuance and clarity. Rhonda J. Soikowski as the Traveler slips easily into and out of the skins of several characters giving each of them a distinctness of individuality. The warm tone of her voice pulls you in and sustains you through the many emotional ups and downs of the show. Lucas Oktay as Bryce was another stand out to me. His emotions seems raw and overwhelming to him just as they should to a character of Bryce's age going through such ordeals.
The puppets in the show by Anne Mateo were beautifully crafted and used with deftness. The lighting design by Connie Yun paralleled Edward's journey, supporting the story with clues and reinforcements of his internal changes. Scenic Design by Carey Wong was an interesting mix. Some parts felt like they grounded the story and provided opportunities for nonverbal additions to the story. Other parts with large turning platforms seemed to overwhelm the story and distract from the quietness of what was happening between the characters. Direction by Courtney Sale brought all the pieces together, weaving them into a multilayered presentation of a beloved story. The use of live music with several characters contributing different bits throughout was a lovely touch.
The story itself becomes more powerful when moved off the pages of a book and into the hands of live actors. For some kids it may be too much. I question the choice to break for intermission just when Edward has been flung from a train and separated from his friends and left alone in a field. That's a hard place to leave kids, and the arc to bring Edward's journey to fulfillment takes an awfully long time. Overall the show does a solid job of telling a beautiful story. I just hope that the rest of their season includes some fun and silliness or their regular patrons will be emotionally exhausted by summer.
The Miraculous Journey of Edward Tulane is playing at Seattle Children's Theatre now through March 10th. For tickets or more information, visit www.sct.org.