BWW Review: THE CALL at Seattle Public Theater Should Pick a Story and Stick with It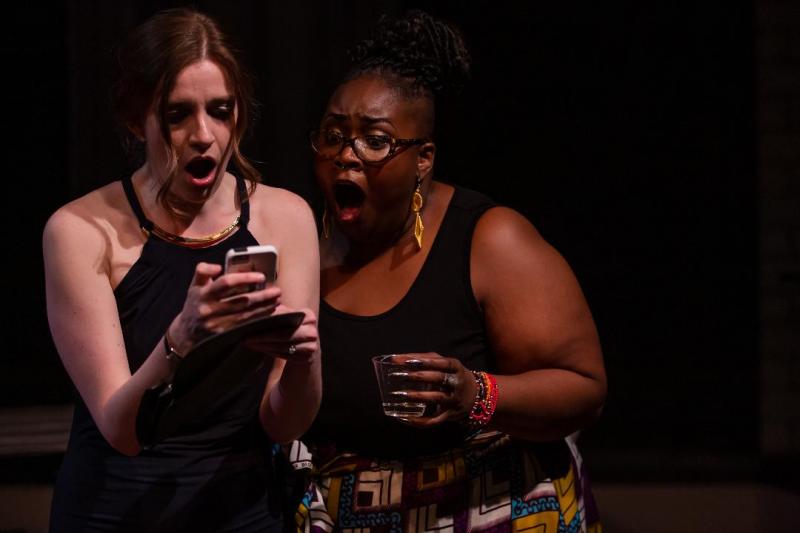 Dear Readers, you know when you leave a play and you just feel unsatisfied? Maybe the performances weren't up to snuff or the direction faltered, but you have trouble putting your finger on why you feel this way. Such was my experience last night at Seattle Public Theater's Northwest Premiere of Tanya Barfield's "The Call". I walked to my car wondering why this hadn't hit me harder. The performers were all top notch and the direction from Annie Lareau was lively and flowed beautifully. And then it hit me, Ms. Barfield was simply trying to tell me too many stories and with so many flying about, none of them quite stuck the landing.
The play follows upper middle-class couple Annie and Peter (Brenda Joyner and Cobey Mandarino) who've endured several treatments and miscarriages in their efforts to have a baby. So, while dining with their best friends Drea and Rebecca (Ayo Tushinde and Shermona Mitchell) they announce that they've decided to adopt and are waiting for a young woman in Arizona to give birth. But when that adoption falls through, the couple looks abroad and begins the process to adopt and orphan from Africa. The call finally comes through, but the baby is not so much a baby but 2 ½ years old. And then they receive a picture and she actually looks closer to 4 years old. Enter much soul searching and doubt about why they want to adopt, and can they handle the cross-cultural issues.
Performance-wise, Joyner and Mandarino go through quite a journey, as do Tushinde and Mitchell. Each showing the toll these decisions are taking and how they affect not only themselves but the loved ones in their lives. Joyner's constant chipping away at her character until she finally breaks is stunning and Mandarino's retreat into himself is haunting. And Bob Williams as their African next-door neighbor manages to bring in some light as a bit of a release valve of the tension but still expresses some key moments.
So yes, the performances and direction were there but Ms. Barfield needs to pick her battles. You think the play is about adoption issues of this young girl but then she brings in another storyline of adoption abroad vs. adoption domestically which is never quite resolved. And then there's an emotional catharsis where secrets come out near the end that feels completely out of left field and has nothing to do with the adoption. And when the final decisions on the adoption came I found myself asking, "Why? Why did you come to this decision?" It all just feels like too much with not enough earned payoff.
Maybe I was in the wrong frame of mind due to some amazingly tight and uncomfortable seats. Maybe it was the couple from the land of the giants who were sitting in front of me. Or maybe it was that the playwright was trying to jam too many hot button topics into one story, but it just didn't resonate. And so, with my three-letter rating system, I give Seattle Public Theater's production of "The Call" an unsatisfied MEH. A mish-mash of loose dangling threads isn't good in a sweater and it's not good in a play either.
"The Call" performs at Seattle Public Theater through June 9th. For tickets or information visit them online at www.seattlepublictheater.org.