Review: Seattle Rep's FAMILIAR Reinvigorates the Wedding Comedy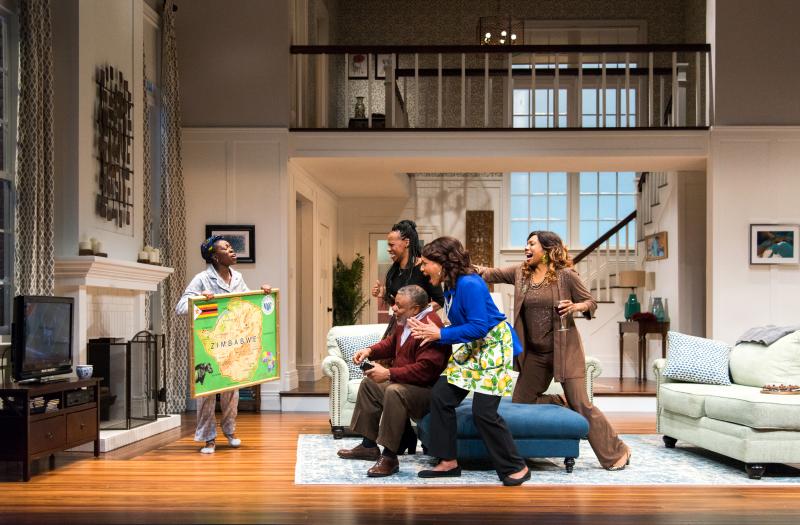 The family dramedy of a wedding in chaos is no new idea in fact it's been done to death. That's not to say there aren't good ones but it's certainly a subject that's been thoroughly mined. Or so I thought. Danai Gurira's fantastic play "Familiar", currently playing at the Seattle Rep, takes this old trope and reinvigorates it by infusing it with the story of a family choosing whether they stick with tradition or find their own way. Add to that the fact that it's just a touching and hilarious piece and Gurira proves that the old wedding play trope still has a few tricks left in her.
Set in Minnesota in the home of Donald and Dr. Marvelous Chinyaramwira (Harvy Blanks and Perri Gaffney), the two are getting ready for the rehearsal dinner of their daughter Tendi (Shá Cage) to Chris (Quinn Franzen). But Tendi has put aside many of her Zimbabwe roots in favor of her new Christian ideals that conform with her new white finance and the wedding will have no African elements at all. Enter Auntie Anne (Wandachristine), Marvelous' eldest sister who still lives in Zimbabwe and has convinced the couple to have the traditional Roora ceremony prior to the wedding. But the ceremony may expose more than just lost heritage for the family as Auntie Anne has an ulterior motive or two.
Sure, at its core the play is a typical chaos at a wedding (or before a wedding) story but it's so much more as Gurira delves into issues of immigration, leaving behind family and friends for a "better life", staying in a war-torn country, and coming home again. And director Taibi Magar keeps the feel of it all as if it's quite real. As if you're just sitting with a family and spying on their conversation and that's both a blessing and a curse as some of the dialog at the beginning, as the conversations and accents and languages overlap fast and furious, are difficult to make out. But it all becomes quite clear and the heart of this play, the love of the family, is evident. And I must mention the incredible set from Adam Rigg that I heard more than one theatergoer comment that they wanted to move into.
Blanks and Gaffney are adorable together as a couple that knows how to get along after decades of marriage, each trying to get what they want without ever really saying what they want. Austene Van as Marvelous' other sister Margaret is a delight as she sweeps in and commands the room as well as a never-ending glass of wine. Cage and Franzen have wonderful chemistry together especially in conveying two accomplished people trying to fight some very strong urges. Aishé Keita as Tendi's younger artist sister Nyasha is stunning both as a presence on stage and musically (at the end of the play) and her scene with the absolutely hysterical Michael Wieser as Chris' unfocused brother Brad is worth the price of admission as the two of them give a master class on both how to and how not to flirt. And then there's Wandachristine whom I can only describe as a force of nature. She swept in and bowled anyone and everything out of her way with the tact of a bulldozer and all with a sweet smile on her face.
This play and really all the works of Gurira show how there are so many stories out there that we've yet to see on stage and so many voices we've yet to hear from and when they come from someone as talented as Gurira, you know you're in for something great. And so, with my three-letter rating system, I give the Seattle Rep's production of "Familiar" a heartfelt YAY. We definitely need more like this in our theatrical diet.
"Familiar" performs at the Seattle Rep through May 27th. For tickets or information contact the Seattle Rep box office at 206-443-2222 or visit them online at www.seattlerep.org.