Review: Seattle Public's World Premiere FIRE SEASON Crackles with Honest Vulnerability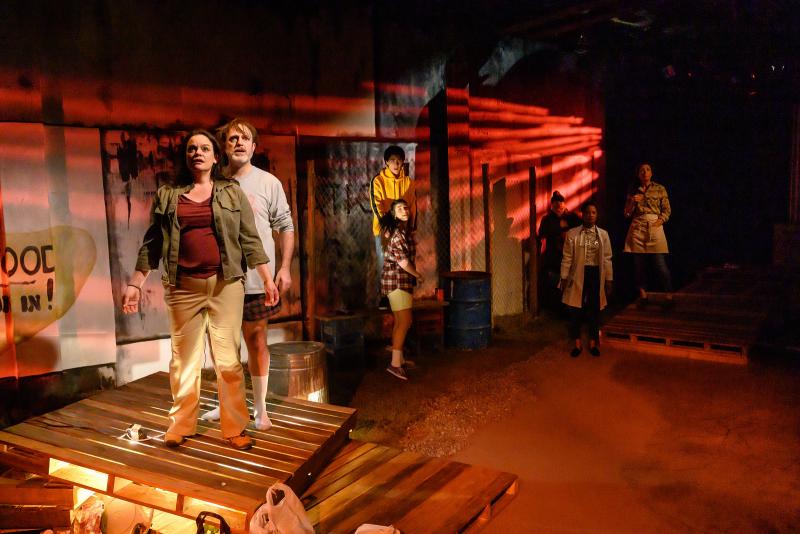 Seattle Public Theater is currently offering a play you've probably never heard of, "Fire Season". And you've never heard of "Fire Season" because it's a World Premiere having been written by author Aurin Squire under the auspices of having won the inaugural Emerald Prize, Seattle Public Theater's new play award. So yes, "Fire Season" is a brand-new play that you've probably never heard of ... but you need to.
Set in a small rural Washington town, the show centers on the residents as they all deal with the aftermath of a tragedy, the opioid overdose of a 12-year-old boy. The mother Elizabeth (Kathryn Van Meter) and her older son Ricky (Pablo Lopez) each want to move on from the death yet honor him at the same time. Elizabeth wants to simply get her job to fly their flag at half-mast in his honor but her boss Phil (Martyn G. Krouse) keeps quoting how it's against the rules. And Ricky just spends more and more time with his girlfriend Jessamyn (Sofia Raquel Sanchez). Meanwhile, Dr. Anne Cormack (Dedra D. Woods) is trying to reconcile that he may have gotten the pills as a result from a stolen prescription pad of her's and now must deal with the investigation of the crime. And paroled dealer Curtis (Mike Dooly) tries to come to grips with leaving the life that may have cost a kid his life.
But there's so much more to it than just that as the play interweaves beautifully from storyline to storyline, character to character, often having multiple scenes overlap each other showing the diverse values and experiences in this small town. Squire's dialog is so raw and honest that you can't help but lean forward and pay attention and director Kelly Kitchens keeps the complex tapestry of scenes flowing through each other without ever becoming muddled or bogged down. All aided by the seemingly sparse yet practical set from Julia Welch and the fantastic lighting from Thorn Michaels.
The ensemble cast inhabits these intricate characters spectacularly. Van Meter is stunning in the role showing so much vulnerability and emotion as a desperate mother trying to do right by both her sons whether living or not. She seethes with rage one minute and flips on a dime to humor and compassion making this one of the best things I've seen her do. Dooly too, brings in some incredible nuances to this struggling ex-con dealing with how society treats, or rather, discards those who make mistakes. Woods lends herself as kind of a narrator to the piece and engages the audience perfectly but then also brings in her own storyline wonderfully. Lopez and Sanchez have amazing chemistry and their final moments are heartbreaking. And Krouse manages to make a very unlikable character empathetic. And I must mention Alyson Scadron Branner and Ray Gonzales who round out the town in multiple roles and bring in their own stirring moments.
This is simply one of the most exciting new works I've seen in a while and deserves an audience. And so, with my three-letter rating system, I give Seattle Public Theatre's production of "Fire Season" a "there were far too many empty seats in the house for a show this good" YAY+. I urge you to catch this one before it moves on. Even just to say you saw something from this amazing playwright before he becomes the toast of Broadway.
"Fire Season" performs at Seattle Public Theater through February 17th. For tickets and information visit them online at www.seattlepublictheater.org.