Review: Seattle Public's IRONBOUND Delivers Raw Power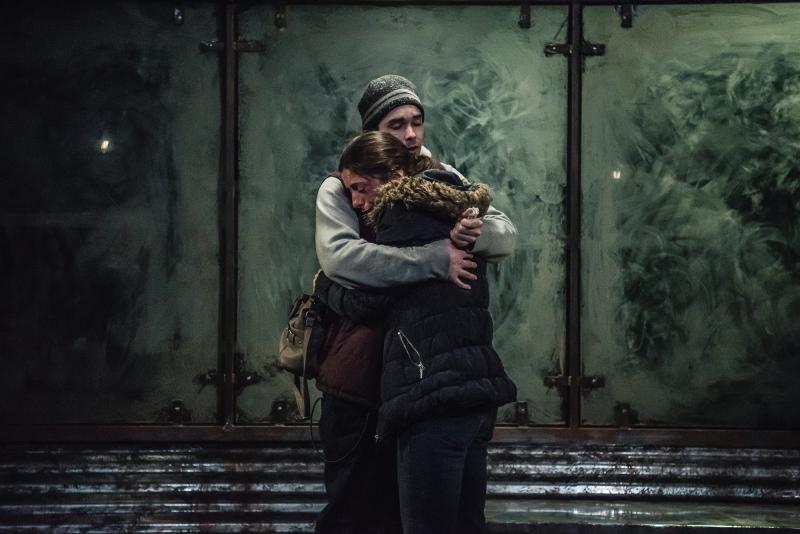 Seattle Public Theater tends towards the darker, edgier plays. That's not to say they're averse to a comedy now and then as is evident with their next offering, "Hand to God" which I saw on Broadway and laughed my butt off all the way through but still a very dark comedy. But I digress. Typically, they lean toward stories with grit, pathos and anguish. Now I'll admit that their choices don't always hit with me but when they do they hit hard. Past shows like "On Clover Road" or "Grounded" still reverberate in my memory as shows that managed to grab me by the heart and soul and shake me around like a little rag doll. Such is the case with their current offering, "Ironbound" by Martyna Majok.
In Majok's raw and heartbreakingly real play we follow Darja (Alexandra Tavares) through over 20 years of her life as she deals with pivotal moments surrounding three men and the choices she makes to survive. We meet her cheating boyfriend Tommy (Roy Stanton) who may or may not leave her stranded, her first husband Maks (Arjun Pande) who has dreams of leaving their work-a-day life in New Jersey behind and becoming a musician in Chicago, and Vic (Nathan Brockett), a young hustler who finds her at her lowest. And each of these crossroads of her life ironically take place at a bus stop where the bus doesn't always show up.
A bus stop perfectly designed and adorned I should say by scenic designer Julia Hayes Welch giving the entire play a very bleak and empty feel as Darja attempts to claw her way out of the grim amply provided by lighting designer Thorn Michaels. And all these elements and some superb pacing and intent tied together by director Kelly Kitchens as she and the story doles out just enough, bit by bit to keep the audience riveted until we get the entire tragically beautiful tale.
But of course, it's the amazing cast who tells this story and they do it with grace and thoughtfulness. Stanton shows off tons of heart as the working-class guy who can't seem to keep it in his pants but still loves his girl. Even though we know early on he's cheated multiple times, he still makes him sympathetic. Pande never ceases to amaze in any role I've seen. Here he brings in a stunning sex appeal and chemistry with Tavares leaving no doubt of their relationship and making the thought of them splitting up even harder. Brockett has the most detached role of the piece as he's the one outsider of her life just showing up for this one moment, but he makes so much of this one moment as he instantly endears himself to her and to the audience and their final goodbye is one of those rag doll moments I mentioned. But it's Tavares who has to carry the show and there's no one better you'd want in that position. She transitions from age to age with ease as the show jumps time periods and never loses her intent of the moment. Her journey is both heart wrenching and inspiring as she conveys a woman with an incredibly tough life that is not to be pitied. To put it simply, just one of those awe-inspiring performances I've come to expect from the awe-inspiring Alexandra Tavares.
Over the years, when people outside Seattle find out I write reviews here they ask, "Oh, is there much theater in Seattle?" And of course, Dear Readers, we know there is, both good and no so good but when you see stuff like this it rekindles your faith in what we've got. And so, with my three-letter rating system, I give Seattle Public Theater's production of "Ironbound" a tossed around rag doll of a YAY. Definitely get off the bus to catch this one.
"Ironbound" performs at Seattle Public Theater through April 15th. For tickets or information visit them online at www.seattlepublictheater.org.