BWW Review: SWEAT at ACT
Powerful play about the inequities of class and race.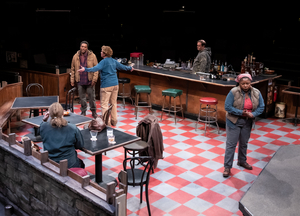 Lynn Nottage has swiftly established herself as one of the current darlings of the theater scene. With her Pulitzer Prize for her play "Sweat" currently playing at ACT, as well as her other fantastic recent works such as "Clyde's" and "Ruined" to name just a few, her vibrant characters beautifully reflect the trappings of society today. And while "Sweat" is no different and a riveting story, at times I felt it meandered a bit and lacked the dramatic hook her other pieces have.
"Sweat" also tends to have a few too many stories going on making it difficult to know, whose story this is. We have Tracey and Cynthia (Anne Allgood and Tracy Michelle Hughes), two best friends who work together as the local factory and who's bond is tested when one of them gets a promotion making her the bad guy when layoffs begin to affect the rest of the factory. Then there's Jason and Chris (Cap Peterson and Tré Scott), the adult sons of Tracey and Cynthia, who start off the play after getting out of jail, leading the play to go back and forth in time to uncover the events that led them there. And while the two storylines do intersect and create a larger picture of a town in peril and the division between the people of the town, I kept wondering whose play this was really.
But that qualm aside, the piece is quite intense and builds to a riveting and violent end only made more intense by the direction of John Langs. The chemistry between Allgood and Hughes is fantastic making their on-stage bond more powerful and much more heartbreaking when they fall out. Same with Peterson and Scott who also manage some incredible stage fighting along with Miguel Castellano as Oscar and Shawn Belyea as bar owner Stan. Speaking of Belyea, his role in the piece isn't always key to the story but certainly propels it and he manages that with skill and his final moments of the play are killer. Everyone in this ensemble is super tight and all riding the same intense wave, but I must mention Reginald André Jackson whose character of Brucie was equal parts hard to watch and hard to look away from.
The piece itself puts a searing spotlight on our society and how even people who seem to be doing well can easily be caught in the machinery of capitalism, and how that machinery can be even more harsh to lower income people and people of color. But it's a part of our society that deserves the spotlight lest we let the problems fester and multiply. And Nottage seems to be one of our chosen authors who consistently shines that spotlight. Still, as important as the message here is, I've enjoyed the stories and structure of other plays of her's more. And so, with my three-letter rating system, I give "Sweat" at ACT a YAY-. A scorching look at things but a story that doesn't always get to the point right away.
"Sweat" performs at ACT through May 22nd. For tickets or information visit them online at www.acttheatre.org.