BWW Review: GHOSTS at the Seattle Rep
A bleak tale with some outstanding performances.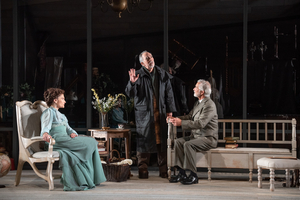 To say that Henrik Ibsen's play "Ghosts", currently playing at the Seattle Rep as translated from the Norwegian by Paul Walsh, is bleak is an understatement to say the least. A play filled with secrets, lies, infidelities, sexual assault, venereal disease, incest, and euthanasia to mention just a few, sounds like enough bleak to bring anyone down. And while this sounds like a horrible evening at the theater, the superb cast including a couple of notable powerhouses, make the bleakness engaging and, dare I say, entertaining.
Like another of his more famous works, "A Doll's House", Ibsen's "Ghosts" puts women in forefront of the story and examines her bucking societal norms and claiming her own agency, something unheard of and considered scandalous in 1881 when the play was written. However, in "Ghosts" Mrs. Helena Alving (Mary Elizabeth Mastrantonio) doesn't really claim her own life and choices until after her philandering husband has died. She's kept the secrets of his despicable ways for most of her life, until now, on the eve of the opening of a new orphanage named in his honor, when these secrets must be revealed for the sake of all she holds dear. The tiniest thread of her lies is pulled, upon the return of her son Oswald (Albert Rubio III), unraveling the entire web of lies. Lies that have been perpetuated by Pastor Manders (David Strathairn) in the name of what is proper for a woman in her place.
Director Carey Perloff is back at the Rep for this one after her stunning telling of "A Thousand Splendid Suns" back in 2018 and once again she manages to give us a portrayal of strong women finding their own power. She manages to keep a wonderful pace for a play that, honestly, has a few overly drawn-out moments. Plus, she also brings back with her David Coulter to provide some haunting yet beautiful on-stage compositions within the show as he did with "A Thousand Splendid Suns".
But it's this cast that does all the heavy lifting to keep this bleak train on the rails and they manage it with grace. Rubio handles the role of the son cursed by the sins of his father well, although doesn't have a lot to do as much happens to him or discussed about him. But his final moments of the piece are stellar and heartbreaking. Similarly, Nikita Tewani as Regina, the Alving's maid, exists in the background until she's thrust up front and it's in those moments where she truly shines.
But it's Mastrantonio and Strathairn who truly carry this show and present us with some stirring and layered performances. Strathairn as the by the book pastor manages the character's seeming obliviousness to the real world without wavering or question. His commitment and investment in the role show off why he's one of my favorite actors whether playing a focused journalist, a blind hacker, or a conniving spaceship captain. This is my first chance to see him live on stage and he did not disappoint. Neither did Mastrantonio whom I've seen in many films such as "The Abyss" and "Robin Hood" but here she sunk her teeth into this woman and thrilled as we watched her let all her secrets fly, even ones she might not have wanted to. She has such a commanding presence in the role that it's hard to take your eyes off her, but then that's why she's had such a varied and fantastic career.
And finally, I must mention Thom Sesma as Jakob, Regina's scheming father. His mastery of this duplicitous man had me wondering by the end what he really did or didn't know. And with a wry smile throughout, every entrance of his character brought with it a delicious wrench thrown into the plans of everyone else. He was an absolute joy to watch.
Ibsen, even when done well, can be a tough slog. As I said, it's bleak, and by the end we don't always come away happy or fulfilled. But with well done productions like this, I can certainly see why his works are so often done as they afford stellar actors glorious roles. And so, with my three-letter rating system, I give the Seattle Rep's production of "Ghosts" a thought provoked YAY. Just maybe have something light or fun to do afterwards.
"Ghosts" performs at the Seattle Rep through May 1st. For tickets or information, visit them online at www.seattlerep.org.