BWW Review: CHARLIE AND THE CHOCOLATE FACTORY at the Paramount Brims with Pure Imagination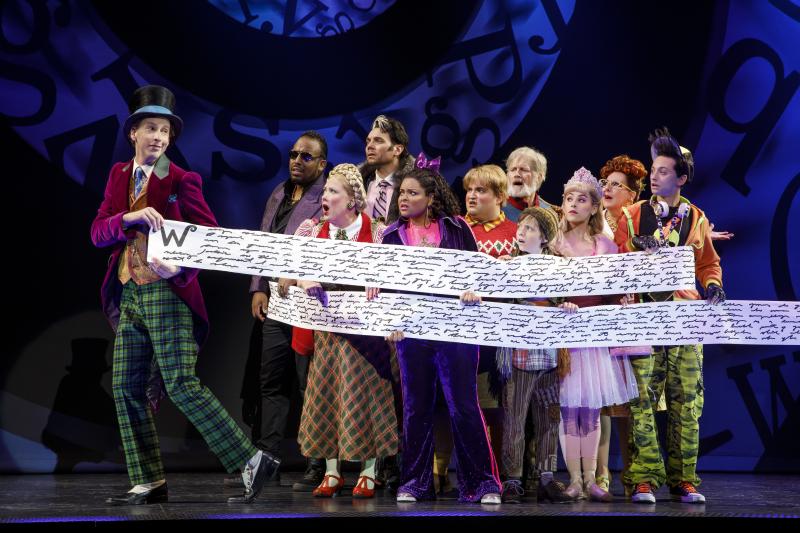 If you're like me, Dear Readers, you grew up with that indelible classic film, "Willy Wonka and the Chocolate Factory" starring the amazing Gene Wilder (and hopefully not that abomination with Johnny Depp). Or maybe you found yourself getting lost in the pages of the Roald Dahl novel, "Charlie and the Chocolate Factory". Whichever it is you probably found yourself longing for an Everlasting Gobstopper, or wanting to meet an Oompa Loompa, or terrified of that nightmare infused boat ride in the original film. Whichever version you preferred, rest assured there's something for everyone in the current musical incarnation, bearing the same name as the novel, currently on tour and at the Paramount Theatre. There are a few sound issues, and they've taken a few liberties with the characters to punch it up to modern day, but the whimsy and yearning for "Pure Imagination" is still quite present.
In this version, as in the others, we center on young Charlie Bucket (performed at alternating performances by Henry Boshart, Brendan Reilly Harris, and Rueby Wood), a poor boy who does what he can to help his family get by, but longs to be a candy inventor like his hero Willy Wonka (Noah Weisberg). So, when Wonka announces a contest to allow five lucky children in to see his factory, he's thrilled. Problem is, his family cannot afford to spend money on chocolate bars and the winners are those who find one of the five golden tickets, hidden inside Wonka Bars around the world. Four spoiled and greedy children, Augustus Gloop, Veruca Salt, Violet Beauregarde, and Mike Teavee (Matt Wood, Jessica Cohen, Brynn Williams, and Daniel Quadrino) find the first four tickets and Charlie is heartbroken but, of course, finds the final one and along with his Grandpa Joe (James Young), they're off to meet Mr. Wonka.
As I mentioned, there are a few changes. Veruca now fancies herself a ballerina and she and her father Mr. Salt (Nathaniel Hackmann) are Russian. Mike is still obsessed with TV but also video games and computers and his mother Mrs. Teavee (Madeleine Doherty) numbs herself, and Mike, with all sorts of pills (and booze for herself). Violet has taken her gum chewing viral and is known on YouTube as the "Queen of Pop" thanks to her Dad and manager Mr. Beauregarde (played by Clyde Voce on the night I saw). And Augustus is ... well, he's still the same old rolly polly German boy along with his Mom Mrs. Gloop (Kathy Fitzgerald). And Charlie is, of course, the same lovable boy (and the only one played by a child actor in the show) living in a tiny shack with his four bedridden Grandparents and his doting Mother (Amanda Rose).
Many of the songs by Leslie Bricusse and Anthony Newley from the original movie you know and love are still in this version. We still have "Pure Imagination", "I've Got a Golden Ticket", "The Candy Man", as well as a variation of the "Oompa Loompa" songs. The rest of the show is filled with tunes from the brilliant Marc Shaiman and Scott Wittman of "Hairspray" fame. Most work quite well and are super cute and fun conveying the magic of the book but get a little overshadowed by the nostalgia factor of the original songs as well as a poor sound mix in the Paramount which made it difficult to hear the fast patter lyrics over the orchestra. And while the show still has its charm and fantastical tone, I prefer the London version from Shaiman and Wittman more, but I digress.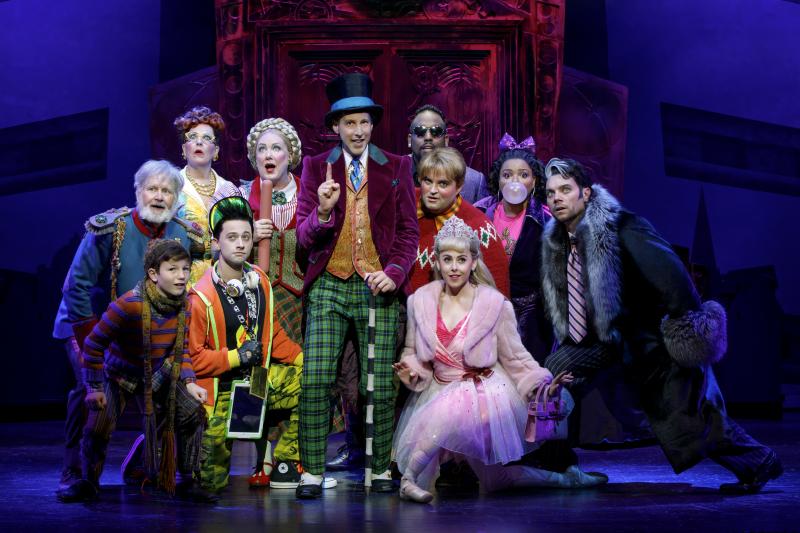 The ensemble completely commits to the outrageous tone of the world. Rueby Wood (the Charlie on the night I saw) has a great voice and holds his own with all the adults on stage. Weisberg manages a wonderfully goofy Wonka and amps up the snark factor of the role quite well (although no one will ever compare to Wilder). Rose brings in a quite touching lullaby with Charlie and one of the more heartfelt moments of the show. Young makes for a quite likable Grandpa Joe. The remaining "kids" and their parents all bring their own special and wonderful brand of crazy to the night. Cohen's "Bad Nut" ballet is awesome. Quadrino makes for the perfect brat you'd like to step on, and his acrobatics and physical comedy are fantastic. And Williams brings in the attitude as the Queen of Pop and her eventual downfall is spectacular. But I have to point out my favorites, the Gloops. We sadly only get them for a little while since (Spoiler alert) Augustus is the first to fall but Wood and Fitzgerald certainly make the most of their time with us. Wood completely sells his corpulent kiddie without ever taking him too over the top. And Fitzgerald, well it should be no surprise as to how incredible she is since she has several Broadway credits including Madame Morrible in "Wicked", the original Roz in "9 to 5" (a performance that stopped the show, that I was lucky enough to see) and, of course, she was the original Broadway Mrs. Gloop. This is one very funny lady and we need more of her in everything.
The show certainly checks all the check boxes it would want to check. It's got that nostalgia with the old, familiar songs. Check. It brings in a fresh take to the story making it not just a rehash of the original without betraying it. Check. The new songs are fun and frothy and lend themselves well to telling the story. Check. And the staging creates an exquisitely enchanted world especially the way they handle the miniscule Oompa Loompas which need to be seen to be believed (or believed to be seen. Something like that). Double check! And so, with my three-letter rating system, I give "Charlie and the Chocolate Factory" at the Paramount an Everlasting Gobstopper of a YAY. It certainly does honor to kids of all ages and makes for an enjoyable night for the original story we all love. Wait, no, strike that, reverse it!
"Charlie and the Chocolate Factory" performs at the Paramount Theatre through August 11th. For tickets or information visit Seattle Theatre Group online at www.stgpresents.org.
Related Articles View More Seattle

Stories

Shows
Born and raised in Seattle, WA, Jay has been a theater geek for years. He attends as many shows as he can around the country (read more...)