Review: Book-It and Café Nordo's THE MALTESE FALCON Makes a Killer Night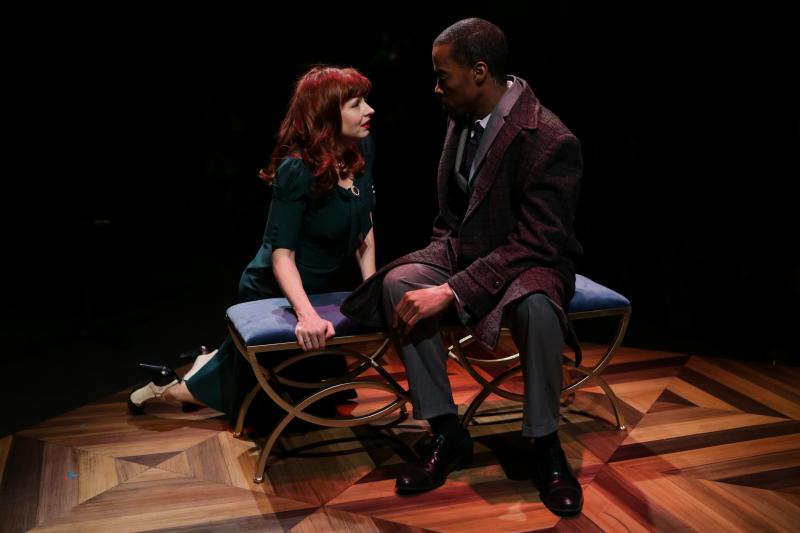 It was a cold night in the City of Emeralds. The kind of cold where your words just hung in the air as you spoke. Lucky for me and the other patrons of Café Nordo, the doors would soon open. Once inside a sultry dame looked me up and down and uttered the word I'd been waiting all night to hear, "Name?" Then another dame led me to my table plied me with drinks and food and thus began my journey into Book-It Repertory Theatre's sumptuous mystery dining experience of Dashiell Hammett's "The Maltese Falcon". An experience that may not make me wealthy as the only falcon I found was a gold dusted cookie (which was delicious) but I certainly left the place richer after having seen one of my favorite Nordo and Book-It shows to date.
If you're unfamiliar with this classic of American literature then you really need to crawl out from under that rock of yours as Hammett's Detective Sam Spade is credited in many circles as being the inspiration for all gumshoes to come. In this adaptation from Kevin McKeon and director Jane Jones, Spade (Arlando Smith) once again has another sexy dame saunter into his office, this time one Brigid O'Shaughnessy (Kjerstine Rose Anderson) to elicit his services. She wants a man tailed to lead her to her wayward sister. But, as always, things are not as they seem as he soon finds himself in the middle of a deadly treasure hunt. A hunt that may lead to the highly prized Maltese Falcon assuming he can stay alive long enough to solve the mystery.
Jones and McKeon's adaptation is delightful packed to the brim with all the eccentric characters and over the top narration you would expect in a noir kind of mystery. But I guess that's why something like this would work so well in the Book-It style. And if you're wondering how Hammett might feel about his work being transformed into a different kind of theater like this, well, we can't really ask him but I was fortunate enough to ask his Granddaughter, Julie Rivett, who was in attendance the night I went who said, "I'm game. It's nice to be able to introduce Sam Spade to a whole new audience this way."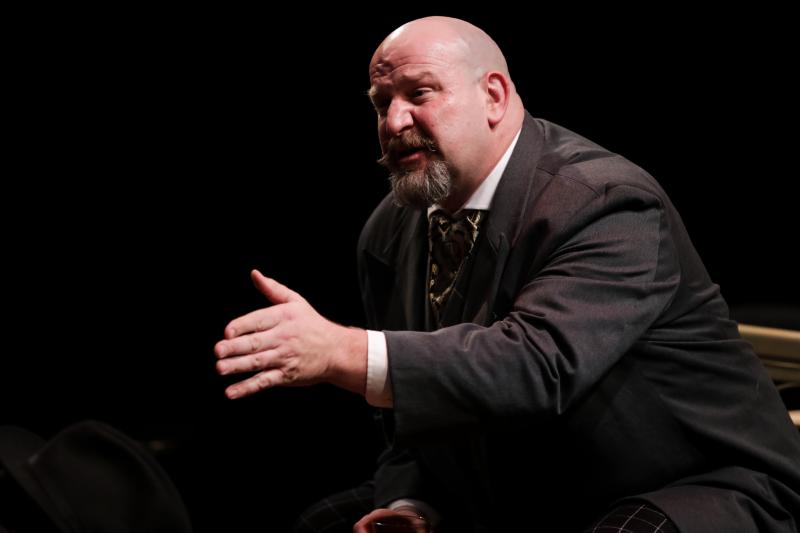 The cast is incredible and have the tone down perfectly with a ton of help from the opening musical interludes from the band, the Femme Fatales lead by Sari Breznau, who also gave us some pitch perfect underscoring of the scenes composed by Annastasia Workman. Smith carries the show with seeming ease as the hard-boiled detective but never tries to give us a Bogart impression instead making the part very much his own. In fact, there were very few homages to the iconic 1941 film characters except for Aaron T. Moore who turned in a hell of a Sydney Greenstreet-esque version of Gutman, the big boss, and I cannot fault him for that as he's so very iconic plus the fact that Moore was absolutely delightful. Tom Dang could have given us a Peter Lorre as the enigmatic Joel Cairo but instead played more toward the parts of the character that the film of that era could never show, the fact that Cairo is repeatedly described as gay. Dang makes him dangerous and snakelike and almost another femme fatale for the evening. Speaking of the ladies, in these stories there's three kinds of female ingenues, and we managed all three here brilliantly. There's the sultry femme fatale, dangerous and mysterious yet irresistible, Anderson had that one covered. Jesica Avellone beautifully gave us the damsel in distress as Spade's late partner's widow and Spade's on again/off again fling Iva. And of course, we need a gal Friday like the wonderful Effie and Opal Peachey gave us that with plenty of glorious snark and side-eye. And I must mention Brandon Felker who adeptly managed ... well ... much of the rest of the city of San Francisco.
And all this served up, as always, with a divine meal from Chef Erin Brindley including the aforementioned Falcon cookie (yum). Oh, and that pate and the chicken and dumplings! Sorry, was I drooling? You will be too if you manage to get a ticket to this one which I hear is becoming a difficult task but since they just extended you may just have a chance. And you should take that chance as this was simply a sublime night which left me with a big grin on my face, a very satisfied stomach, and a well-deserved YAY+ with my three-letter rating system. You definitely want to do everything you can to catch "The Maltese Falcon". Short of filling someone full of lead of course.
"The Maltese Falcon" from Book-It Repertory Theatre performs at Café Nordo through April 8th. For tickets or information contact the Book-It box office at 206-216-0833 or visit them online at www.book-it.org.