BWW Review: ACT's Deliciously Naughty and Complex DANGEROUS LIAISONS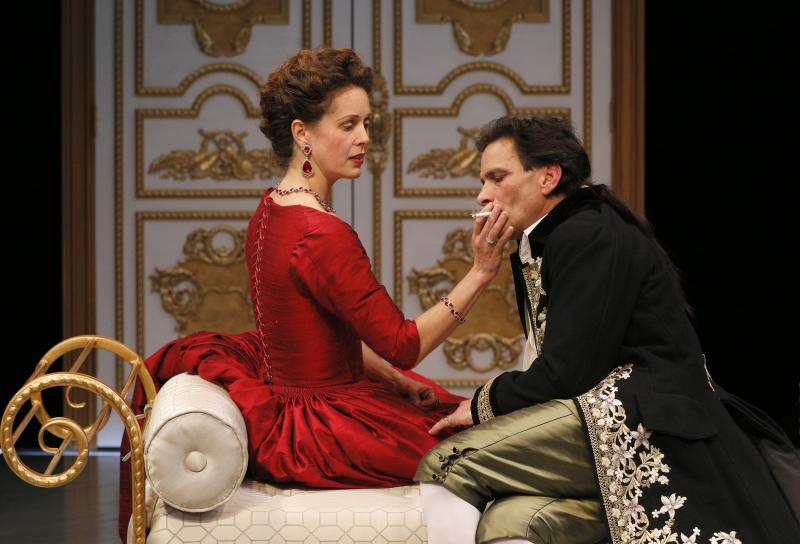 One of my favorite things in seeing all the shows I do is to stumble upon one that I like to refer to as "alchemy". It's that rare instance where all of the elements, the script, actors, director, set, costume, lights, music, etc all come together in just the right way and at just the right times to form pure gold. It may look like science or technical expertise but it's really just magic. One of those shows is ACT's current production of Christopher Hampton's "Dangerous Liaisons". If in seeing this show you are not able to have a thrilling night then you're just not paying attention.
Based on the novel by Choderlos de Laclos, this scathingly fun script focuses on the aristocracy of pre-revolution Paris specifically the Marquise de Merteuil (Kirsten Potter) and the Vicomte de Valmont (James DeVita) who revel in using sex, humiliation, and power as their chief entertainment and a few new playthings have come to their attention. There's the young Cecile (Jasmine Jean Sim) fresh out of the convent and now promised to be married to Merteuil's ex-husband, but she's in love with the young and naïve Danceny (Lorenzo Roberts) and Merteuil is determined to get Valmont to "ruin" her in order to humiliate her ex-husband. But Valmont has set his sights on deflowering the conservative and married Madame de Tourvel (Jen Taylor) whom he sees as the ultimate conquest. But as these two cats go about playing with their mice, you begin to wonder, who's chasing who.
John Langs has as usual directed this brilliantly so as to elicit the pitch perfect pacing and intent from the characters and conveying every subtle nuance of the story. There are so many moments in the piece where a bad bit of timing or misunderstanding of the piece could result in a hack job of a magnificent work but he deftly surmounts each and every one and makes them better than you could possibly imagine them to be. And when coupled with Brian Sidney Bembridge's beautifully stark scenic and lighting design and Catherine Hunt's vibrant costumes the show elevates to a master class of how good theater can be done.
And all that is only complimented by an ensemble with not a weak or wasted link in the bunch. Potter is absolutely transcendent in the role and owns every bit of the stage when she is on it. Her journey through the piece is riveting, delectable, and at times heartbreaking. And DaVita makes for her perfect counterpart as he wheedles his way into the lives and hearts of his intendeds with the grace and skill of a prima ballerina combined with a master strategisT. Roberts and Sim are in a word, delightful, as the two innocents all too eager to be corrupted. Taylor delivers a powerful performance as the chaste woman willing to surrender it all. And I could go on as every single person in the cast brought their A game. But I specifically have to mention Keiko Green as a courtesan friend of Valmont's. One particular mesmerizing cross of hers was reminiscent of a predator stalking its prey culminating in her practically devouring said prey on stage with a laugh. Truly an amazing moment to behold.
The cast and crew managed to electrify the stage from the first moment to the last with a talent and devotion I haven't seen at ACT since the likes of their sublime production of "The Women". This is why with my three letter rating system I'm offering up my highest rating, a well deserved WOW. This production demands to be seen almost as insistently as Merteuil demands to be obeyed and that insistence should never be ignored.
"Dangerous Liaisons" performs at ACT through November 20th. For tickets or information contact the ACT box office at 206-292-7676 or visit them online at www.acttheatre.org.