BWW Review: 5th Avenue's KISS ME, KATE is a Love Letter to Those Who Came Before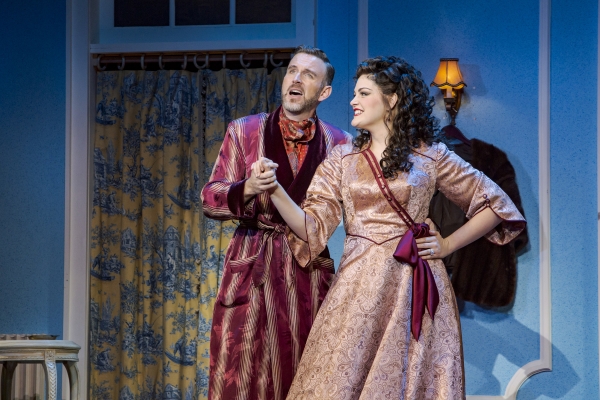 When you think the classic era of Broadway Musicals, many lean toward Rodgers and Hammerstein or Lerner and Loewe but for my money I always go right to Cole Porter. Maybe not as prolific when it comes to hit shows as the others but you can't dismiss the undeniable genius of "Anything Goes" and of course "Kiss Me, Kate" (my personal favorite), currently playing at the 5th Avenue Theatre. And the folks at the 5th have not only done right by this classic tuner by packing it to the brim with the best singers, dancers and comedians they could find but the production is a love letter to the predecessors of the production, most notably the visual style which is so reminiscent of the 1953 film version, making this far more than a killer show, but an homage.
The inspiration for the book of the show by Bella and Samuel Spewack came from the on-stage/off-stage battles between husband and wife actors Alfred Lunt and Lynn Fontaine during their production of "The Taming of the Shrew" in 1935. So sure, let's turn that into a musical. So, we have Fred Graham (Ben Davis), a veteran stage actor/director who's conceived of his own version of "Shrew" as a musical and convinced his now movie star ex-wife Lilli Vanessi (Cayman Ilika) to come back to the stage and take on the lead. But being around Fred begins to be too much for Lilli especially as she watches him cozy up to her young co-star Lois Lane (Robyn Hurder). But of course, amidst all the protestations and exclamations of hatred for each other, the love that Fred and Lilli still have for each other bursts through. But add into this Lois' gambling boyfriend Bill Calhoun (Clyde Alves) who's racked up a $10,000 gambling debt and signed Fred's name to the IOU. Enter the most hilariously stereotypical gangsters played by Richard Ziman and Allen Galli who are there to get their money back. Plus, there are misdirected love notes, Lilli's military man finance and the general chaos of an opening night. Shake well, Raise the Curtain and you've got gold.
Director Alan Paul has captured the perfect tone, style and pace for this piece as there's barely time to breathe between scenes and the hits just keep on coming all brilliantly choreographed by Michele Lynch. I'm sorry but no one does tap battles like that anymore. Genius! Plus, the incredible music direction by Joel Fram which kept the orchestrations so rich and complete. Oh, and that visual style I mentioned. James Noone's scenic design with his quite practical backstage and then forced perspective on-stage and Alejo Vietti's vibrant costumes which were so reminiscent of the stripes and patterns in the film made them absolutely pop on stage.
But let's get to that cast from the Gods. Let's start with Goddess number one, Ilika. Her voice remains one of the most astounding I've heard and coupled with her spirit and presence and brilliant comedic timing she is a theatrical dream. She keeps Lilli quite strong even in the face of what can be a very misogynistic piece and deftly turns every moment back around on her co-star. And what a co-star. Davis is like Richard Kiley and Ryan Gosling had a baby. Killer pipes and moves but that devilish twinkle in his eye and completely swoon-worthy. And he and Ilika play off each other beautifully. Onto Goddess number two, Hurder takes on the ditzy, up and coming ingénue and makes her less ditzy. She's given her purpose and reason making "Always True to You in My Fashion" mean so much more. And she not only sells every number but sells them, steals them back from you without you knowing, and then makes you buy them again willingly ending the transaction with a delicious take to the audience where both she and we know she owns us. And we like it. Hurder is the type of performer that the phrase, "they had the audience in the palm of their hand" was made for. And Alves as her somewhat doting yet with a wandering eye boyfriend is delightful and has moves that would make Fosse envious.
And those are just the four leads. Ziman and Galli couldn't be more hilarious as the stage-struck gangsters with tiny bits of business that made every moment a gem. Jeff Steitzer is equally hysterical as the on-stage father looking to pawn off his shrewish daughter. And I must mention Ty Willis and Sarah Russell who stole the show during "Too Darn Hot" and "Another Op'nin', Another Show" respectively with some insane vocal acrobatics and swingin' moves. And speaking of killer moves, that ensemble! Damn! With a special shout out to Con O'Shea-Creal, and Richard Peacock for the aforementioned tap battle they had with Hurder and Alves.
This is, to put it simply, musical theater crack. All the way home I had songs fighting in my head as to which one I was going to be humming. And so, with my three-letter rating system, I give the 5th Avenue Theatre's production of "Kiss Me, Kate" a thoroughly delighted WOW. I hold a special place in my heart for this show especially after a stellar tour I saw of it several years ago. This production didn't push that one out of place but it's certainly nestled comfortably next to it.
"Kiss Me, Kate" performs at the 5th Avenue Theatre through April 29th. For tickets or information contact the 5th Avenue Theatre box office at 206-625-1900 or visit them online at www.5thavenue.org.
Related Articles View More Seattle

Stories

Shows