BWW Review: BLANCHE AND BUTCH, Tron Theatre, Glasgow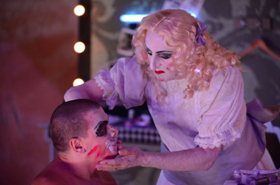 Blanche and Butch is set backstage at a performance of Whatever Happened to Baby Jane? Three bitchy drag queens are set to perform in a small theatre in Wigan when they find out that a producer from the West End is in that night, interested in their act.
They don't ease us in gently. The performance starts with Blanche (Robert Softley Gale) in front of the curtain wearing a headdress, thong and nipple tassels while lip-syncing to "I've Never Been To Me". The first spoken line in the show drops the c-bomb and is shortly followed by something else jaw-droppingly offensive/brilliant. At least half a dozen times during the hour-long production I found myself with my head in my hands thinking "they didn't just say that". Birds of Paradise aren't trying to shock you for no reason. They're challenging political correctness and audience ideas. And they do it so well.
The drag act is called Heelz n Wheelz as both Gale and Robson are wheelchair users. During their big performance while the London producer is watching them, Butch's wheelchair breaks and Blanche has to go on in his place. Blanche (and Robert Softley Gale) has cerebral palsy so his speech is slurred, and the other two performers tell him that he can't go on because the audience won't understand him. In another scene they say he can't be a drag queen as his facial spasms mean he can't lip sync effectively. Preoccupied with their own chance at fame, Butch and Bette are incredibly cruel to Blanche and it is heartbreaking to watch.
Birds of Paradise ensure all of their productions are accessible. Each performance has BSL, subtitles and audio description which have all been added to enhance the show for everyone. Wendy is the stage manager of Whatever Happened To Baby Jane? and is onstage doing the audio description as a character who is involved in the show.
The performances are strong from the three main cast. Kinny Gardner as Bette is hilarious to begin with before becoming pretty heartless in his treatment of Blanche. The show is peppered with disco classics, some original and some well known played by Felicia on the keys..Felicia Keys.
Although this production covers a wide range of issues, namely perception of disability and sexuality, they are aware that "disabled gay cross dressers don't speak for everyone". What they do address though is done in an articulate and thought-provoking manner- with added Cher.
If you're wondering how an hour-long show can possibly make you laugh, cringe, break your heart, challenge every idea you had about disability, challenge your thoughts on gender and sexuality and be filled with wit, humour, disco classics and glitter- you are seriously underestimating Birds of Paradise.
Blanche and Butch is on tour around Scotland.
Photo credit: Tommy Ga-Ken Wan