NEIL BERG'S 50 YEARS OF ROCK & ROLL: PART III Comes to Van Wezel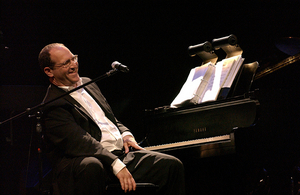 Neil Berg returns to the Van Wezel by popular demand bringing all-star talent to the stage with 50 Years of Rock & Roll: Part III on Friday, November 1, 2019 at 8 p.m. With a cast of rock & roll singers and stars from Broadway favorites and rock musicals, Neil Berg tells the incredible story of the 50-year history of rock & roll - the music that forever changed the industry.
From Bruce Springsteen to Fleetwood Mac, New Wave to Journey, Led Zeppelin to Janis Joplin and more, Neil Berg's 50 Years of Rock & Roll pays tribute to music industry icons, all while telling their stories and showcasing groundbreaking music throughout the decades.
The band will feature Neil Berg (piano/musical director), Roger Cohen (drums and percussion), Abraham Saenz (bass), Mike Wilson (guitar) and Jeremy Beck (keyboards). The talented rock & roll singers taking the stage for this performance include Brook Wood, Kareema Khouri, Dan Domenech and Danny Zolli.
Composer and lyricist Neil Berg is the creator and co-producer of the #1 Broadway touring concert in the U.S., Neil Berg's 100 Years of Broadway, making its return to the Van Wezel later this season. Berg is the composer and co-lyricist of the award-winning new rock musical, THE 12, which he wrote with Pulitzer Prize and Tony Award-winning playwright Robert Schenkkan. Some of his other crowd-favorite shows include the new musical Grumpy Old Men, the Off-Broadway musical The Prince and the Pauper, Tim and Scrooge and The Man Who Would Be King.
Tickets are $24.50-$74.50 with only select sections remaining. Purchase now at VanWezel.org, the Box Office or by calling (941) 953-3368. Groups of 10 or more should contact (941) 363-2025. Pre-show dining is available at Mattison's Bayside located in the Van Wezel Performing Arts Hall and can be reserved at VanWezel.org or through the Box Office.