BWW Interview: Tony Danza Brings STANDARDS AND STORIES to Sarasota Opera House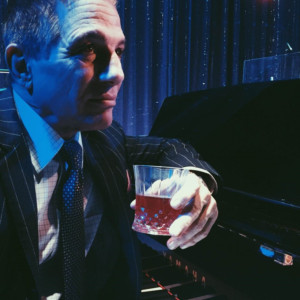 Star of TAXI and WHO'S THE BOSS, former professional boxer, Tony Danza, has come to Sarasota and brought his ukulele with him!
Mr. Danza will be singing songs from the Great American Songbook, cabaret-style, in the Sarasota Opera House, while accompanying himself on the ukulele. Never thought you'd see that in print, did ya? Star of stage, TV, screen and theater, no one could pull this off but the amazingly gifted, voraciously versatile, song and dance man himself, The Boss - Tony Danza!
Danza recently received rave reviews for his performance in the Broadway musical comedy, HONEYMOON IN VEGAS. The New York Times said his performance was "sly genius," and a "career high". Many remember Tony on Broadway in THE PRODUCERS and A VIEW FROM THE BRIDGE. Danza also charmed us in films such as ANGELS IN THE OUTFIELD, SHE'S OUT OF CONTROL AND HOLLYWOOD KNIGHTS.
Danza is just coming off the filming of his latest role in the Netflix series THE GOOD COP, opposite Josh Groban. Written by the creator of MONK, his role in THE GOOD COP marks Danza's much buzzed about and anticipated return to television. He plays a street smart, rule-breaking, ex NYC cop who is the father of a straight laced rule-following cop, played by Groban. The series will drop sometime in the fall.
Brooklyn-born Danza switches gears from TV to live music, meeting fans on a more intimate level through his cabaret act titled, STANDARDS AND STORIES. Combining timeless music with his quick wit, boyish charm, storytelling, and a dash of soft shoe and ukulele performances, Danza is accompanied by his talented four-piece band. Tony will be performing a selection of his favorite songs from the Great American Songbook, as well as selections from the hit Broadway musical HONEYMOON IN VEGAS. The New York Times raved "Tony's a live wire who tap-dances, plays the ukulele, tells stories and radiates irresistible charm... He exudes the kind of charisma that can't be taught!"
What performers and audiences alike seem to find most appealing about a cabaret is the artist can be seen up close and personal. Imbedded between musical numbers are conversations, stories and jokes that make for a real connection. And Sarasota is ready to connect to this powerhouse.
Mr. Danza was kind enough to answer a few questions for BroadwayWorld prior to his cabaret show this Friday evening.
What is it about cabaret that attracts you to this art form?
It gives you a chance to explore the canon of the American Songbook. What I try to do in my act is use the songs to enhance my stories and evoke certain emotions I am going through. The way these songs are written and the lyrics, for me, just make it so enjoyable. I also think it is one of the rare forms of entertainment where you make a connection with your audience. If the show works, by the end of the night, the audience knows a little bit about you. I think that is what is so unique about the art form.
Since you will be performing in our historic Opera House, and you are Italian, are you going sing something from an Italian opera for us? Perhaps some Rigoletto?
I know the Sarasota Opera House is the House of Verdi. I was in a chorale in college and we did Fauré's Requiem. After all these years I thought it was Verdi's Requiem, but I do know that little solo and because I'm in an opera house I might have to sing some opera.
What can fans expect from your show here in Sarasota?
I try to do a well-rounded show. It's got a lot from the American Songbook. I think the title of my show is pretty good - it's self-explanatory. STANDARDS AND STORIES. I'm going to sing some standards and tell stories! I try to stay off the beaten path though. I look for some different songs that have not been overdone. I'm going to tap dance and I'm going to bring out my secret weapon. My ukulele! I will show the audience how you can adapt the American Songbook to the ukulele.
One doesn't think ukulele when one thinks of the American Songbook. How is your audience reacting to this new twist?
First of all the ukulele is such a fun instrument. It is so easy to learn how to play. I can take it anywhere and I can accompany myself. By the way, romantically, it's a ray gun! So, I'm going to unleash that, and by the end of the night I think the audience will feel they've come to know this guy a little bit and I'll be like an old friend.
You are so accomplished in several disciplines in the entertainment industry. Is there a role you have yet to play that you would like to bring to life?
I just finished filming a show and I am very excited about the role I got to play. I play a really interesting guy. I play a disgraced ex-cop who was once a celebrated cop but then served 7 years in prison for assorted crimes. He has some morals but for the most part, he does what he has to do. But he is a good father. The show is titled THE GOOD COP and comes from Andy Breckman who created MONK. He's just a genius. This will be on Netflix starring a great singer who doesn't sing on the show - Josh Groban! In fact, Josh fights and I sing!
I have to say, I am working on something, because I just can't stand it any longer - when I was a fighter there was a guy where I trained who would say, "Hey actor, you gotta play the fighter before you can play the manager!" I'm never satisfied with boxing movies so I'm writing my own boxing movie called THE HARD WAY and I'm going to play the manager. It would actually be my story if I didn't get an acting break.
Perhaps we can premiere it next year at the Sarasota Film Festival?
That would be terrific. I hear you just had quite a film festival here.
Sounds like you really stay busy?
You know, the great thing about this timeframe in my life is that I can sit back a little bit and let things come to me. But I'm always working on stuff. I got Babble and I'm learning Spanish. I keep myself in shape.
Actually something I am very proud of is I was just in Philadelphia where I taught 10th-grade English at Northeast High in their 2009-2010 academic year. They have 3600 students with 57 languages spoken there, and over 220 teachers - just an incredible place. We put on a teachers versus students talent show. It's a real morale booster at the school because a lot of people come to see the talent show and we raise money to keep the afterschool programs alive. One of the teachers whose classroom is in the basement said after the kids saw him in the talent show, when he went to class the next day his students gave him a standing ovation. It gives the kids a way to see their teachers in a different light and gives the teachers the chance to see their students in another light. It brings everyone together.
(Fun fact - after his time at the school, Danza also wrote a book, I'd Like to Apologize to Every Teacher I've Ever Had: My Year as a Teacher at Northeast High.)
I am really interested in how hard it is for kids today. Back in my day there were great role models everywhere. Today kids have to look hard for someone to look up to. I am proud to be a part of the Police Athletic League Acting Program. At the urging of an officer in my neighborhood, I became a PAL kid at 12 years old. I serve on the board and I'm excited to support the PAL Acting program which focuses on youth development through performance. Our motto is, "Because when you teach a kid how to act, you teach a kid how to act." I would love to see this in every city in America.
Are there any upcoming projects you can share with us?
I'm continuing to do cabarets on the road. And I consider myself a writer. I write a lot and wrote a play that I have out to several directors and theater companies. There's not a part in it for me but it's a dramedy about a family titled, THE CHARACTERS, and each of them are!
Tony will perform STANDARDS AND STORIES Friday, May 4 at 7:30 p.m. at the Sarasota Opera House. For more information call 941-328-1300 or visit www.sarasotaopera.org
Related Articles View More Sarasota

Stories

Shows