BWW Review: LA BOHEME at the Granada Theatre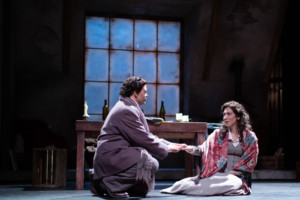 On Sunday afternoon November 11, 2018, Opera Santa Barbara opened its 25th anniversary season at the Granada Theatre with Giacomo Puccini's LA BOHÈME. Writing in the program, director Omer Ben Seadia noted that Henri Murger, the author of the original French book, described Bohemia as bordered on the North by hope, work, and gaiety, on the South by necessity and courage, and on the West and East by slander and the hospital. His characters, all based on real people he knew, wanted to free society of its strict bourgeois moral code and some of their ideas have taken root over the century and a half since the book's publication.
Artistic and General Director Kostis Protopapas conducted the opera's orchestra of more than thirty instruments, leading the players with precision and a wide range of dynamics that created a colorful tapestry of sound. A most experienced opera conductor, Mo. Protopapas kept a brisk pace that mirrored the drama and propelled the story forward.
Director Omer Ben Seadia brought out the youthful comradery of the men in the first act and again in the beginning of Act Four. They cavorted around, on and over what furniture they had and showed that poverty had not yet overwhelmed their idealism. In the last act the director used their exuberant horseplay in juxtaposition to the death at the end of the opera. Ben Seadia was less successful in showing all except Mimì as separate individuals who would go on to lead more ordinary lives.
Rodolfo learned of Mimì's illness when she laid her head down on his table after climbing the stairs at the beginning of the opera. Her momentary faint also gave him time to purloin her key. I wondered why at the end of that act they sang the finale from behind a tightly closed door. The second act, played after a short pause, opened with a stage full of people celebrating Christmas Eve. Musetta flaunted her chic costume as she strutted downstage. I would have loved to see her enter in some sort of conveyance but there really was no room for it.
Act Three presented a picture of pre-dawn Paris in winter and it was so real you could almost feel the cold. Two directorial choices that I did not understand were seen in the last act. Colline began his "Overcoat Aria" from a seated position downstage at the far right. Although the men have slept in their garret for months and Mimì lived there with Rodolfo, she dies lying on their only table.
Although some props may have been absent, Robert Little's scenery, built for Des Moines Metro Opera, was most impressive in its rendition of buildings in a nineteenth century Paris neighborhood. The garret in the first and last acts was functional while Act Three's city gate and the falling snow that surrounded it gave the feeling of cold, but no indication of approaching dawn. The costumes fit well and indicated time and place.
Nathan Granner was a passionate, credible Rodolfo who sang with consistent resonance and myriad overtones. His character loved Mimì, but with very little money he did not know how to help her. At the same time, he worried about catching her disease. His high-powered duets with Eleni Calenos as Mimì were among the delights of this performance. Calenos has a sweet and pliable soprano voice that made audience members join Rodolfo as he falls in love with Mimì. When she spoke of her love for spring and nature in her first aria, she established the personality her character would maintain.
Musetta is brash where Mimì is discrete. Musetta is also beautiful and full of life. Elle Valera's Musetta was a showstopper with a voluminous creamy voice. She reveals her personality in her entrance aria when she sings "Così l'effluvio del desìo tutta m'aggira, felice mi fa!" ("Being surrounded by the effluence of desire makes me happy"). Her singing made us happy in Act Two. We laughed at her banter with Marcello in Act Three and we cried with her at the opera's finale.
Luis Alejandro Orozco was a good-natured Marcello who failed to resist Musetta's charms even when he could see she was making a fool of the man paying her bills. As Schaunard the musician, Chrisman Studio Artist Yazid Gray sang his "Tale of the Parrot" with burnished bronze tones and fluent Italian style. Bass-baritone Vincent Grana was an intellectual Colline who was reputed to keep his personal library in the pockets of the coat he would later sell to raise money for Mimì's medical care.
E. Scott Levin is a hard working bass-baritone who has sung with many opera companies in the United States. As Benoit, the landlord, he was a sprightly oldster who never got his rent money. As Alcindoro, he was the straight-man and bill-payer for Musetta's hi-jinks. The creative artists at Opera Santa Barbara wove all these individual threads into a glorious fabric that we enjoyed on Sunday afternoon.
Photo by Zach Mendez
Maria Nockin attended Fordham University at Lincoln Center while studying voice, piano, and violin privately. For many years she taught English as a Second Language (read more about this author...)