West Coast Premiere Of THE DAY YOU BEGIN to be Presented at Bay Area Children's Theatre in February
This west coast premiere musical is based on Jacqueline Woodson's most popular picture books.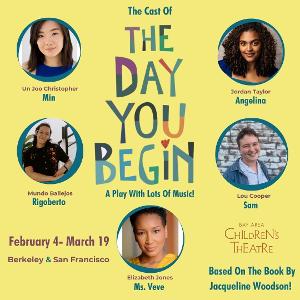 It's not easy to take those first steps into a place where nobody really knows you yet...but somehow you do it.
This west coast premiere musical is based on Jacqueline Woodson's most popular picture books, a #1 New York Times bestseller illustrated by Rafael López and featured in its own episode in the Netflix original show Bookmarks: Celebrating Black Voices.
The Day You Begin is a poignant and heartening musical about finding courage to connect, even when you feel afraid. This open-ended and relatable feeling will allow young children from all different backgrounds to explore and understand a time when they have felt different, which lends a universally relatable narrative to the story.
There are four main characters whose stories are told in this book based musical, and each has a unique experience. Angelina, a black girl from Brooklyn worries she won't have anything exciting to share about her summer vacation because she had to spend it babysitting her sister. Rigoberto and his family immigrated from Venezuela, and he feels like an outsider until he discovers that others know parts of his native language of Spanish and enjoy playing games as much as he does. Min, whose family is from South Korea, initially feels embarrassed at how the other kids would react to the traditional Asian meals she brings for lunch but finds the courage to celebrate her food, and Sam, a neuro-divergent student who experiences the world through sound and light, finds it hard to join the rest of their class whenever activities get too rowdy. Each of these classmates eventually find commonality and build lasting friendship throughout their first day because they discover what makes each of them unique and special is also what connects them all together.
Meet the cast!
Un Joo Christopher is Min
Jordan Taylor is Angelina
Mundo Ballejos is Rigoberto
Lou Cooper is Sam
Elizabeth Jones is Ms. Veve
The Day You Begin is directed and choreographed by Khalia Davis, the Artistic Director of Bay Area Children's Theatre. She recently led the world premiere of A Kids Play About Racism, which brought together over 40 theatre producing partners and was viewed on Broadway on Demand nearly 80,000 times during its limited run!
"I jumped at the chance to bring this beautiful story to our young audiences because I saw each of those characters in the faces of the community that we serve. So often we forget how meaningful it truly is to see a representation of yourself fully realized sharing your lived experience. This show celebrates the power of diversity that exists in the Bay Area and teaches us all the importance of honoring who we are and from where we come," says Davis.
Runtime is 50 minutes and great for all ages (recommended 5+). The Day you Begin runs from February 4th through March 12th every Saturday and Sunday at the Bay Area Children's Theatre in Berkeley, and March 18th-19th at the Fort Mason Center in San Francisco. Tickets are $32-$35 and are available here.