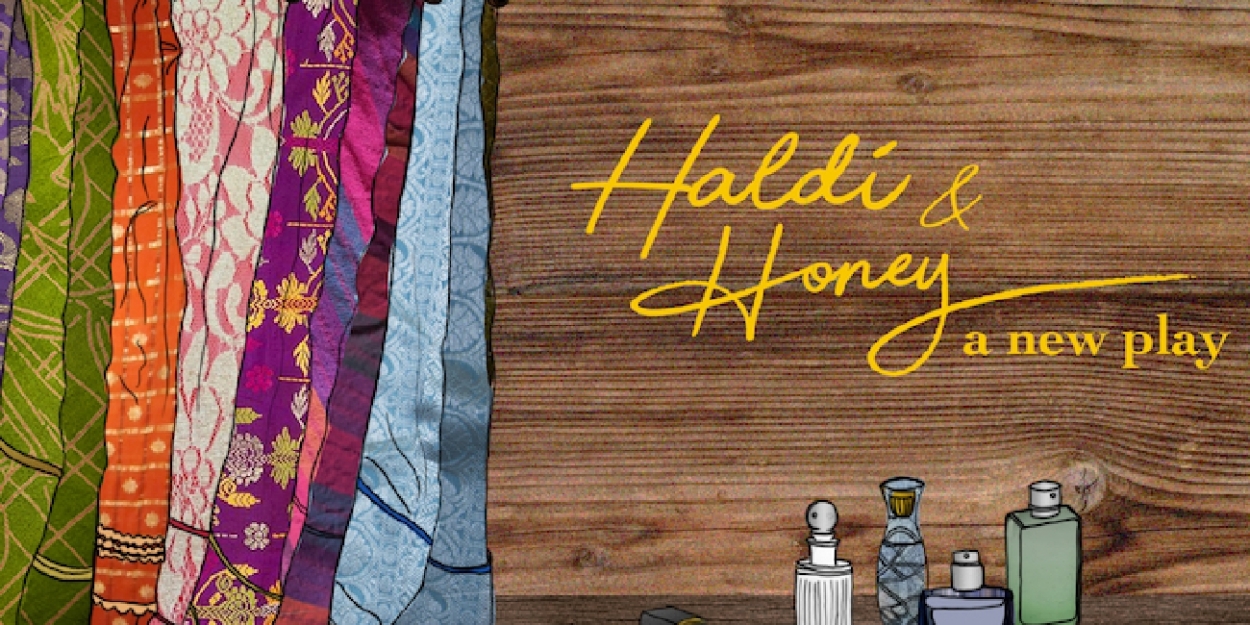 Stanford's Theater & Performance Studies Department to Present Workshop of HALDI AND HONEY
The production will take place on February 2-4, 2023
Stanford University's Theater and Performance Studies (TAPS) department will premier a workshop production of Haldi and Honey, written by Kenyan playwright-performer Aleya Kassam, produced and directed by Karishma Bhagani, as part of its second year Graduate Repertory performances. The production will take place on February 2-4, 2023 at 7pm (talkback to follow on 2nd and 3rd) at the Nitery Theater in the Old Union, Stanford University Main Campus.
Haldi and Honey traces the journey of Jugni, a South Asian Ismaili Kenyan woman, on the morning of her grandmother's burial ceremony. Jugni performs a series of rituals for her grandmother's soul to rest in peace, and in doing so, deepens her relationship with her ancestors and learns about the sacrifices made by the women in her family.
The Graduate Repertory Performances are an opportunity for PhD students in the TAPS department to demonstrate their practical theater-making by staging work that speaks to their research and scholarly interests. This practical opportunity engages students in developing their skills as artist-scholars early in the program.
Karishma Bhagani, a second-year student in the PhD program and a Knight-Hennessy Scholar, is the producer and director of the work. "It was important to me to tell a story that highlighted the experience of being a South Asian woman in Kenya", said Bhagani. "I have been wanting to collaborate with Aleya for many years and thought that this would be a wonderful opportunity for us to work together. After many discussions, we landed on telling a story about our grandmothers; one that explores love, loss, and grief through an intergenerational conversation between the central character, Jugni, and her ancestors. Everyone can relate to these emotions."
This production also offered undergraduate students an opportunity to work as designers and performers in a professional context, with mentorship from Lecturers Nina Ball and Stephanie Hunt, Senior Lecturer Rebecca Bodurtha, as well as Artistic Director and Assistant Professor of TAPS, Michael Rau."We will also be hosting a series of workshops and lectures, led by Aleya Kassam, open to members of Stanford and the public, as a way to share creative practices and discuss the nuts and bolts of making the work", Bhagani added.
"This has been an invaluable opportunity to workshop a piece of work that has been marinating for several years. Haldi and Honey are what my grandmother always prescribed for anything that needed healing...and now more than ever before, for so many of us, the work of healing feels necessary, urgent and most of all, beautiful," remarked Aleya Kassam, playwright of the show.
The production has been supported by various on-campus offices and departments including the Center for African Studies, Center for South Asia, Abbasi Program for Islamic Studies, Department of English and the Knight-Hennessy Scholars Program.
Performances will take place in person at the Nitery Experimental Theatre on Stanford University's campus, Panama Street. Parking, ticketing information, and covid protocols are listed on the TAPS Website. Please be sure to reserve your spot here as seating will be limited.
Listen to Karishma Bhagani in conversation with Marina Bergenstock about the play as part of the TAPS Tablework Podcast here.
The cast and creative team of the production is as follows:
Playwright: Aleya Kassam
Director: Karishma Bhagani
Cast: Avantika Alok Shah and Veenaa Agrawal Scenic Design: Kiki Hood
Lighting Design: Ian Chang
Sound Design: Nathan Sariowan
Costume Design: Catherine Sarca
Aleya Kassam is a Kenyan feminist, storyteller, writer, performer, and voice artist. She is widely experimental with form - from page to stage, screen to speaker, micro fiction to memory poems, docu-theater to participatory filmmaking, blogs to twitter threads - she loves to play with different ways people experience story.
She is also a founder of, director and the 'A' in The LAM Sisterhood, an award-winning content studio that fills the world with stories for African women to feel seen, heard and beloved, such as the award-winning stage show Brazen, un-invisibling the stories of extraordinary women from Kenya's history, and the children's podcast KaBrazen, telling the stories of Brazen African women for our littu ones.
Her first writing home was her blog, www.chanyado.wordpress.com which has featured several times on the Global Wordpress Discovery and has been described by Nanjala Nyabola as 'shuffling between personal narrative and political observation, the blog allows you to take a step back and think about the real impact of political or social issues on the individual.' Her creative non-fiction and poetic prose have been published and performed on multiple platforms and stages, from Nairobi to Kampala, Kigali to Stuttgart, and her children's story, The Jacaranda Tree, was longlisted for the Golden Baobab Prize for African Children's Literature.
She has performed in Stories from the Mall; A Westgate Memorial, And Then She Said - 5 Novels Re-imagined, The Vagina Monologues, Red Rabbit, White Rabbit, Jalada's Upright Revolution, TEFBrazen, as well as Sitawa Namwalie's acclaimed shows Silence is a Woman and Cut off my Tongue. She also co-wrote and starred in the poetry performance shows, State of the Nation Undressing, and Love, Loss, and Discovery.
In this time of COVID, Aleya and Sitawa Namwalie, have been performing a series of virtual theatrical experiences entitled The Narratives Are Being Crafted Now, which centers African philosophy, history, and culture as a gift to the world to navigate our way through this crisis and imagine differently. Aleya is also a jewelry maker and samosa designer. Find her on twitter/instagram as @aleyakassam.
Karishma Bhagani is a producer, dramaturg and theater-maker from Mombasa, Kenya. Karishma currently serves as a Strategic Consultant for the LAM Sisterhood in Kenya, the associate producing director of the Nairobi Musical Theatre Initiative and the Associate Artistic Director for the Tebere Arts Foundation in Uganda. She was also a fellow at the Georgetown Lab for Global Performance and Politics (2019-2022). Select credits include dramaturg and cultural consultant for Goddess: The Musical, produced Theatre for One: Nairobi Edition in conjunction with the Arts Center at NYU Abu Dhabi and Octopus Theatricals in New York. She graduated from New York University (NYU) with a BFA in Theater and a BA in History. She is currently pursuing her PhD in Theater and Performance Studies at Stanford University and is a Knight-Hennessy Scholar.