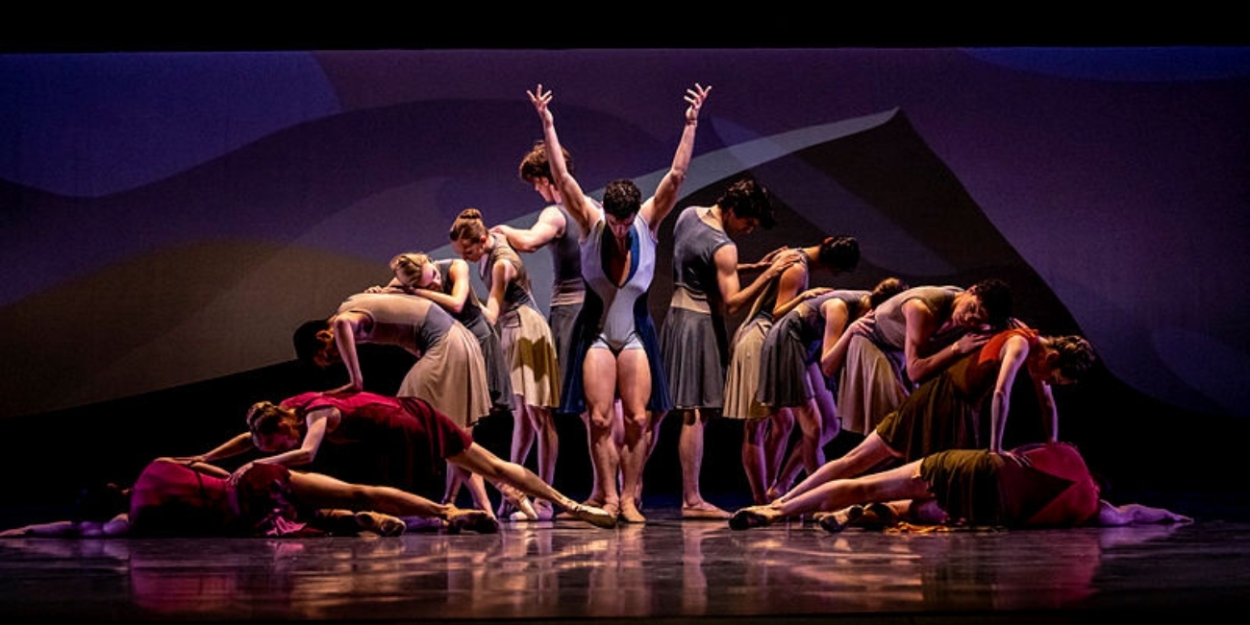 Review: NEXT@90 FESTIVAL - BLANC / SCHREIER / POSSOKHOV PREMIERES at San Francisco Ballet Presents a Trio of Striking Dances Set to Glorious Music
The invigorating program features world premieres by three very different choreographers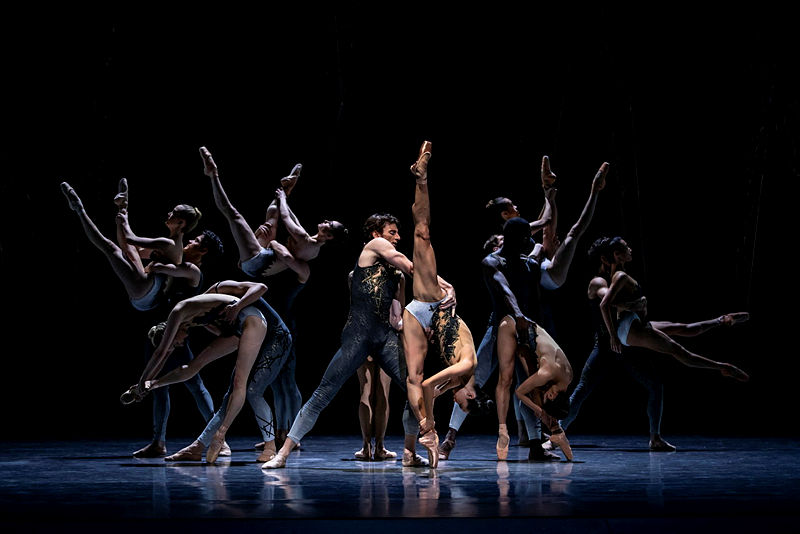 The third and (alas!) final program of San Francisco Ballet's next@90 festival is the most cohesive and consistently rewarding one. Its three world premiere ballets are quite distinct from each other, but two common threads are that they are all set to challenging yet exceedingly danceable music and are essentially plotless while featuring enigmatic relationships between their two principal women.
The program opens with Claudia Schreier's alternately lively and searching Kin, set to an original composition by Tanner Porter commissioned by SFB specifically for this ballet. After a brief opening tableau with the two lead women underscored by zithery strings, the corps of 12 rushes on to an exuberant fanfare from the brass section. Two featured couples emerge out of the chaos (Dores André & Isaac Hernández, Aaron Robison & WanTing Zhao), but it's really more about the connection between the two women rather than what's going on between them and their male partners. The movement is energetic and spiky as groups keep shifting amid multiple entrances, couplings and exits. Then the opening tableau recurs, this time with Zhao seeming to offer André courage (or something). Zhao rushes into the wings, and André goes after her but is hindered by the throngs of dancers and ends up alone onstage with her arms raised, perhaps in triumph. Or defiance? Or...? The ending was certainly striking, if a bit rushed, and overall the ballet felt a little incomplete or underbaked.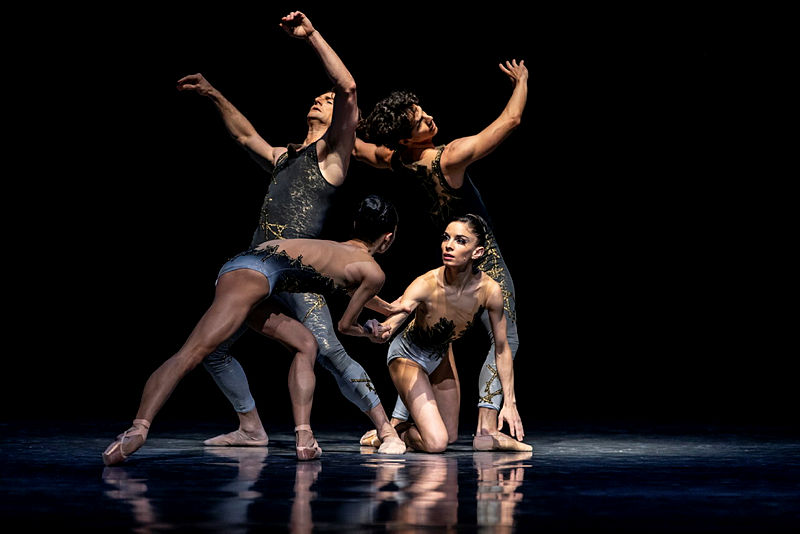 That reservation aside, Kin was immensely enjoyable from start to finish. It helps that Porter's contemporary classical score is often just drop-dead gorgeous, and Schreier matches it with movement that is beautiful and arresting. Alexander V. Nichols' abstracted forest of a set creates a shimmery world for the dancers to exist in, and Abigail Dupree-Polston's costumes do not call undue attention to themselves, and I intend that as a compliment. The piece was terrifically danced by all, even if the corps sometimes looked a bit under-rehearsed, which is understandable given that it's a brand-new ballet with brisk tempos and zillions of entrances and exits.
The middle piece on the program, Nicolas Blanc's Gateway to the Sun, takes us to a completely different world. Blanc was one of SFB's most incisive dancers back in the early 2000s, so I was intrigued to see just what kind of ballet he would make on his former company. Using 13th-century Persian-Muslim poet Rumi's "Dance" as his inspiration, he's come up with something fairly mystical, sweetly ruminative, and utterly contemporary. It opens with an extended solo for Max Cauthorn as "The Poet" (the only role assigned a name) as the rest of the cast sways behind him in silhouette, backed by a drop that suggests a desert mountainscape in the form of a colorful sand painting.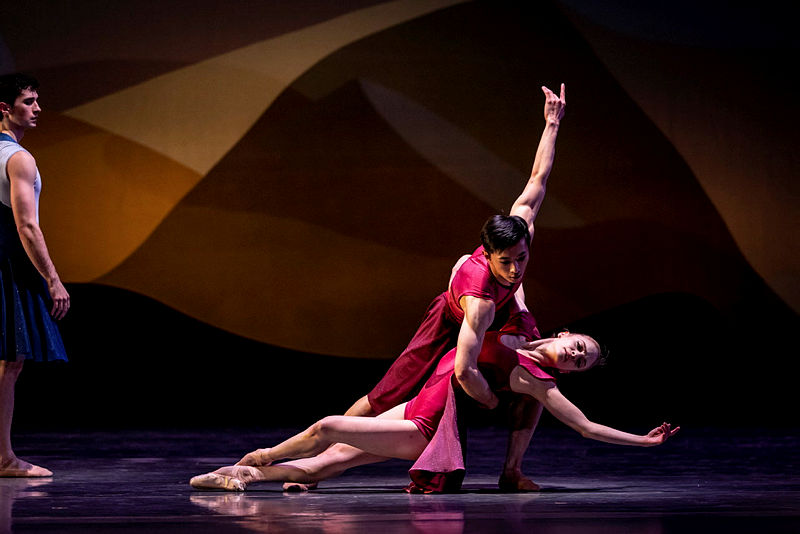 The music is whooshy and melancholy, featuring maybe the saddest cello solo I've ever heard. The Poet then appears to activate two couples (Sasha De Sola & Wei Wang, Luke Ingham & Jennifer Stahl) into a series of dances that he sometimes joins, sometimes merely observes. The core of the ballet comes unexpectedly with a movement for six women that begins with sisterly tenderness, before progressing to fierceness then angst and back to tenderness, finally ending in a moment of grace. As the women floated offstage, it felt like they were letting go of something. The incandescent De Sola and Stahl provided a centrifugal force to the group, melding as a team of two, dancing with serenity and strength.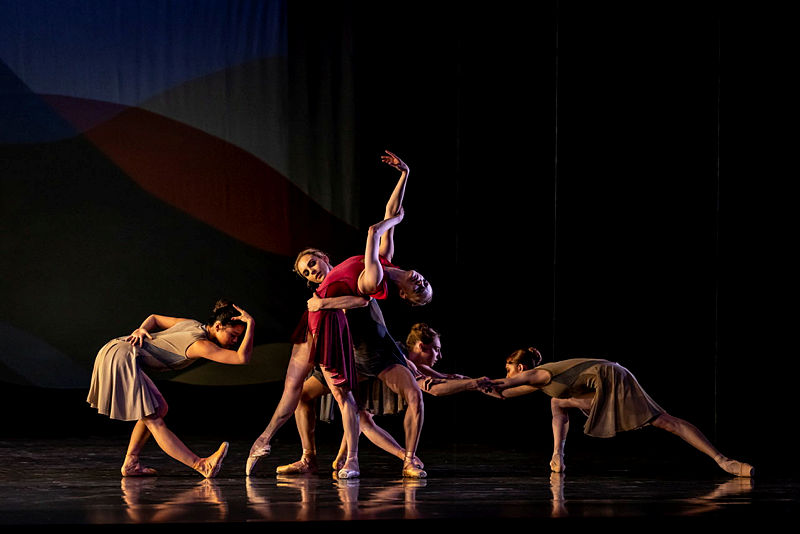 The final section, for the men who are then joined by the women, is more percussive and muscular. Much like English composer Anna Clyne's score, Gateway to the Sun is intriguing, a little dry, and subtly Middle Eastern in feel. The dancing was, once again, marvelous, even though the ballet doesn't give the dancers big bravura movement. The cast may continue to get better and better as they have more time to delve into the ballet's mysteries. This is definitely one of those ballets that will need repeat viewing to determine just how much "there" is there.
Set and costume designer Katrin Schnabl was more successful with the former than the latter. Her desert-evocative drop was alluring and tranquil (and beautifully lit by Jim French), but dressing the entire cast in leotards with open skirts is one of those potentially good ideas that was awkwardly executed. The skirts were lovely as long as the dancers were in motion, particularly when spinning, but looked just kind of heavy and dowdy when the dancers were still.
The program concludes with SFB Choreographer in Residence Yuri Possokhov's Violin Concerto. He has set himself an impossible task by daring to create an entirely new ballet to Stravinsky's "Concerto in D for Violin and Orchestra" which Balanchine used for one of the most iconic ballets he ever made, Stravinsky Violin Concerto (and which Possokhov himself danced, wondrously, many times with SFB). I can see the appeal, though. All three men are Russians who emigrated to the U.S. where their careers and artistry reached new levels of maturity by exploring a sort of dialog between their native and adopted cultures. And that gloriously rhythmic and excitably astringent Stravinsky music, I mean, c'mon - what choreographer wouldn't want to make a dance to that?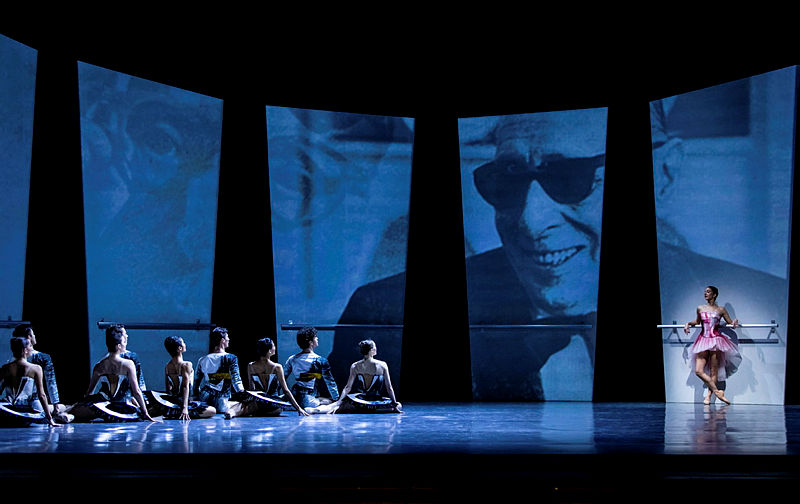 Possokhov replaces Balanchine's black and white leotard asceticism with a fully costumed piece set in a fantasia of a ballet studio. Scenic designer Alexander V. Nichols has created a lovely, slightly fractured space for the dancers to exist in, illuminated by photos of Stravinsky's hand-written score and the man himself. While I could have done without the latter (a bit too on the nose), the rest made for some lovely stage pictures. Sandra Woodall's costumes, with a hi-lo skirt for the character called the Muse, stiff Jane Jetson tutus for the other women, and some rather busy hand-painted tunics and bodices for everyone, were kind of fun if over-designed, tending to pull focus from the dancers wearing them.
As the curtain rises, the Muse (Sasha Mukhamedov) appears at the barre before she is joined by three principal couples and a corps of four men and four women who canter through the Russian folkish-classical opening movement. A first adagio is danced by two couples, one sort of shadowing the other. A second adagio starts with a third couple before they are joined by the Muse, who seems to be in a conflict with the woman before they reach a sort of rapprochement. Everyone joins in on the high-spirited finale, where the Muse is given a lovely commanding solo.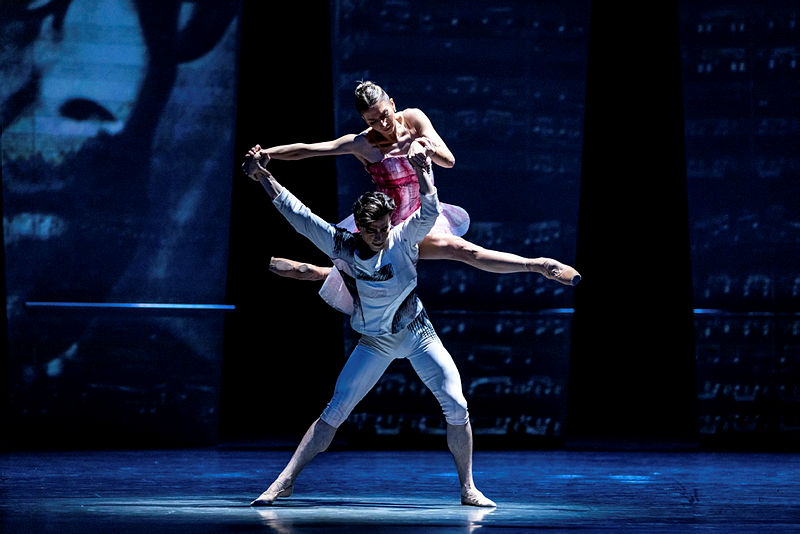 Even if nothing here matches the wit and pathos of Balanchine, the ballet is still a fun ride, with the entire cast romping across the stage as if they're having the time of their lives by the end. As a sort of first among equals, corps de ballet member Carmela Mayo was especially notable in a principal role for her fearless attack and spot-on musicality. Possokhov's one innovation that really pays off is how he contrasts Joseph Walsh's innate Americanness with Sasha Mukhamedov's Russian heritage. Walsh is delightfully brash and direct, while Mukhamedov is alluringly mysterious and refined. It's a perfect distillation of the ballet's caught-between-two-cultures ethos. I can only imagine Balanchine would have gotten a kick out of them.
(all photos by Lindsay Thomas)
Performances of San Francisco Ballet's next@90 Blanc/Schreier/Possokhov Premieres continue through Tuesday, February 7th at the War Memorial Opera House, 301 Van Ness Avenue, San Francisco, CA. Running time is approximately 2 hours 5 minutes, including two intermissions. For tickets and additional information, visit www.sfballet.org or call (415) 865-2000, M-F 10am-4pm.