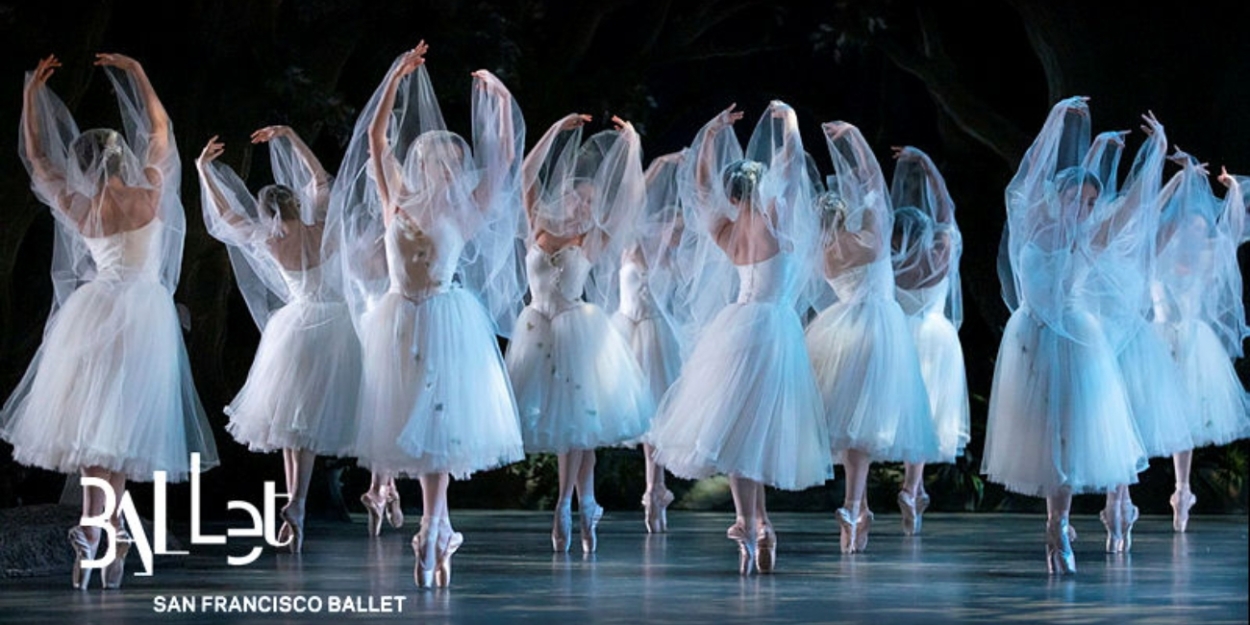 Review: GISELLE at San Francisco Ballet Casts an Otherworldly Spell
The Romantic-era classic runs through March 5th at the War Memorial Opera House
Giselle is one weird and wonderful ballet. Over 180 years after its Paris premiere, it continues to startle and move audiences with its go-for-broke otherworldliness. It plays like a standard Mitteleuropean fairytale romance until things spiral out of control at the end of Act I, and Act II becomes a mad mashup of a ballerinas-in-the-footlights Degas painting, a dystopian Margaret Atwood novel and the kind of ghost stories kids share around campfires. Somehow it all coheres.
San Francisco Ballet's production of this classic Romantic work may date from 1999, but it looked fresh as a daisy on opening night. Mikael Melbye's sets have aged surprisingly well, employing a combination of layered drops and 3-D elements to create the forced-perspective effect of a children's popup storybook. The village square in Act I is bucolic and warmly autumnal, the nighttime forest in Act II chilly and foreboding. Helgi Tomasson's choreography includes all the major set pieces the ballet is so well known for (the title character's mad scene, her partner's bravura act of almost dancing himself to death, etc.), while making some tweaks to give the male characters added dimension in this otherwise female-dominated ballet.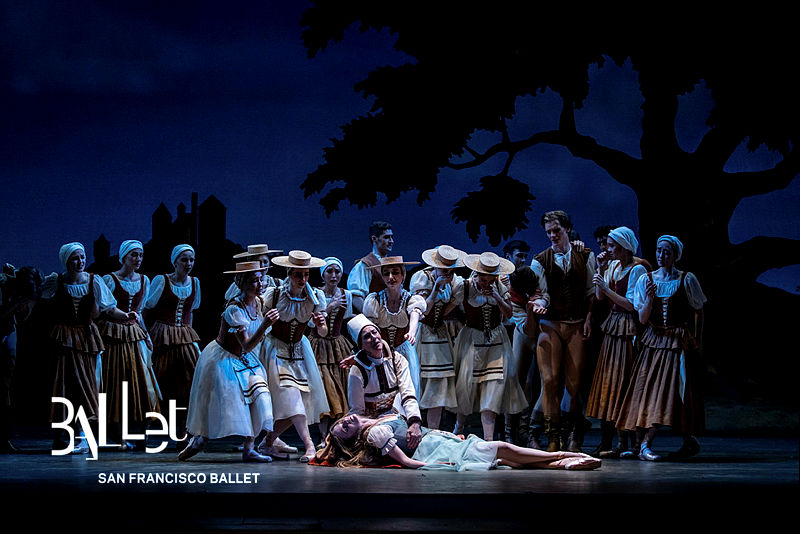 The plot remains thus: Giselle, a sweet young peasant woman with a weak constitution, falls for Albrecht, a nobleman disguised as a peasant who is unbeknownst to her already betrothed to a woman of his own class. When his subterfuge is revealed, Giselle goes mad, collapses and dies. Since she has not yet reached her wedding day, Giselle is condemned to live forever as a Wili, a ghostly creature who emerges from her grave only at night and bonds with her Wili sisters to seek vengeance on any man who happens upon them. When a grief-stricken Albrecht visits Giselle's grave, he senses her presence, and the pair reach a sort of understanding. Giselle realizes Albrecht truly did love her, so she forgives him and spares him from certain death. The scenario carries more than a whiff of the sexism that runs rampant in Romantic-era culture (why is it only the unmarried women who are condemned to Wili-hood, and why is it always the women who must be the ones to forgive?), but in its depiction of an underworld sororal society with the power to kill off male intruders, there is a girl power dynamic in play as well. The Wilis may be phantasmal, but they are also total badasses who have each others' backs.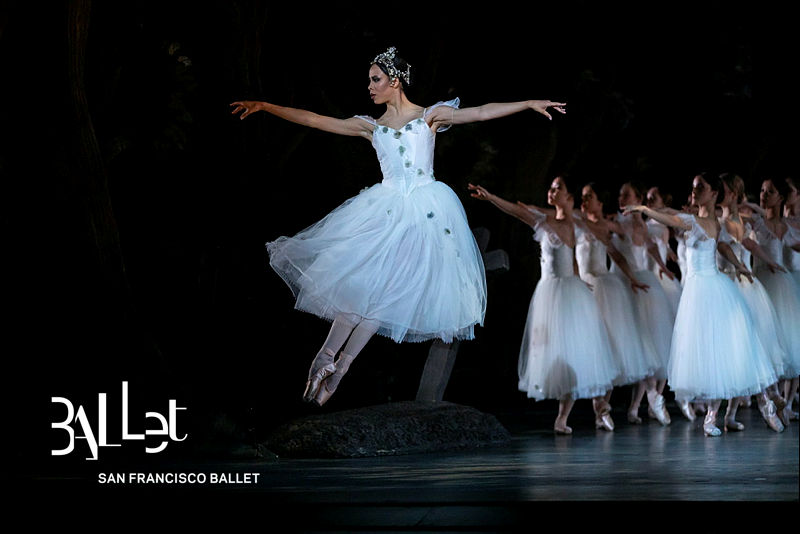 The dancing on opening night was fantastic all around, with everyone rising to the occasion. The Act I pas de cinq was performed with an invigorating crispness and elasticity by Max Cauthorn, Isabella Devivo, Norika Matsuyama, Carmela Mayo and Hansuke Yamamoto. Nathaniel Remez was particularly effective as Hilarion, Giselle's wannabe suitor, which is so often a thankless role. Although this character is the de facto villain of the piece, Remez played him absent of sneer or snarl, thus making Hilarion seem more just a guy who is doing his best to win the love of Giselle. Nikisha Fogo made a smashing Myrtha, Queen of the Wilis. With her solid technique and fiercely grounded presence, she is clearly in command of the situation and definitely not someone you want to mess with. Fogo was especially impressive in her stage-devouring running leaps with legs reaching a perfect 180-degree split at the apex.
But of course Giselle is really all about, well, Giselle ... and Albrecht, her duplicitous boyfriend. You couldn't hope for a better twosome than Sasha De Sola and Aaron Robison who danced the roles on opening night. De Sola, with her preternaturally floaty line, was a more fragile and otherworldly Giselle from the get-go than what we often see, but that does help her register immediately as someone special and sets her apart from her village compatriots. And fear not, when Giselle turns truly spectral in Act II, De Sola reveals a whole other gear of diaphanousness so that her body seems virtually incorporeal, made of pure gossamer. As her sorta cad suitor Albrecht, Aaron Robison danced with grace and gallantry. With his perfectly vertical spins, jumps that appear to hover in the air, and soft-as-butter landings, it is easy to see why Giselle is so stuck on the big lug. And his lengthy sequence of death-defying leaps with entrechats in Act II was jaw-dropping.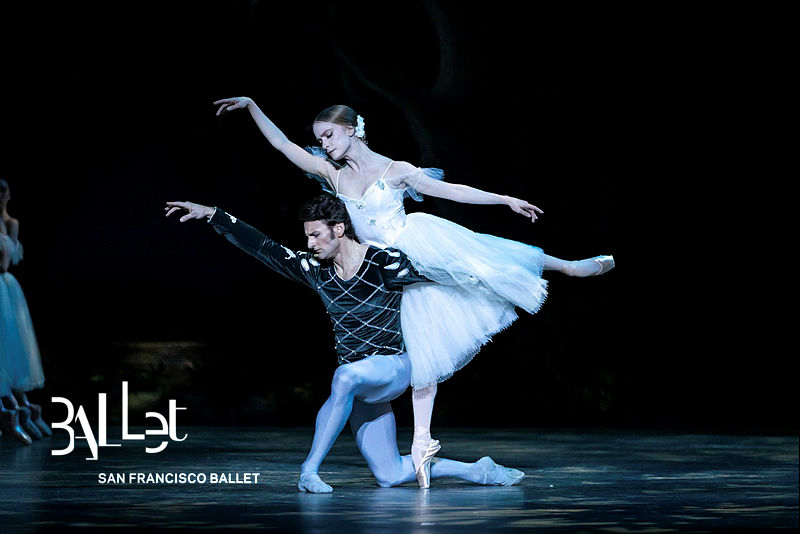 Perhaps even more than De Sola's and Robison's dancing, though, it is their acting chops that make this old tale work its magic and leave you with a lump in your throat. When Giselle spins joyously around the stage in Act I, it feels like an expression of her love for Albrecht, not just a ballerina impressing the audience with her spectacular technique. Soon thereafter, when Giselle learns Albrecht is already betrothed to another, De Sola becomes so unbalanced, so unhinged in an offbeat way, that it's actually pretty shocking to witness. And when she eventually offers absolution to Albrecht, you can see it comes at an emotional cost. Robison's Albrecht is a decent enough guy who is in way over his head. He ultimately learns a lesson and will be the better for it. So as weird as the tale is, it still has the power to move us.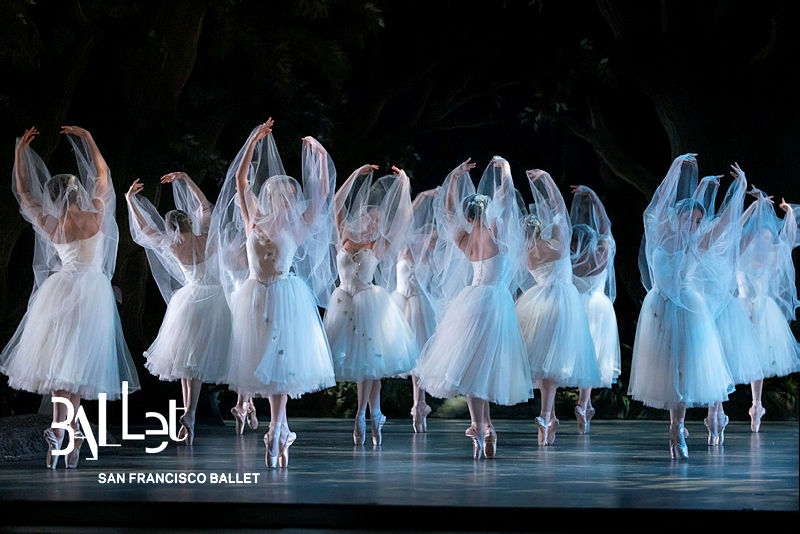 Finally, the wonderful women of the corps de ballet merit a special shout-out, particularly in Act II where dozens of them form a protective posse around Giselle. The women have some fiendishly difficult synchronized movement that I have never before seen danced so well. Giselle continues through March 5th only, with four different couples alternating as Giselle and Albrecht. In a company as stacked with talent as SFB, you might want to catch more than just one of them. Trust me, you will be amply rewarded for the investment of time and money.
(all photos by Lindsay Thomas)
---
Performances of San Francisco Ballet's Giselle continue through Sunday, March 5th at the War Memorial Opera House, 301 Van Ness Avenue, San Francisco, CA. Running time is approximately 2 hours 15 minutes, including one intermission. For tickets and additional information, visit www.sfballet.org or call (415) 865-2000, M-F 10am-4pm.