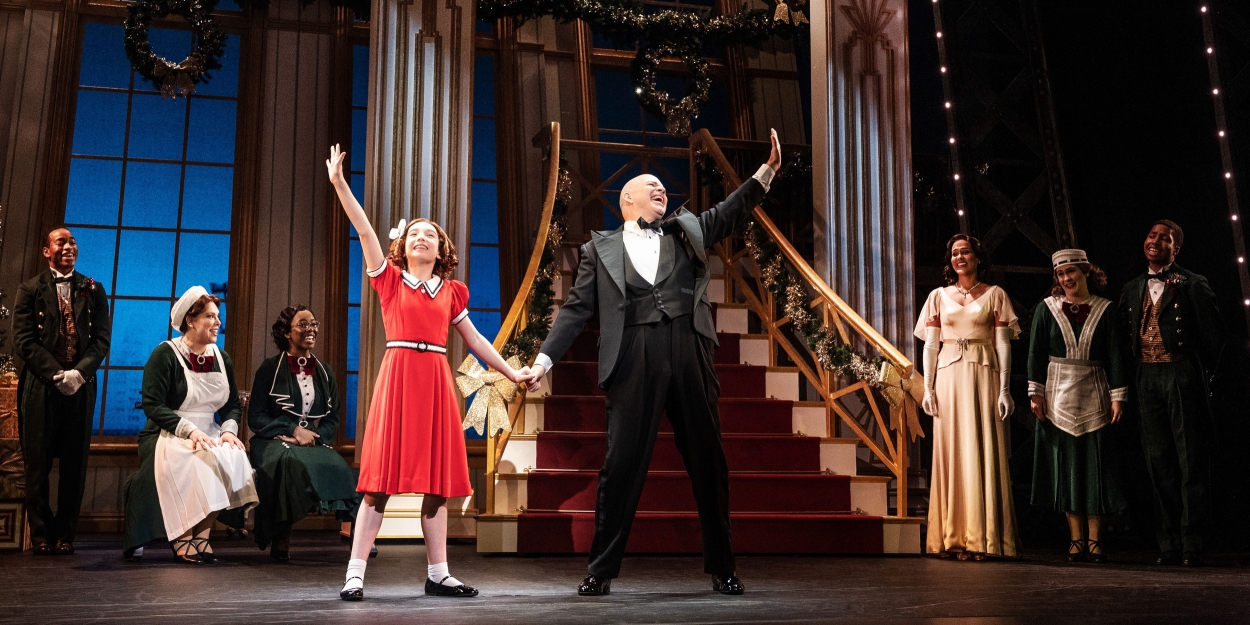 Review: ANNIE at Broadway San Jose
Set in an era of despair, ANNIE speaks powerfully of hope for our own era!
It's a hard knock life for sure, but Broadway San Jose's ANNIE infuses even today's troubled times with unrestrained optimism. And even though the sun isn't really shining in rain ravaged Northern California, it didn't stop the carloads of boys and girls and their adults from streaming into San Jose for the show. We met one such family in the parking lot. Rian, Kayleigh and Carter had traveled 120 miles from Sacramento with their dad and grandma to see ANNIE. The kids were super excited to see ANNIE, as was my own Zoey, who couldn't stop doing did cartwheels in anticipation of the show!
ANNIE is set in another troubled time; the Great Depression in 1933. Book writer Thomas Meehan, who was writing ANNIE during the equally vexing Nixon-era, could not have imagined the havoc that a twice-impeached president, Covid-19, the January 6 insurrection, or the Russian invasion of Ukraine would wreak upon the world today, but his ANNIE stands as a testament to hope in any time and through any crisis. And we all could sure use a big dose of that right now.
Ellie Rose Pulsifer simply shines as the irrepressible orphan Annie who, along with the other girls in their New York City orphanage, must put up with the mean matron of the house, the child-hating, booze-loving, Miss Hannigan (the deliciously evil Stefanie Londino). A quick shout-out to the female actors who play the ragamuffins in the orphanage - they are spectacular!
We can't help but cheer Annie on when she decides to break out of the joint to search for her parents who left her at the orphanage eleven years ago with half of a locket and a note saying they'd be back for her. A cop with a quick eye takes her back but not before she's had a min-adventure, first meeting a stray dog she names Sandy (Tony-worthy performances by four-legged Addison or Georgie by turns) and then some kindly people in a homeless encampment (known sarcastically as Hoovervilles at the time) who share their food with her.
Later she'll meet billionaire Daddy Warbucks (the amazing Christopher Swan) when she's chosen by his assistant Grace Farrell (wonderfully played by Julia Nicole Hunter) to spend two weeks with him in the mansion during Christmas. She quickly brings sunshine to the whole household of servants and to Grace and Warbucks. And finally, Annie will even cheer up President Franklin D. Roosevelt (the delightful Mark Woodard).
Annie is helmed by director Jenn Thompson and choreographed by Patricia Wilcox and together these two women are a tour de force. Wilson Chin's Scenic Design truly sets the stage, taking us from the dismal orphanage and deplorable Hooverville all the way to the beauty and grandeur of the Warbucks mansion. (Is that the country in a nutshell?)
Meehan's story of hope in the face of overwhelming odds became a trifecta of perfection with the addition of Charles Strouse's beautifully rendered songs and Martin Charnin's evocative lyrics, especially of course, the song "Tomorrow." Each of them won Tonys (Best Book, Best Original Score for Music and Lyrics) and Annie won for Best Musical in 1977. (Personal note of privilege: Long before I ever dreamed of being involved in theatre, I once met Strouse at a party in New York and mistook him for an extra on the TV show Remember WENN. When I asked him if he was indeed the extra, he very dryly said, "No, I wrote the music for Annie." I quickly slumped back to my table, completely embarrassed!)
Beyond the Tonys and the boards of Broadway, it would be Strouse and Charnin's song "Tomorrow" that struck a chord across the country and was covered by artists from Barbara Streisand to Jennifer Nettles, whose cover came during COVID and offered hope anew.
ANNIE continues to capture the hearts of a new generation of kids with this latest national tour. Back in the parking garage, Zoey and I said goodbye to Rian, Kayleigh and Carter and their dad and grandma, who confirmed that they all loved the show, and wished them a safe ride in the rain back to Sacramento. We all left hoping that the sun will, indeed, come out tomorrow.
ANNIE
Playing now thru January 15, 2023
www.broadwaysanjose
Photo courtesy of MurphyMade