JU1CE A One Act Festival Opens At The Wayward Artist This Month
Performances to take place at the Grand Central Arts Center in Santa Ana.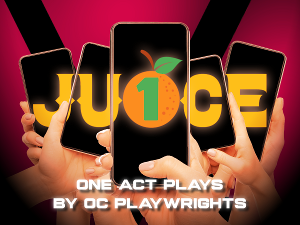 In a co-production with the Orange County Playwrights Alliance, The Wayward Artist presents JU1CE, a festival of one act plays created by Orange County based playwrights. The four performances of JU1CE begin January 27, 2023, and continue through January 29, 2023 at the Grand Central Arts Center in Santa Ana.
The eight plays that comprise the JU1CE Festival for 2023 are Reisman by Richard Garcia, LOL by Craig Holland, I Saw What You Said by Steven Korbar, The Milton Fernsby Story by Miles Garcia, Prufrock in the Park by Gina Shaffer, Coconuts and Candles by John Glass, State Park by Walter Simson, and Anti-Soulmate by Alyssa Ahle.
"We are fervent supporters of new work," said Craig Tyrl, Artistic Director of The Wayward Artist. "We are excited to bring these different short plays to life crafted by local writers. Unlike some one act festivals, JU1CE will be an evening of elevated entertainment that will provide that re-charging we all need right now."
The eight selected plays explore communication and its challenges past, present, and future. "Even though no theme or subject matter was suggested in the submission criteria, these plays meld together to form a cohesive storytelling experience," said Eric Eberwein, Director of Orange County Playwrights Alliance. "We are thrilled to be partnering with The Wayward Artist to offer a magical evening of new plays."
Started in 2017 by Craig Tyrl and Kristin Campbell, The Wayward Artist has frequently featured new work over its inaugural five seasons. In the year 2023, the tradition continues as The Wayward Artist kicks off season six with original plays in JU1CE. Throughout 2023, several other productions will feature new work. Not only is The Wayward Artist producing JU1CE but many of the actors appearing in JU1CE are resident artists of the company.
Tickets are available for purchase now. The Wayward Artist shows frequently sell out, so don't delay.
CREATIVE TEAM:
Director - Craig Tyrl
Director - Anna Miles
Stage Manager - Mykaela Sterris
Assistant Stage Manager - Melisa Cole
Sound Designer - Craig Tyrl
Scenic Designer - Avery Tang
Costume Designer - Ella Nelson
Lighting Design - Ella Nelson
CAST:
Migues Torres Cruz
Andrea Decker
Sherry Domerego
Brooke Aston Harper
Rose London
Paul Pancoe
Jeremy Swofford
Craig Tyrl
GRAND CENTRAL ARTS CENTER
125 N. Broadway
Santa Ana, CA 92701
January 27th - January 29th
Friday-7:30pm
Saturday - 2:00 pm, 7:30 pm
Sunday at 2:00pm
TICKETS:
Adults $25
For information and reservations: https://cloud.broadwayworld.com/rec/ticketclick.cfm?fromlink=2218483®id=18&articlelink=https%3A%2F%2Fwww.thewaywardartist.org?utm_source=BWW2022&utm_medium=referral&utm_campaign=article&utm_content=bottombuybutton1/
Telephone: 657-205-6273