Central Works 2019 Season Presents Four Plays And Four Premieres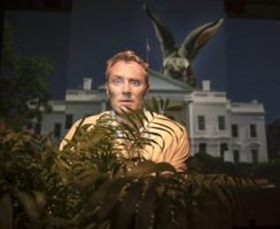 Central Works 2019 Season begins February 16 and runs through November 24, 2019 featuring the world premieres of 4 new plays. Wonderland, a Kafka-esque comedy by Gary Graves, launches Central Works new season opening on Saturday Feb 16, 7pm and runs through March 17 (Previews Feb 14 & 15 at 8pm).
In Wonderland something sinister is going on in the White House. Joseph Kaye is dumbfounded. Without having done anything to deserve it, he's been arrested and transported to a place that looks a lot like the White House. He doesn't know why. Someone must have recommended him. But he's just a bank teller at National Savings and Trust. Why him? No one will tell him anything. So he waits anxiously in an empty room off ... the West Wing? There's a woman named Alice. And someone called "The Rabbit." There's a "Mad Hatter" and a "Red Queen," too. Is something ghastly going on in the White House? Joseph just wants to do his civic duty. But what exactly is that when you're down the rabbit hole, and through the looking glass?
Directed by Jan Zvaifler Wonderland features a cast that includes Martha Brigham*, John Patrick Moore*, Kimberly Ridgeway and Clive Worsley (*member AEA). The production has costume design by Tammy Berlin, lighting design by Gary Graves, prop design by Debbie Shelley and sound design Gregory Scharpen, with stage management by Carolina Stevens.
Committed to new works inspired by social issues, classic texts, and history, Central Works continues its 2019 season in the spring with a new mystery set in London, where a series of gruesome murders have occurred - is Jack the Ripper at it again? A trio of unlikely detectives take it upon themselves to solve the mystery in The Victorian Ladies' Detective Collective by Patricia Milton (May 4-Jun 2). Then, with summer's full glare, a lesbian couple must confront questions that they never thought to ask as their marriage collides with national security, in Christina Gorman's political thriller, Roan @ The Gates (Jul 20-Aug 18). The season culminates with a new work by award-winning novelist Cristina García, which follows last season's sensational theatrical adaptation of her own novel "King of Cuba" with a new adaption, The Lady Matador's Hotel (Oct 12-Nov 10). The play follows the denizens of a luxurious hotel in the capital of an unnamed Central American country in the midst of political turmoil.
Gary Graves (playwright) has been a resident playwright and company co-director at Central Works since 1998. He has helped develop 62 world premiere productions with the company, many of which he has written and/or directed. Some of the other plays he has written for the company include Chekhov's WARD 6, Palace Wreckers, Edward King, Machiavelli's The Prince, Project Ahab, Lola Montez, Enemy Combatant, The Mysterious Mr. Looney, Misanthrope, Mata Hari, and Pyrate Story. He directed the company's first collaboratively developed script, Roux, at the City Club in 1997. He also leads the Central Works Playwriting Program, and teaches playwriting regularly at the Berkeley Rep School of Theater.
Jan Zvaifler (director) is Co-director of Central Works along with Gary Graves. A founding member of the company, she has participated as an actor, designer, director and/or producer for the past 28 seasons. For Central Works, she has recently directed Strange Ladies, RLS: Jekyll and Hyde, Charlotte Perkins Gilman's The Yellow Wallpaper, Dracula Inquest, The Lion and the Fox, Education of a Rake, and RICHARD THE FIRST; a trilogy. She has also worked with many local theater companies including the Berkeley Rep, Berkeley Shakespeare Festival, Marin Theater Company, San Francisco Playwrights Foundation, and San Francisco Shakespeare Festival.
CAST: (*member AEA)
Martha Brigham* (A) is making her Central Works debut with Wonderland. Some of her recent stage credits include The Resting Place (Magic Theatre), Dry Land (Shotgun Players), Leni (Aurora Theatre Company) Miss Bennet: Christmas at Pemberly (Marin Theatre Company) as well as working at Jewel Theatre Company, Playground, TheatreWorks, San Francisco Playhouse, and La Jolla Playhouse. Film and television include Children of Sorrow, The Man in the Red Suit, and The Empire Builders. Martha graduated from the Lee Strasberg Theatre and Film Institute as well as studying with Steppenwolf West under alumni Tom Irwin and LA's comedy improv group, The Groundlings.
John Patrick Moore* (Joseph Kaye) is an Artistic Associate with Central Works, where he has directed or acted in over 15 world premieres including: Palace Wreckers, Edward King, Winter, Hearts of Palm, Project Ahab, The Red Virgin, Richard the First, Reduction in Force, Midsummer/4, Shadow Crossing and Chekhov's The Duel. John's NY credits include: Emma the Musical (NYMF), Edward III (Hope Theatre), Richard II and As You Like It (Expanded Art's Free Shakespeare in the Park(ing) Lot). In the Bay Area, he has worked with Marin Theatre Company, The Magic Theatre, 42nd Street Moon, CenterRep, Bay Area Playwrights Festival, Alter Theater and SF Playground. Member of Equity.
Kimberly Ridgeway (Duchess) makes her debut at Central Works in Wonderland. Kim has over 70 acting, directing, writing and producing credits in film and theater. Her favorite theater roles are Mrs. Muller in Doubt; Sam Stevens in The Gigolo Chronicles; Randa in Savannah Sipping Society; Bernice in The Piano Lesson, and Camae in The Mountaintop, for which she won the 2016 BroadwayWorld San Francisco Award for Best Leading Actress in a Play (Local). Kim can be seen next in All the Way at CCCT, El Cerrito, in April 2019 and is directing Hickory Dickory at Dragon Theater, Redwood City, in 2019.
Clive Worsley (White Rabbit) recently returned from the inaugural Eugene O'Neill International Festival of Theater in Ireland, where he performed the role of The Narrator in O'Neill's Hughie, and has appeared on many Bay Area stages such as Berkeley Repertory Theatre, California Shakespeare Theatre, Central Works, Magic Theater, Marin Theater Company, SF Playhouse, Shotgun Players, TheatreFirst, TheatreWorks, Town Hall Theater, Z Space and more. He is thrilled to return to the Central Works stage where he was seen as Captain Franklin in the 2015 production of Project Ahab. By day, Clive is the Director of Artistic Learning at the California Shakespeare Theater.
For over 28 years Central Works has filled a special niche for theater artists in the San Francisco Bay Area, producing more new plays by local playwrights than any other company in the region. "The New Play Theater" utilizes three basic strategies: some are developed in the Central Works Writers Workshop, some are products of the Central Works Method, and some come to the company fully developed.
The Central Works Method brings together writer, actors and director at the very outset of the playwriting process. In a supportive workshop environment, group research and collective brainstorming contribute to the entire development of the script.
The Central Works Writers Workshop is an ongoing commissioning program established in 2012. Twice a year, in 12-week sessions, 8 local playwrights are selected to develop projects through informal readings and carefully directed discussions. For more information, visit our website: www.centralworks.org

Related Articles View More San Francisco

Stories

Shows
More Hot Stories For You