BWW Review: SWAN LAKE at San Francisco Ballet Brings the 2022 Season to a Spectacular Close
The production also marks the end of Artistic Director Helgi Tomasson's wildly successful 37 years at the helm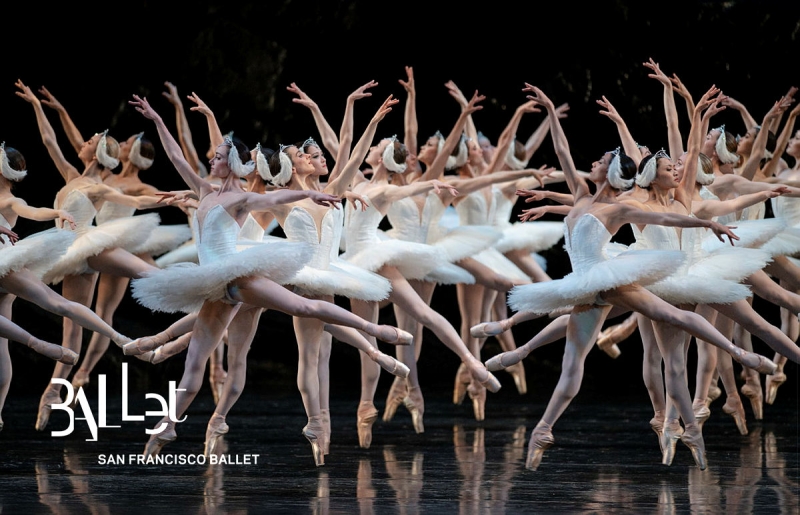 San Francisco Ballet is ending its 2022 season on a glorious high note with Helgi Tomasson's production of that all-time classic, Swan Lake. It also marks the end of Tomasson's enormously successful 37 years as SFB Artistic Director. It makes perfect sense that he would want to leave audiences with this particular ballet as a last impression, as it is also the ballet with which he first truly made his mark as a choreographer in San Francisco. When his first Swan Lake debuted in 1988, he was both serving notice that SFB intended to be a major player on the international ballet scene and providing a harbinger of glories yet to come. This current production of Swan Lake is based on the 1988 version, with new designs and some additional choreography made in 2009.
Swan Lake is a towering classic for good reason. It's got it all - spectacularly rich and varied choreography, dazzling large group numbers that fill the stage, a fiendishly difficult dual central role of Odette-Odile that is a rite of passage for any prima ballerina, and Tchaikovsky's incomparable, soaring score, arguably the most gorgeous and dramatically compelling ever composed for a ballet. Tomasson's version adheres to the classic plot of young Prince Siegfried who, who after being admonished by the Queen Mother to find a suitable bride posthaste, becomes entranced with Odette, a young creature who has been condemned by the wicked Von Rothbart to be a swan by day and regain her human form only at night. Siegfried and Odette quickly fall in love, and Siegfried vows his undying love before Odette disappears with the approach of dawn. At a palace ball, Voth Rothbart appears uninvited with his daughter Odile, whom he has transformed into a semblance of Odette. The ruse works and Siegfried declares his love for Odile before her true identity is revealed, thus condemning Odette to life as a Swan. This leads to a tragic ending, with the Siefgried and Odette reuniting only in the afterlife. While this all may sound preposterous on paper, in performance it can be incredibly moving as it is basically another variation of the timeless story of two lovers who are kept apart by forces beyond their control.
And it is helped enormously by choreography of unparalleled invention. The second act, where the two lovers initially meet by a moonlit lake surrounded by a flock of swans is especially transporting, and is perhaps the most perfect example of music meeting choreography. The swans shimmer in the moonlight, forming all manner of kaleidoscopic patterns, framing Siegfried and Odette as they fall in love. The music is impossibly rapturous, and the movement is slow and refined so that we can read every shifting emotion between the central couple. The third-act ball scene then allows them to let 'er rip in the famously explosive "BLACK SWAN" pas de deux as Odile lures the prince into her net.
The cast on opening night danced beautifully throughout, aside from the odd bobble here and there which may well have been the result of first-night nerves. In the first act, Isabella Devivo, Esteban Hernandez and Julia Rowe were luxury casting in an enchanting pas de trois that presages the one man - two women plot and choreographic fireworks still to come. Rowe was crisp and playful, DeVivo serene and stylish. Hernandez provided stalwart partnering to both women, and in his big solo thrilled with his soft landings, perfectly on the beat.
DeVivo and Rowe returned (This particular pair have been dancing together so spectacularly all season that I feel we need to invent a term for their special brand of tag-team partnership.) in the Act II lakeside scene along with Ellen Rose Hummel and Norika Matsuyama for the iconic, lightning-quick, arms-interlaced Dance of the Cygnets. I don't think I've ever seen it danced with such vivaciousness and precision. Every leg beat, every toe point, every head turn was right on the money. 90 seconds of sheer heaven. Also impressive in Act II were Kamryn Baldwin and Megan Amanda Ehrlich as the Swan Maidens, another perfectly matched pair. They projected elegant authority and somehow managed to dance in perfect unison while still letting their individual temperaments shine through.
The Act III ball sequence of international dances featured yet another terrific performance by Henry Sidford in the Spanish variation. I'm fairly certain Mr. Sidford does not actually hail from the Iberian peninsula, but you'd never know it from the Castilian flair and fire which colored his every move. Steven Morse and Hansuke Yamamoto in the Russian variation were another delight. They danced with such gusto and clarity that they made even these relatively minor roles sparkle. Veteran dancer Anita Paciotti made a wonderfully sophisticated Queen Mother. Paciotti has been dancing with SFB since 1968(!) and often excels at playing parts that call for down-to-earth warmth and good humor so it was fun to see her killing it in a role that requires elegance mixed with a somewhat chilly authority.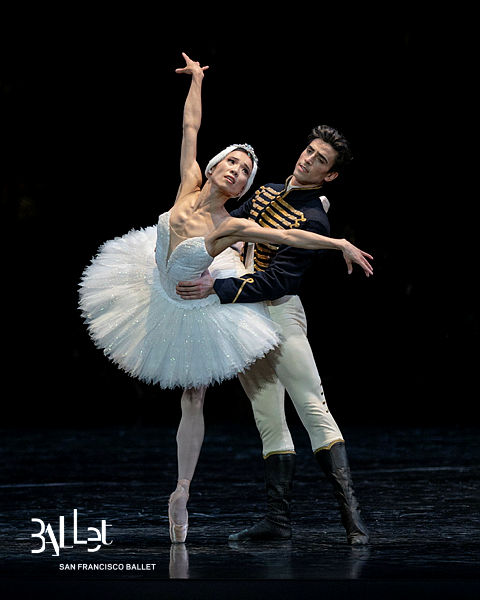 Joseph Walsh and Frances Chung made a smashing Prince and Odette/Odile. He scored early on with a searching, ruminative solo at the end of Act I that was all diffidence and changes in direction, neatly illustrating the character's uncertainty. Walsh partnered Chung beautifully in the famous "White Swan" pas deux, lifting her off the stage and setting her back down again with such grace and dexterity that it felt like a miracle. He also had a jaw-dropping lift at the end of Act II where he held Chung high overhead, seemingly forever and with no discernible effort, in a triumphant expression of their newfound love. He dispatched his "BLACK SWAN" pyrotechnics with aplomb and provided a nice emotional grounding for the tragic denouement.
Chung was an intriguingly different Odette-Odile. Never the floatiest of dancers, her Odette was less fragile than most, but still capable of being meltingly tender. In Act II, when she raised on pointe and let go of Walsh's hand, she swooned backwards as he moved around to catch her and it was absolutely breathtaking. Odile perhaps played more to Chung's natural strengths, where she was all rapid-fire movement and straight lines. She whipped off the famous series of 32 fouettés like nobody's business, emerging victorious as she exulted in her successful seduction of the prince.
And then there were the amazing women of the corps de ballet. As wonderful as the principals and soloists may have been, if there ain't no swans, then there ain't no Swan Lake. SFB definitely comes through with the swans, dozens of them, skittering across the stage, alternately acting as protector and protectorate of Odette. The most profoundly moving sequence of the entire ballet occurs at the end of Act IV, when all of the swans rise on pointe, turn their backs to the audience in grief, and waft gently in the moonlight as their arms softly undulate and the strings ascend to the heavens in pianissimo. There's not a more beautiful moment to be found in all of ballet, and it is performed here with such sensitivity and plasticity that it is sure to break your heart. It only makes sense that Swan Lake is closing out the season, because how could you possibly top that?
[All photos by Erik Tomasson]
Live performances of San Francisco Ballet's Swan Lake continue through Sunday, May 8th at the War Memorial Opera House, 301 Van Ness Avenue, San Francisco, CA. Running time is approximately 2:45, including two intermissions. Proof of full COVID vaccination and the wearing of masks while in the building are required. For tickets and additional information, visit www.sfballet.org or call (415) 865-2000, M-F 10am-4pm.