Review: HELLO, DOLLY is Looking Swell!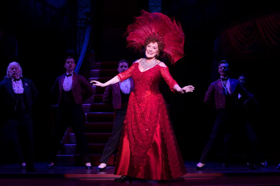 As the house lights went down and the familiar strains of "Before the Parade Passes By" wafted through San Francisco's Golden Gate Theatre, a buzz of excitement and a ripple of clapping could be heard from the front of the house on up to the balcony seats. The sound of times gone by, captured by the tuneful Jerry Herman score, ushered the audience into the opulent gift of gilded age perfection, the revival of Michael Stewart's 1964 musical, Hello, Dolly.
If the U.S. followed the British tradition of bestowing the honor of damehood on its most prolific grand dames of the theatre, then certainly the star of the touring show of Hello, Dolly, Betty Buckley, would deserve such a title, as do her predecessors. She follows Broadway legends Carol Channing (the SF native who originated the role), Pearl Bailey, Mary Martin, Ethel Merman and now Bette Midler, Donna Murphy and Bernadette Peters -- and Buckley is superb.
Each of these divine divas brought their own essence to their star turn as Dolly Levi, the boundlessly resourceful widow who lives in New York in 1885. Buckley's Dolly is conniving and funny but in a much lower key than brassy, sassy, Bette Midler. Instead, Buckley brings an endearing quality that lends warmth and genuineness to her role even as the laughs keep coming.
After the death of her husband, the late Ephraim Levi (whom she talks to quite regularly), Dolly's scrambled to earn a living, stringing together a long list of services (her business cards abound), with "matchmaker" being her primary job. She has a decided talent for arranging things. She's brought together dozens of couples, but she's grown weary of living hand to mouth. Dolly has her sights set on "half-millionaire" and crabby older widower, Horace Vandergelder (played with absolute curmudgeonly perfection by Lewis J. Stadlen) who's in search of his second wife. But how to trick him into marrying her and not the pretty young, Miss Irene Molloy (Analisa Leaming) who runs a hat shop with her friend Minnie Fay (Kristen Hahn) is going to take all of her skill!
Lavish sets and costumes by Santo Loquasto bring the gilded 1890's to life. Warren Carlyle's choreography channels the original Gower Champion dance steps, lending an old-fashioned air to the high-stepping struts and intricate numbers, especially in "The Waiter's Gallop," a fun, fast-paced number involving serving trays and champagne bottles. It beautifully leads into Dolly's grand re-entrance down the now mythic staircase of the Harmonia Gardens restaurant in her signature red ballgown, hair festooned with a majestic fan of matching red feathers. It's a glorious, fan-pleasing moment, judging by the extended applause and hurrahs from the audience.
Before the night is over, Dolly will have married off Horace's whiny 17-year-old niece Ermengarde (Morgan Kirner) to artist Ambrose Kemper (Garett Hawe) and "put her hand in" to help Irene Malloy find love in the arms of Cornelius Hackl (Nic Rouleau of Book of Mormon fame), Horace's head clerk who has snuck off to the big city with fellow clerk Barnaby Tucker, played by the multi-talented dancer and actor Jess LeProtto.
It's a madcap adventure, a true farce of a musical, with ludicrous situations set in a bygone era. While some of the stereotypes and misogyny are quite apparent today, the most interesting thread that runs throughout the show is that of money and power. At the very start of the show, Dolly talks quietly to her dead husband. "Ephraim Levi...I'm going to marry Horace Vandergelder for his money - and send it out circulating among the people like rainwater the way you taught me..."
Indeed, the underlying theme is about the power of money in the lives of the rich (Horace Vandergelder) and the poor (Dolly, Cornelius and Barnaby). In the final scene, Dolly turns to the audience and says, "It's all in how you use it. Money ... pardon the expression ... is like manure. It's not worth a thing unless it's spread around encouraging young things to grow!" In our own era of 1%ers, it's a powerful message and it comes all wrapped up in comedic fun and enough show tunes to make the entire audience sing with joy!
HELLO, DOLLY!
Book by Michael Stewart
Music and Lyrics by Jerry Herman
Now through March 17
SHN Golden Gate Theatre
www.shnsf.com
Photo courtesy of Julieta Cervantes