BWW Guest Blog: Dan Hoyle on Opening THE REAL AMERICANS in San Francisco
by Dan Hoyle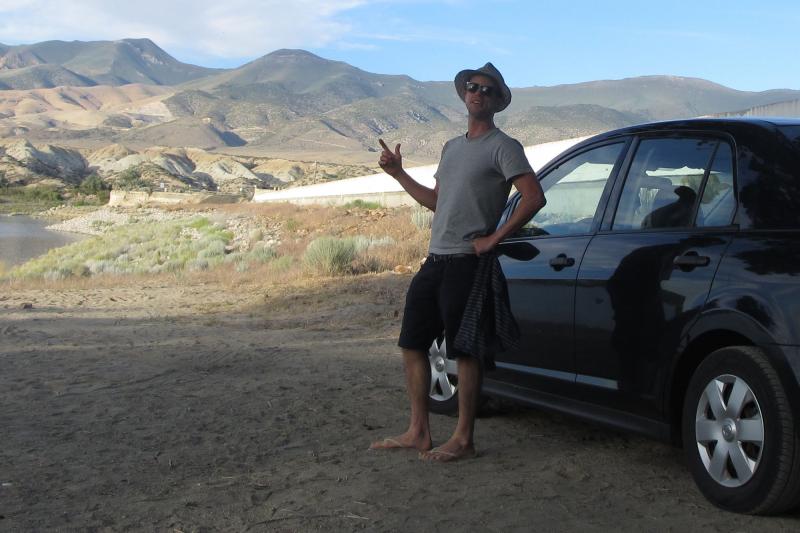 On a sweltering day late last month, I amble into the Casey's General Store convenience mart in Darlington, Wisconsin, population 2,316. I'm carrying a plastic bag of teabags in my back pocket, a need for hot water, and the hope of striking up conversation with the cashier. Darlington is the county seat of Lafayette County, one of several counties in Southwestern Wisconsin that hadn't supported a Republican for President since Ronald Reagan. That is until November 8, 2016, when folks turned out to support Republican nominee Donald Trump, helping to swing Wisconsin, and the election, in his favor. I'm updating my solo show The Real Americans, which is based on travels through small-town and rural America, so I'm curious to know why folks here went for Trump. The Real Americans is having a revival at The Marsh in San Francisco through October 28 before it opens a seven-week run at Mosaic Theater in Washington D.C. starting November 10.
Through months of travels through small-town America over the last decade, I've found that gas station clerks are a great first stop to pick up a vibe of a town. They interact with a broad cross section of the local population. They are open late, and sell many telltale intimate essentials-beer, work gloves, painkillers, condoms-so the cashier has a sense of who is doing what and with whom. And they usually have hot water, so I can brew a cup of black tea and chat. But the Casey's General Store in Darlington, Wisconsin doesn't have hot water.
At least it doesn't appear so. The cashier, a slim, kind white woman about my age confirms the bad news with a sympathetic smile. I ask her where in town I could get hot water at 6pm and she's pretty sure the sports bar has it. I take a look across the street at the fusillade of bright screens and blaring butt-rock. Intimate conversation would be tough. Also, ordering hot water and whipping out a tea bag at a sports bar is a little too shameless even for me.
Then from behind the pizza counter, her middle-aged co-worker cries out: "You can get hot water if you drain the slushy machine!" Before I can protest, she's popped open the plastic casing and is neck deep in the innards of the slushy machine. Within a minute, piping hot water is dribbling onto my tea bag, slowly filling up my cup, as we hold up the four-foot long plastic casing together.
I've achieved research nirvana: I've bonded with some knowledgeable locals, and have a cup of hot tea to chat over. As customers swish in and out, I stand adjacent to the cashier. She welcomes conversation, especially from someone curious about what makes her hometown tick, and she tells me her personal story and that of the town.
A couple weeks later, my director Charlie Varon and I are brewing tea at The Marsh in San Francisco. We are about to dig into the new ending of my solo show The Real Americans, and trying to figure out a way to slip in some of the sentiments and lines I picked up on the previous week's research trip through Wisconsin, Michigan and Ohio. The show has had over 350 performances in a dozen cities since it first opened in 2010, so I am constantly tweaking and updating it for each run.
After the 2016 election, I cut one character, and added some new material from a drive across the country last summer: four short portraits of folks from Colorado, Virginia, Mississippi, and Pennsylvania who supported Trump. I also added a new rap about the election. This was for a run of the show in February that started when the country was still reacting to Trump's election and inauguration. A lot of the work was processing the shock of those events theatrically and efficiently.
I leaned heavily on my "brunchista" characters then, a quartet of lightly satirical portraits of liberal bubble brunch friends who serve as context and foil for the stories of folks I meet on my travels. I wrote an extended epilogue that toggled back and forth between portraits of new folks I met on the road and brunchista commentary on them. It worked in February, but the political moment has shifted now. The country has moved past shock and the 2018 election cycle hovers on the horizon. The question now is what happens next. As I run through the show, Charlie paces in the theater and stops me between scenes to proclaim how a moment still feels vital and fresh and that I can lean into it even more. It's when we get to the end that things get tricky. How do we stage the moment of the election? Or how do we demarcate the bulk of the show, which happens before the election from the new material that takes place in the Trump era? How do these new character portraits sound now eight months into the Trump presidency? We think we need less brunch commentary.
Last Friday at 5:30pm I am bent over my pre-show cup of tea and my customary pre-show snack: a banana and toast with peanut butter and honey. I can't eat much within five hours of performing, there is too much rapid fire talking and nerves to have anything more than a light snack. At 6:30pm, I arrive at the theater to stretch, warm up vocally and physically, get into the body of each character, and run bits of scenes and all the songs. At 8:08pm I walk onstage as Ron, a character based on a guy I met in small-town Wisconsin several years back. I'm under slept and feeling slight line rustiness from not having performed the show in eight months. But I know this show, and morphing my body into the various characters feels like putting on my favorite pairs of clothes, they all fit just right. And indeed, when we get to the new ending, the decision to pair down the brunch commentary and let the new character portraits speak uninterrupted feels right. I can feel the hunger from the audience, I can feel them leaning into the words of the characters, even if they completely disagree with them, they are trying to feel what they are feeling. And now they are feeling a bit of what they are feeling, even if they didn't intend to. The theatrical magic of empathy is taking hold.
Related Articles View More San Francisco

Stories

Shows
More Hot Stories For You