A Spin On Film Noir: Jill Vice's A FATAL STEP Comes To The Marsh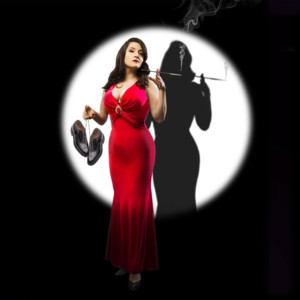 The Marsh San Francisco announces a new solo show by Jill Vice, A Fatal Step. Flipping the tables on film noir tropes, Vice's 60-minute dramedy tells its shadowy tale not from the typical point of view of the hardboiled detective, but from that of the femme fatale. When Sarah's footing with her handsome podiatrist boyfriend is undermined by an archrival, she takes drastic steps to keep her man. Returning to The Marsh after her highly acclaimed run of Tipped & Tipsy, Vice's A Fatal Step was hailed as "a delicious turn on noir" by the Winnipeg Free Press. A Fatal Step, directed by Mark Kenward and developed with David Ford, will be presented 8:00pm Thursdays and 8:30pm Saturdays January 18-March 3, 2018 (press opening: January 25) at The Marsh San Francisco, 1062 Valencia St., San Francisco. For tickets ($20-$35 sliding scale, $55-$100 reserved), the public may visit www.themarsh.org or call The Marsh box office at 415-282-3055 (open 1pm-4pm, Monday through Friday).
A Fatal Step has returned from its international tour that included performances at the Rogue Fringe Festival in Fresno, the Winnipeg Fringe Theatre Festival, and the Indy Fringe Festival in Indianapolis. This second solo show from Vice collected the "Audience Choice" and the "Sold Out" awards at the Indy Fringe, where Indy Fringe Talks lauded that Vice "is completely at home in the role of a femme fatale." Called "sultry and sexy" by Kings River Life Magazine, A Fatal Step played at The Marsh for its Rising Series in October before its Mainstage run.
Jill Vice is a San Francisco based playwright and solo performer as well as a director and acting coach to many new and unusual solo shows including Marga Gomez's Pound, Elaine Magree's Holding the Edge, Rebecca Fisher's The Magnificence of the Disaster, and Lisa Rothman's Date Night at Pet Emergency. Vice began studying performance art at the San Francisco Art Institute with Tony Labat. She trained in circus and clown with Jeff Raz at the San Francisco Circus Center and studied mime and mask with Leonard Pitt and James Donlon at the Flying Actors Studio. A graduate of A.C.T.'s Summer Training Congress, Jill's background includes a wide array of performances in physical comedy, mime, clown, improv, and film. Vice's first one-woman show, Tipped & Tipsy was praised by critics and audiences for its sold-out performances at the 2013 San Francisco Fringe Festival where it won "Best of Fest." Tipped & Tipsy went on to have an extended run at The Marsh San Francisco and has been touring the United States and Canada ever since.
Mark Kenward (Director), a Bay Area Theatre Critics Circle Nominee and two-time selection for the Best of San Francisco Solo Series, has performed his work in more than 40 cities throughout the US and Canada, including a reception for The House of Representatives and several runs at The Marsh. He is the creator and performer of eight solo shows, receiving kudos as "a commanding storyteller" (San Francisco Weekly) and "a master of the craft" (Contra Costa Times). Kenward is the director of more 30 full-length solo shows, including several that have had runs at The Marsh: David Kleinberg's Hey, Hey, LBJ!, Kurt Bodden's Steve Seabrook: Better Than You, Howard Petrick's Rambo: The Missing Years, and Houston Robertson's Victory for the Recycled Virgin. Other directing credits include Wayne Harris's Tyrone 'Short Leg' Johnson and Some White Boys, David Caggiano's Jurassic Ark, and Jeremy Greco's Keeping Up with the Jorgensons, all three of which won "Best of SF Fringe" honors.

David Ford (Developer) has been collaborating on new and unusual theater for three decades and has been associated with The Marsh for most of that time. The San Francisco press has variously called him "the solo performer maven," "the monologue maestro," "the dean of solo performance," and "the solo performer's best friend." Collaborators include Geoff Hoyle, Echo Brown, Brian Copeland, Charlie Varon, Marilyn Pittman, Rebecca Fisher, Wayne Harris, and Marga Gomez. As a director, Mr. Ford has directed both solo and ensemble work regionally at The Public Theater, Second Stage, St. Clement's, Dixon's Place, One Dream Theatre, and Theatre for the New City (NY), Highways Performance Space (LA), and Woolly Mammoth Theatre Company (DC), as well as at theaters around the Bay Area including Magic Theatre and Marin Theatre Company. He is also a published playwright.
The Marsh is known as "a breeding ground for new performance." It was launched in 1989 by Founder and Artistic Director Stephanie Weisman, and now annually hosts more than 600 performances of 175 shows across the company's two venues in San Francisco and Berkeley. A leading outlet for solo performers, The Marsh's specialty has been hailed by the San Francisco Chronicle as "solo performances that celebrate the power of storytelling at its simplest and purest." The East Bay Times named The Marsh one of Bay Area's best intimate theaters, calling it "one of the most thriving solo theaters in the nation. The live theatrical energy is simply irresistible."