Review: GOD OF CARNAGE at Backyard Renaissance
Playing through March 25th
Backyard Renaissance pulls no punches with their current production of GOD OF CARNAGE. Two couples have come together to resolve a fight between their children, but it quickly devolves from polite pretense to a delightfully chaotic and comedic confrontation as the gloves start to come off. GOD OF CARNAGE from Backyard Renaissance is playing at 10th Avenue Arts Center through March 25th.
The Novaks, Veronica (Jessica John), and Michael (MJ Sieber) have invited the Raleighs, Annette (Keiko Green) and Alan (Francis Gercke) over to their apartment to discuss a skirmish between their 11-year-old sons Henry and Benjamin, which led to Henry losing some teeth.
Both couples try to find some common ground, make small talk, and give each other backstory into their lives, but it's not too long before with a few well-placed remarks they drop the polite poker faces and start to show their true colors. While they do disagree about how to approach the fight and the ramifications with their sons, it is really a story about a hampster being let out of its cage which seems to be the moment it all truly starts going downhill.
Alan is pompous and his cell phone rings incessantly, calls that he insists on taking every single time. Annette keeps her annoyance at the entire situation (and her husband) tightly controlled until she literally cannot hold it in any longer. Veronica is self-righteous, and while she and Michael may be better at outwardly playing the compassionate and caring couple, Michael is seething under these phony and overly polite social constructs.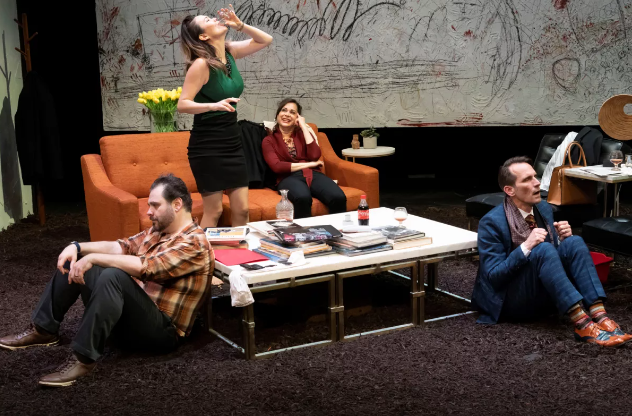 In real life the couples are actually married, Jessica John and Francis Gercke, and Keiko Green and MJ Seiber, each playing against their spouse in the show. As an ensemble the performances are excellent, and as the fighting starts to grow, and the characters start switching sides and ganging up on each other, it is equally as entertaining to watch each new pair fighting as it is to watch those on the sidelines egging them on.
Along with the performances of the cast, this production is so good due to the direction by Rob Lutfy, who has proven before to have a real gift for finding the funny in and heightening the dark farcical insanity. If it didn't have a cast as cohesive and talented as this one under the direction of a pro like Lufty, this show can be a brutal slog. Instead, this production is a fast-paced dark comedy that will leave you laughing.
The set by Yi-Cchien Lee is both a lovely New York apartment that has a soft floor cover reminiscent of a shaggy carpet, or the padding in a playground, and is boxed in like a (hampster) cage or if you were watching wrestling on television. Lighting by Chirs Rynne along with sound design and fight choreography by George Ye bring everything together. The costume design by Jessica John Gercke tells you everything you need to know about these characters.
To say any more would give too much away since part of the pleasure of experiencing this rollicking rumble is what they each say and do as this meeting goes fully off the rails. This a fast, furious, and funny show that is definitely worth seeing.
How To Get Tickets
GOD OF CARNAGE from Backyard Renaissance is playing at 10th Avenue Arts Center through March 25th. For ticket and showtime information go to www.backyardrenaissance.com
Photo credit: The cast of GOD OF CARNAGE at Backyard Renaissance, photo courtesy of Daren Scott