FirstWorks to Light Up Providence G Ballroom With Performance By Hip-Hop Dance Duo The Wondertwins
Identical twin dance crew takes audiences from the roots of street dance to the glitz and glamour of Broadway.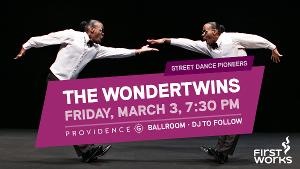 FirstWorks, a Providence-based nonprofit dedicated to connecting art with audiences, will present Boston-based street dance pioneers The Wondertwins in an entertaining night of dance moves reflecting old-school hip-hop, street style, Broadway and more. The performance takes place at the Ballroom at the Providence G on Friday, March 3, 2023 at 7:30 p.m. with a DJ to follow. Tickets for the 18+ show are $25 in advance, $30 at the door and available now at Click Here.
With the technical facility of hip-hop, the sophistication of the glory days of the Cotton Club, the flash of Rat Pack era Las Vegas, and elements of vaudeville, robot, tap, and mime, The Wondertwins create a distinctive style all their own.
"We're thrilled to invite The Wondertwins to inspire and entertain audiences at the Ballroom at the Providence G," said Kathleen Pletcher, Executive Artistic Director of FirstWorks. "Coming together around this dynamic duo in the nightclub atmosphere of one of Providence's revitalized historic spaces will be a highlight of the winter months."
Identical twins Billy and Bobby McClain first came on the scene in Boston during the 1970s as two kid dancers performing at block parties and barbeques. At the age of 10, the boys were invited to join Boston's first professional street dance crew, The Funk Effects, who went on to open for some of the biggest names in hip-hop history - from Run DMC and LL Cool J to KRS One and Afrika Bambaataa. Moving on to form The Wondertwins, this unstoppable crew of two has since lit up stages at The Apollo, Jacob's Pillow, Joe's Pub NYC, Brooklyn Dance Festival, ICA Boston, The Lincoln Center and other notable national and international venues.
The Wondertwins are six-time winners of "Showtime at The Apollo" and have been recognized by Berklee College of Music as "Artists for Social Change" (2019), have received an "Official Resolution Award" from former Boston Mayor and City Councilor Kim Janey (2020), as well as "The Sojourner Truth Award" (2013) and "Boston's Pioneers of Dance" award by OrigiNation (2012).
In addition to their award-winning, four-decade dance career, The Wondertwins have worked as educators in Boston schools for over 25 years, inspiring young people by giving, receiving and healing through movement. The Wondertwins will lead educational workshops in Providence-area schools as part of their FirstWorks residency. For more information on FirstWorks' education program, contact Jamil Jorge, FirstWorks Education Director at jjorge@firstworks.org.
About FirstWorks
FirstWorks is a non-profit based in Providence, Rhode Island whose purpose is to build the cultural, educational and economic vitality of its community by engaging diverse audiences with world-class performing arts and education programs. Since 2004, FirstWorks festivals, performances and programs have attracted more than 700,000 participants. During its 2021-22 season, FirstWorks produced 52 arts education events reaching over 2,000 Rhode Island youth. New Virtual Learning online platforms furthered FirstWorks educational reach and engaged over 20,000 views from students, educators, and families. FirstWorks is the founding partner of PVDFest and has collaborated with the City of Providence to curate and produce the City's free, signature arts celebration since 2015. In June 2022 the three-day festival drew 115,000 people downtown to experience local and world-class artistry across nine stages, resulting in deep economic impact within the City of Providence and generating over $3 million in total expenditures. The festival has employed over 4,000 artists since its beginning. Embracing collaboration, FirstWorks has fostered over 90 community partnerships across business, social service, government, arts and education sectors. Visit Click Here to learn more.
Performance Details:
WHO: The Wondertwins
WHAT: Dance performance by award-winning identical twin street dance pioneers
WHEN: Friday, March 3, 2023 at 7:30 p.m.
WHERE: Ballroom at the Providence G, 100 Dorrance Street, Providence, RI 02903
HOW: Tickets are $25 in advance at Click Here, $30 at the door. 18+ to enter, 21+ for cash bar.