BWW Review: Sunny, Sublime THE IMPORTANCE OF BEING EARNEST Dazzles at The Gamm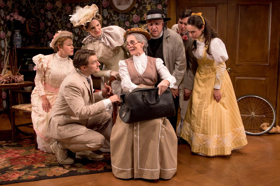 Pawtucket's Gamm Theatre opens its season with Oscar Wilde's comedic masterwork The Importance of Being Earnest, and the company delivers an utterly superlative production. Everything about this Earnest is absolutely right in every way. The Gamm's cast is magnificent, the stagecraft of the finest quality, and the direction flawless. If there is one theatrical experience not to be missed in Rhode Island this year, the Gamm's Earnest is it.
The production starts out with brilliant base material. Critics, scholars, and audiences alike consider The Importance of Being Earnest Wilde's finest dramatic work -- delightfully entertaining and infinitely quotable. Each line of dialogue sparkles with wit and wordplay; in Earnest, Wilde fully demonstrated his luminous command of the English language and his sophisticated understanding of human foibles.
The hilarity begins when Ernest Worthing arrives at Algernon Moncrieff's London flat. Ernest has matrimony on his mind and plans to propose to Algernon's cousin, Gwendolen Fairfax, that very afternoon. As delighted as Algernon would be to have his dear chum in the family, he refuses his consent until Ernest explains why his cigarette case is inscribed "From little Cecily, with her fondest love to her dear Uncle Jack." Caught out, Ernest confesses to a double life. In the country, he is Jack Worthing, steady and reliable guardian to his young ward Cecily. When he slips the confines of country living to visit London, he adopts the name "Ernest" to sow his wild oats in the city without fear of tainting his reputation.
Algernon readily accepts this explanation. Indeed, he is uniquely positioned to understand Jack's machinations, revealing his invention of an ailing friend, the permanent invalid Bunbury. Whenever Algernon needs a break from London society and the demands of his overbearing relations, his devoted duty to this fictitious friend allows him to flee to the country to go "Bunburying."
With the two friends now in perfect harmony as regards their double lives and Gwendolen overjoyed at "Ernest's" proposal, a new complication arises when the formidable Lady Bracknell forbids the banns due to Worthing's decided lack of pedigree. Lady Bracknell summarily dismisses the young man, but he manages to slip Gwendolen his country address as Algernon surreptitiously takes note. Soon enough, Algy arrives at "Uncle Jack's" abode in the persona of the rakish Ernest, falling in love at first sight with young Cecily. The attraction is mutual and Cecily is overjoyed at "Ernest's" proposal. While Jack and Algernon wrangle over this thorny development, Gwendolen absconds to the country with Lady Bracknell in hot pursuit, and soon a series of hilarious identity crises ensue.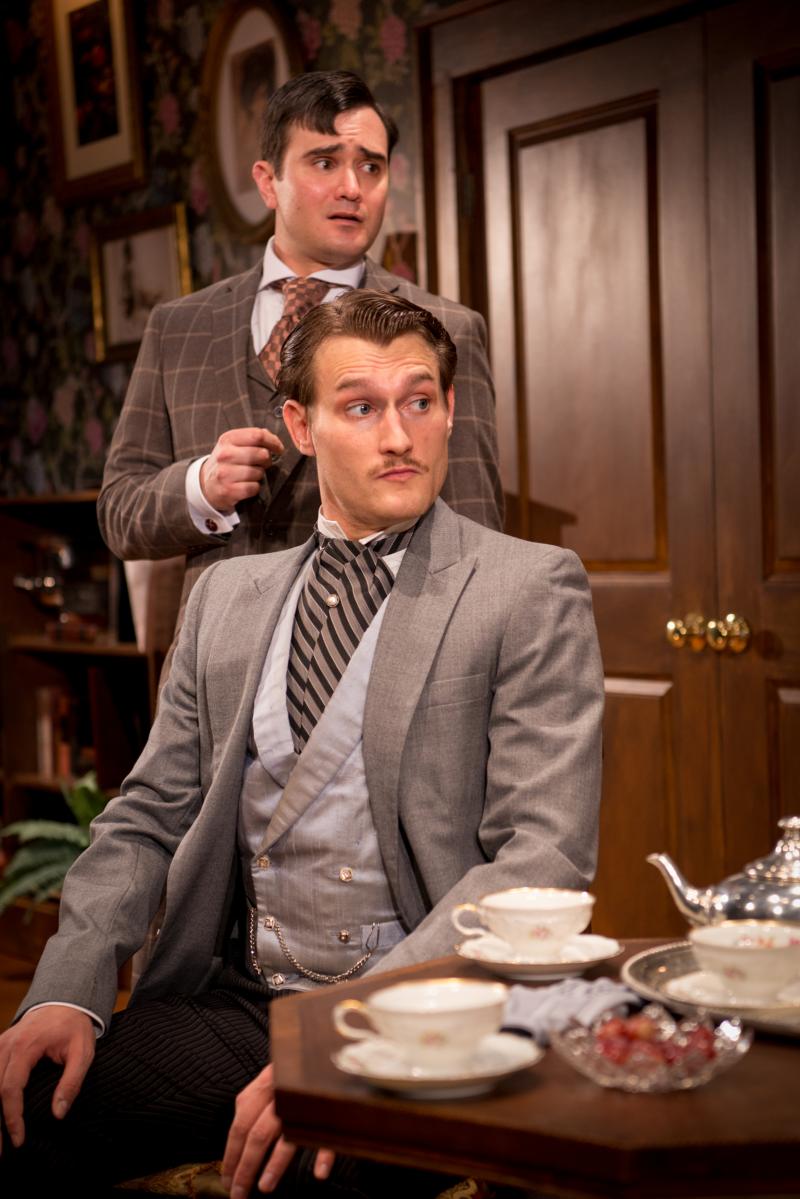 Director Fred Sullivan, Jr. takes the Gamm's staging to the next level of comedic complexity both by reintroducing scenes and characters from the oft-cut fourth act of Earnest and by making Oscar Wilde a character in this production. Wilde, played to perfection by Brandon Whitehead, serves as master of ceremonies, introducing and explaining his work as he would to a late nineteenth-century audience. Whitehead embodies Wilde's good-natured but undeniable egotism, and allusions to historical events -- such as Wilde receiving an ominously written and scathing rebuke from the Marquis of Queensbury -- come subtly into play. Whitehead (as Wilde) also joins the players to bring several of Earnest's minor characters ingeniously to life, skillfully swapping accents and altering demeanor to transform into butlers Lane and Merriman, gardener Moulton, and solicitor Mr. Gribsby.
Jeff Church and Marc Dante Mancini pair perfectly as the duplicitous duo of Jack Worthing and Algernon Moncrieff. Church establishes his character's respectability and gentlemanly affectations, and then allows Jack's control to slip by degrees as the plot thickens around him, expertly spinning aghast expressions and energetic outbursts into comedy gold. Mancini develops an early, easy rapport with the audience, charming as the buoyant and breezy Algy. Nothing ruffles his studied serenity as he makes his way languorously about the stage, ever on the lookout for his next meal. The two men nimbly deliver their characters' rapid-fire banter, voicing even the most tongue-twisting turns of phrase with poise and elegance.
Nora Eschenheimer exudes boundless confidence as Gwendolen Fairfax. She presents the sweetness and appeal that won Jack's heart, yet also incorporates subtle indications that she's absorbed some of her mother's overbearing qualities as well. Alison Russo's vivacious, imaginative Cecily Cardew is at once the picture of youthful innocence and discerning beyond her years. Russo's portrayal leaves no doubt as to why Algy falls immediately and obediently under Cecily's spell. Eschenheimer and Russo are excellent scene partners, deftly batting Wilde's words between them as they picture both the women's early antagonism and later united, sisterly front.
Lady Bracknell is a deliciously over-the-top character for any actor to revel in, and Deb Martin puts down an unforgettable, tour-de-force performance. Familiar phrases like "show-stopping" and "spotlight-stealing" can't begin to describe just how ideal Martin is as this character. The very moment she sweeps onto the stage, every eye in the theater is riveted to her, and she uses her entire being to punctuate Lady Bracknell's imperious pronouncements. Just the turn of her head or the raising of an eyebrow sends the audience into gales of laughter. After witnessing Martin's Lady Bracknell, it seems exceedingly difficult -- really impossible -- to imagine a more perfect portrayal of this role.
Rounding out this excellent cast are Jeanine Kane as the moralizing governess, Miss Prism, and Tom Gleadow as affable country vicar, Reverend Chasuble. The always-excellent Kane and Gleadow offer winning performances, playing up the characters' most entertaining declarations and their shared absent-mindedness.
The Gamm's Earnest also earns highest marks for the quality of its production values. The settings designed by Patrick Lynch absorb and fascinate with outstanding attention to detail. Individual pieces are lovely to behold -- with gorgeous touches of crystal, rich wood features, and saturated colors from wall to wall -- and audience members feel a pull of inquisitiveness, longing to investigate each book title and ornament adorning the shelves. David T. Howard's period costumes ideally suit the characters and storytelling. Jack's exquisitely tailored jackets; Algy's louder-patterned garb; Lady Bracknell's trembling hat feathers; Gwendoline's minutely beaded skirts; and Cecily's simple, unaffected country frock speak to the differences in rural and city life, hierarchies of social status, and individual personalities.
The Importance of Being Earnest runs at the Sandra Feinstein-Gamm Theatre, 172 Exchange Street, Pawtucket, RI through October 15, 2017. Ticket prices are $44-$60. To purchase tickets, contact the box office at (401) 723-4266 or visit The Gamm online at www.gammtheatre.org.
Photos by Peter Goldberg