BWW Review: Daydream Theatre Company's THE INSIDE OF HIS SEVERED HEAD Turns Willy Loman Inside Out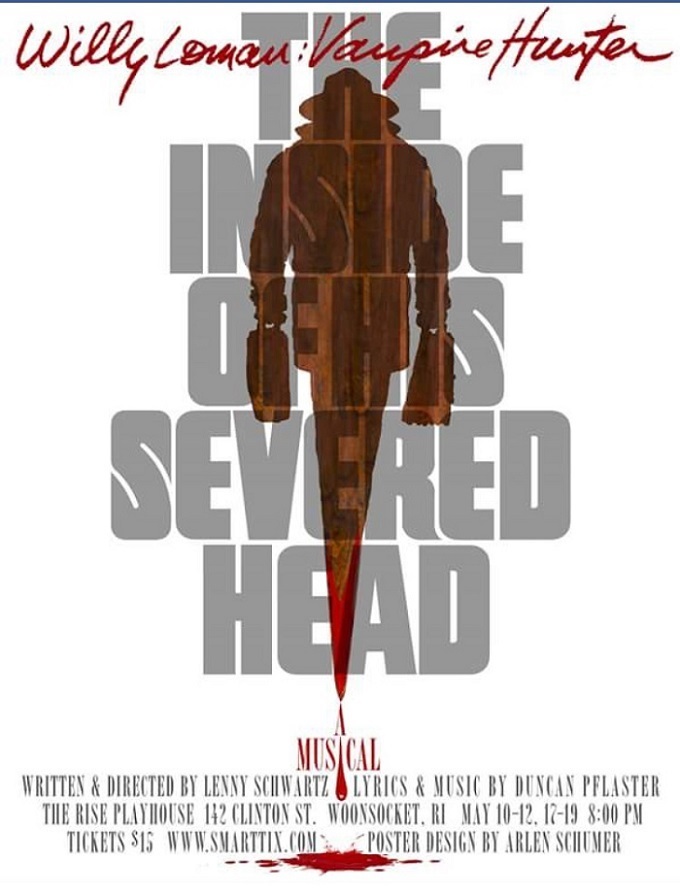 "Willy Loman never made a lot of money. His name was never in the paper. He's not the finest character that ever lived. But he's a human being, and a terrible thing is happening to him."
Although taken from the Arthur Miller script, a terrible thing is also happening to the Willy Loman in Daydream Theatre Company's comedic musical spin on Death of a Salesman, THE INSIDE OF HIS SEVERED HEAD, which could alternately be referred to as Willy Loman: Vampire Hunter.
That's right.
Vampire hunter.
Written and directed by Lenny Schwartz, with music and lyrics by Duncan Pflaster, the show is currently having its world premiere at the RISE Playhouse in Woonsocket before traveling to New York City as part of the 2018 Planet Connections Theatre Festivity.
Whether familiar with Death of a Salesman or not, the premise is immediately engaging. Willy Loman (Michael Thurber), who, true to the source material, sees that his life has been an empty lie - except that this time his failed career just so happens to be vampire slaying rather than sales. This time, he also decides to do something about it, teaming up with his son Biff (Ryan McKenna) and wife Lin (Victoria Paradis) on a trip to Alaska, to destroy Uncle Ben (Ryan Bedissee), current leader of the vampires, after a greater number of attacks are reported in New York and everywhere, and his son's own love interest, Mopey (Derek Laurendeau), is among the casualties.
There's a lot to like about this production, especially the casts' performances, no matter how serious or silly a moment may call for. Michael Thurber as Willy has consistently good comedic timing and a fine singing voice, and is on-stage for much of the show, if only in the background. McKenna and Laurendeau were very well-suited to their roles of Biff and Mopey respectively, the latter a dimwitted exchange student from Poland. Their duet early on in the first act, longing for a life together on a farm in Texas is funny and heartfelt. Sarah Reed's sing-song voice and taunting sneers, are a perfect fit for the role of Charlene/Vampire 1, which along with a costume and makeup, conjured up thoughts of the Rocky Horror Picture Show. Speaking of the vampires, Maureen R. Noel as the batty (sorry) Vampire 3, brings the house down with her Act 2 number lamenting how underappreciated she is, compared to the other two. As Howard Van Helsing, Kevin Hernandez is riotous as Willy's biggest rival, whose presence and costume (leather pants, mesh shirt, septum ring) are reminiscent of several of Jack Black's zanier film roles.
While all of the performers do well with the material, there are some inconsistencies with this production worth noting. The scenes of Severed Head play fast and loose with time - some are happening in the present, some are memories, some may be complete fabrication. Even Willy laments this, saying he can't be sure what's real and what is not. This is not a problem in itself, and again, harkens back to the source material. But the lack of consistency in visual clues (lighting, for instance) or otherwise, make deciphering what's happening when a challenge for the audience as well.
The music and lyrics are engaging, with a good mix of uptempo songs, ballads, and overlapping verses, although a few songs stopped the action rather than propelling the plot further forward. One notable example of this is "New England Man" which does little more than list off regional cities and towns.
Perhaps the biggest issue was with the final scenes of the play. Anyone familiar with Death of a Salesman knows better than to expect a happy ending. However, the largely comedic show that precedes these scenes leads one to expect that, despite tragedy, the show will end on a humorous, or at least somehow hopeful note. Not so. Without giving explicit spoilers, we're told how Lin deals with Willy's passing, and if that idea had been enlarged upon, it could have made for an ending which would have aligned a little more perfectly with the overall tone of the evening.
Despite these quibbles, The Inside of His Severed Head is an enjoyable, creative, and very original work worth experiencing. Remaining performances are May 17th, 18th, and 19th at the RISE Playhouse on 142 Clinton Street in Woonsocket. All shows are at 8pm. Tickets are $15 dollars and can be purchased at the door or at smarttix.com.