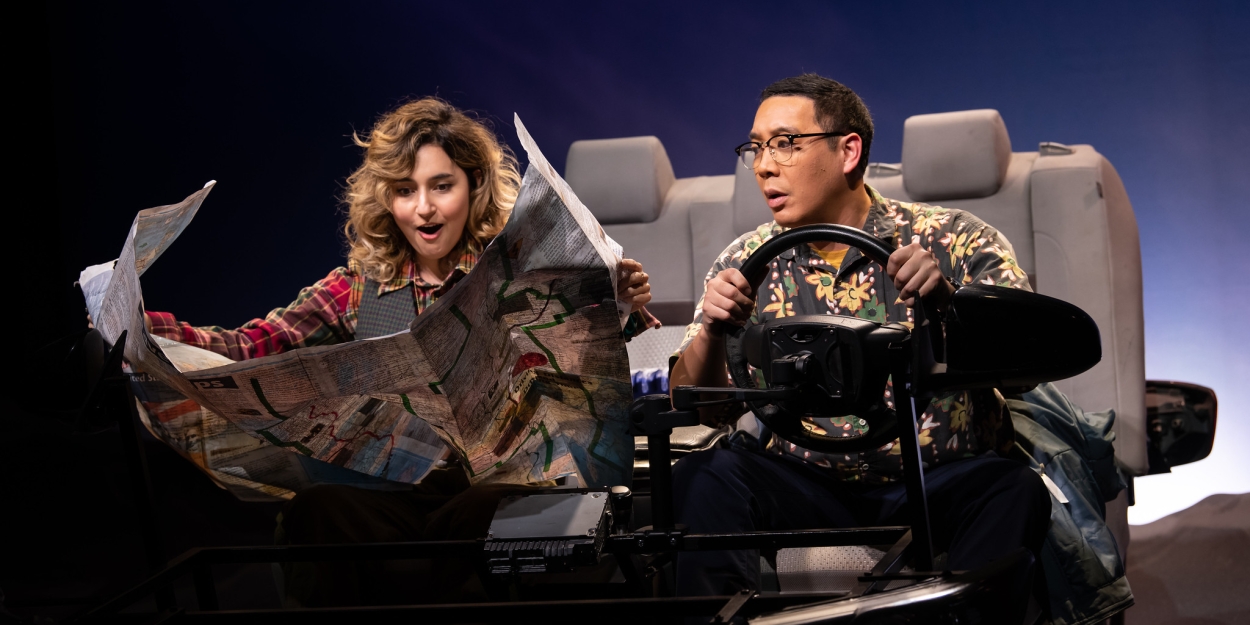 Review: YOUNG AMERICANS at Portland Center Stage
This world premiere of Lauren Yee's latest play runs through March 26.
What does it mean to be an American? I have no idea, so I Googled it and got more than 6 billion results, which just goes to show how important the answer to it is to us right now as well as how many different perspectives an adequate answer would need to take into account. In YOUNG AMERICANS, now having its world premiere at Portland Center Stage in a co-production with Pittsburgh Public Theatre, superstar playwright Lauren Yee gives us a glimpse into what being an American means to one family embarking on the quintessentially American form of travel: the road trip.
The play jumps back and forth between two formative road trips, or rather, the same road trip taken twice, two decades apart. In the first trip, which happened roughly 20 years ago, Joe (Danny Bernardo), an immigrant who came to the U.S. to study engineering and stayed to teach, picks up his fiance, Jenny (Marielle Young), also an immigrant, in Washington, D.C., to drive her across the country to his home right here in Portland. In the second trip, Joe repeats the drive with his daughter Lucy (Sammy Rat Rios), who has spent the last year studying abroad. As the characters spend several days of "forced family fun time" traversing the country, they learn as much about each other as about their adopted homeland.
If you made it down to Ashland pre-pandemic to see Lee's masterpiece CAMBODIAN ROCK BAND, or the recent Portland productions of THE GREAT LEAP or KING OF THE YEES, you will find YOUNG AMERICANS quite different in scope. Whereas those other works were sweeping, complex puzzles that were slowly pieced together, YOUNG AMERICANS is much more intimate - just people, trying to understand where they fit. The discussions about what it means to be an American aren't ideological - at least between Joe and Jenny, they focus more on the practical, like the practice of tipping in restaurants - but they somehow all add up to a picture of Americanism we recognize.
To enhance the story's universality, Yee never specifies where the characters have immigrated from. The idea is that actors of many different ethnic identities could bring something different to these roles. As a white person who was born here and who, as a child, had my own forced family fun time traveling in my grandparents' RV, I also found it very easy to identify with Jenny and Lucy (especially their occasional frustration at not being there yet).
One of the great pleasures of this production is watching Sammy Rat Rios as Lucy. Rat Rios brings enormous depth to the character, who wrestles with many conflicting feelings, like between loving her dad fiercely and at the same time finding him extremely aggravating. Young is at her best during the brief scenes when she plays the older, modern-day Jenny; you can feel the weight of the past 20 years. Bernardo is on stage almost the entire play, alternating between the different ages of Joe - all he does is put on or remove his glasses and jacket, and yet somehow every time the lights came up I felt like I was looking at a different person.
Overall, I found YOUNG AMERICANS a quiet sort of play. Unlike Yee's other work, which frequently left me gasping for breath, this show is contemplative. It asks you to reflect on a question that has no definitive answer in a way that takes a wide variety of perspectives into account. Especially in our current polarized environment, that's an endeavor worth pursuing.
YOUNG AMERICANS runs through March 26. More details and tickets here.
Photo credit: Jingzi Zhao/courtesy of Portland Center Stage